George W. Bush says bigotry or white supremacy in any form is 'blasphemy'
NEW YORK CITY – Decrying what he called bigotry, bullying and prejudice in politics, former President George W. Bush bluntly warned about dangers to democracy, both abroad and here at home.
He spoke at a New York City forum sponsored by his Dallas-based Bush Institute, called 'The Spirit of Liberty At Home, In the World.' He warned that democracy is weakening in the coarseness of current politics.
"People of every race, religion and ethnicity can be fully and equally American. It means bigotry or white supremacy in any form is blasphemy against the American creed, and it means that the very identity of our nation depends on the passing of civic ideals to the next generation," he said. "Bigotry seems emboldened. Our politics seems more vulnerable to conspiracy theories and outright fabrication."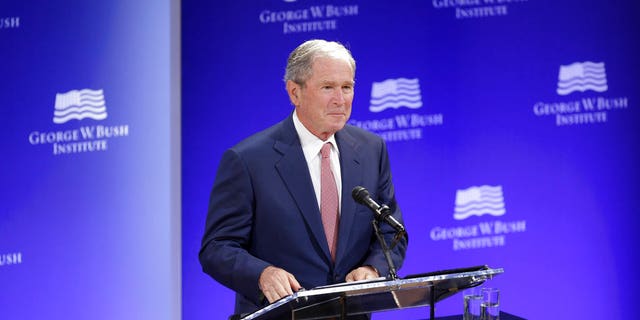 He warned that "we have seen our discourse degraded by casual cruelty. At times, it can seem like the forces pulling us apart are strong than the forces binding us together. Argument turns too easily to animosity. Disagreement escalates into dehumanization. Too often, we judge other groups by their worst examples while judging ourselves by our best intentions – forgetting the image of God we should see in each other."
He also slammed what he called Russia and China's aggression and challenging of the world order, but said here in the U.S. we must be on guard against isolationism and nationalism.
He also criticized the dictatorship of North Korea, and met with several North Korean escapees, American college students, who are the recipients of the Bush Institute's North Korean Freedom Scholarship program. The effort, run by the George W. Bush Institute, provides $25,000 in scholarship money to eight students to "pursue higher education and build productive, prosperous lives as new Americans."
Among those who met with the former President, was Grace Jo, a 26-year-old student at Maryland's Montgomery College.
She addressed the gathering, earning applause when she told the group of several hundred people when she stepped up to the podium and announced, "My name is Grace Jo, and I am an American."
Grace told Fox News that she and her family escaped three times to China, only to be caught and sent back. Her two younger brothers died of starvation and her father died from being tortured while in police custody for sneaking a bag of rice back from China. She says starvation was rampant while she was growing up, and that the family was occasionally given a bag of potatoes by the government. She recalled her family living for 10 days without any food, surviving only on water. That's when her mother found six baby mice in a field and her grandmother made soup out of them in order for the family to survive.
She is a young woman of strong resolve who is bluntly clear about what she hopes will be the fate of Kim Jong Un's regime.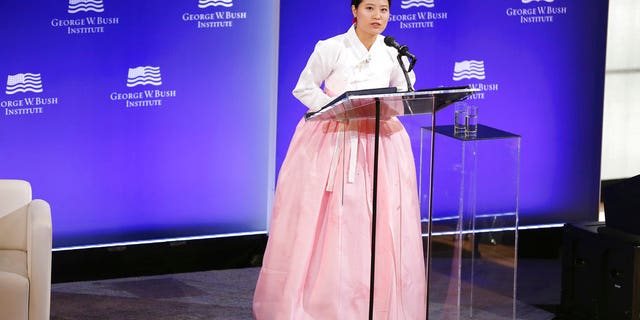 "The North Korean regime should not exist in this world any more, any longer. The U.S. government military force, or any independent force should stop the North Korean regime, because the regime is killing the innocent people in the country. Child, babies and moms are dying without any hope."
She says from first-hand experience that tough talk is the only thing that the Kim Jong Un regime understands.
"I believe North Korean regime will not listen if we speak nicely. So I think it is time to take action to the North Korean government, because if we don't have any action and only speak words and try to give something to them, like give a candy to a little crying kid, it can solve for the moment but it will not solve for the long run," she says.
She does not think a military strike, with its predictions of a possible catastrophic loss of life in South Korea and the region, is feasible. "I don't want to drop a bomb," she said. Grace hopes the U.S. and its allies can conduct covert actions that will lead to the toppling of the regime. She does not think sanctions have or will work to deter Pyongyang's nuclear programs and military aggression.
Bush also said it is a time that western democracies are being tested.
"We are gathered in the cause of liberty. This is a unique moment. The great democracies face new and serious threats. Yet, some seem to be losing confidence in their own calling and competence. Economic, political and national security challenges proliferate, and they are made worse by the tendency to turn inward. The health of the democratic spirit itself is at issue. And the renewal of that spirit is the urgent task at hand."
Former First Lady Laura Bush also spoke, and former Secretaries of State Condoleezza Rice, Madeleine Albright and current U.S. Ambassador to the United Nations, Nikki Haley, participated in a panel discussion. Haley called Grace Jo an inspiration.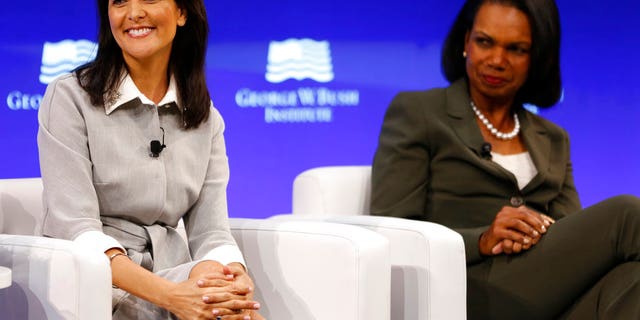 "Grace Jo you inspire us so much you are the reason we fight for what we fight for," she said.
Ambassador Haley then warned that North Korea tops the list of threats against U.S. national security.
"We do have a lot of threats but we also have to remember that leadership matters so our biggest threats obviously: North Korea, Iran ISIS, those are the three because we have to always make sure we are doing everything we can to protect Americans and our allies," Haley said.
President Bush warned that one of biggest problems facing the nation right was "a deficit of confidence."
"But the cause of freedom justifies our all our faith and effort. It still inspires men and women in the darkest corners of the world, and it will inspire a rising generation. The American spirit does not say, "We shall manage," or "We shall make the best of it."
It says "We shall overcome." And that is exactly what we will do, with the help of God and one another."