Freedom Caucus member Raul Labrador softens tone on Paul Ryan as next speaker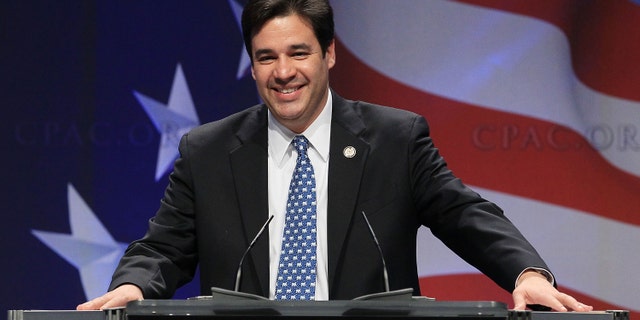 After Rep. Paul Ryan got a huge boost Wednesday night for his somewhat reluctant run for House speaker, one of the founders of the House Freedom Caucus – a conservative group that holds great sway – made clear that the group's new support for the Wisconsin lawmaker was not tantamount to a hearty endorsement.
Labrador told Roll Call that while the caucus gave Ryan "a show of support," the vote on the prospective speaker did not meet the 80 percent threshold needed for an endorsement. The caucus's favorite, whom Labrador was pushing for, was Rep. Daniel Webster, a Florida Republican known for his hardline views on a number of issues.
Labrador, who himself went for the speaker role a few years ago, said the Ryan support "takes precedent" over the Webster endorsement.
"I think he's a good man," said Labrador, who said he voted for Ryan in the Freedom Conference meeting. "I think he's somebody who could bring the Republican Party together, he's obviously a good spokesman for the party."
Republicans hope that Ryan's ascension to the speakership will end a month of political pandemonium that has made Congress and the GOP seem anarchic.
Labrador, a leading member of the Freedom Caucus, said the group's vote showed that Ryan would prevail when the 247 House Republicans pick their nominee for speaker next Wednesday and when the full chamber votes the following day. The winner will need a majority of the chamber's 435 members, or 218 votes.
Republicans believe that by assuming command of the House, the GOP's 2012 vice presidential candidate could stem the political fratricide between the party's pragmatists and hard-right conservatives that helped force last month's startling resignation by Speaker John Boehner, R-Ohio.
That conflict has also spilled over to the GOP's 2016 presidential contest, where leading candidates Donald Trump and Ben Carson have positioned themselves as outsiders and reveled in attacking establishment Republicans as relics of an outmoded era.
In a written statement afterward, Ryan erased any doubt that he considered the caucus's vote a green light to run.
"I believe this is a positive step toward a unified Republican team," the Wisconsin Republican said.
In their own written statement, the Freedom Caucus praised Ryan as "a policy entrepreneur who has developed conservative reforms dealing with a wide variety of subjects." They said that they had not reached agreement with Ryan over conditions he set for serving — including curbing lawmakers' ability to call snap votes to remove a speaker — but said those differences could be resolved "in due time."
Ryan's endorsement by two other key groups of House Republicans – the moderate Tuesday Group and the mainstream conservative Republican Study Committee – is considered a formality.
The Freedom Caucus tilted toward Ryan as many Republicans suggested the group would face dire consequences if it derailed him. The 45-year-old is widely viewed within the GOP as an articulate, telegenic leader, an undisputed conservative and the only lawmaker who could unite a party divided against itself since the 2010 tea party wave brought rebels to Congress who have shown little inclination to compromise.
"This is one of the most principled conservatives on the entire political landscape in the Republican Party," said Peter Wehner, an adviser to President George W. Bush and the Mitt Romney-Ryan presidential campaign. "If they can't find a way to support him, then they're really lost."
Even so, the Freedom Caucus offered no known guarantees that its rebellious members would not make Ryan's life as difficult as they'd made Boehner's, and conservative support for Ryan was not universal.
Some tea party groups and conservative commentators have pilloried his past support for easing immigration curbs and the bailout of financial institutions as the Great Recession took hold. And some lawmakers took issue with his suggested changes to congressional rules and even his desire to balance family life with the demands of the job by limiting the time he'd spend on weekends raising money for GOP candidates.
"No other speaker candidate came in and said, 'Here's the list of my demands, either meet those or I'm not going to do this,' " said Rep. Tim Huelskamp of Kansas, a member of the hardline caucus. "Speaker's a big job. And it's not a 9-to-5 job. So there are a lot of questions to be answered."
Ryan, the House Ways and Means Committee chairman and a reluctant candidate for the speaker post, was asked to run by mainstream party leaders. They were seeking to resolve a crisis triggered when conservatives pushed Boehner to resign and then pressured his likely successor, House Majority Leader Kevin McCarthy, R-Calif., into withdrawing.
But Ryan, who might harbor presidential aspirations, has wanted to protect himself from the political damage he could face from running the often-unmanageable House by nailing down assurances of support from his GOP colleagues.
"If I can be a unifying figure in our conference, I'm willing to step up and be one, it's just that simple," Ryan said ahead of the Freedom Caucus announcement. "If not, then it's OK, I'll just go back to Ways and Means."
Labrador had voiced objections to the conditions put forth by Ryan before he would commit to running for the position.
"Anyone who wants to do this job," said Labrador, "should do it the right way."
The Associated Press contributed to this report.
Like us on Facebook
Follow us on Twitter & Instagram