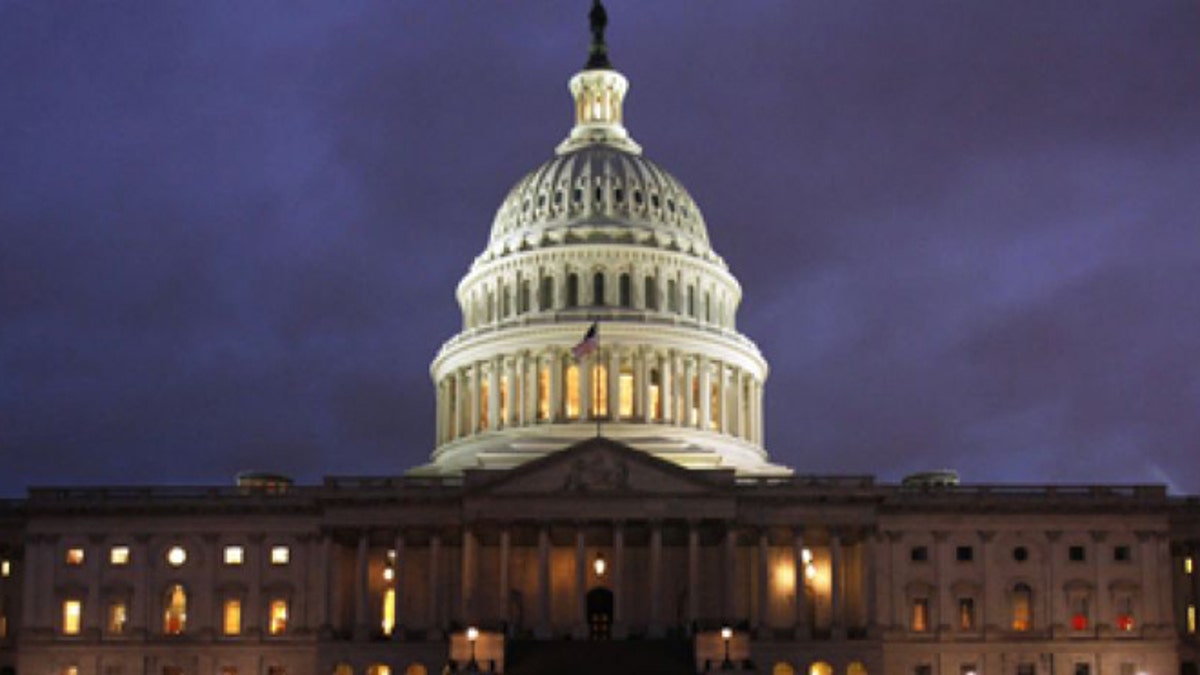 As the 114th Congress gets underway, the vast majority of voters continue to give legislators the thumbs down, and many people are unfamiliar with the leaders on Capitol Hill. Still, a majority thinks the new GOP-led Congress will trump the president in the next two years. Only a third of voters, however, say that's a good thing.
Those are just some of the findings from a new Fox News poll released Wednesday.
There is no doubt Congress is still in bad odor. Fifteen percent of voters approve of the job Congress is doing, while most -- 74 percent -- disapprove. That's a bit of an improvement from last month when 14 percent approved and 80 percent disapproved, yet it's almost identical to the 16-76 percent rating the 113th Congress got in January 2013.
Click to view full results of the poll (pdf)
Nonetheless, voters are more than twice as likely to think the Republican Congress will "win most often" in the next two years as they are to think President Obama will win (55 percent vs. 25 percent). And nearly twice as many say it's "a good thing" Republicans on Capitol Hill will win more often as feel that way about Obama winning (34 percent vs. 18 percent).
The higher expectation of GOP victories comes mainly from more confidence among the Republican Party faithful: 68 percent of Republicans think the GOP Congress will win more battles, while just 37 percent of Democrats say the same for Obama.
When it comes to specific issues, the Keystone XL pipeline is a winner for the Republican Congress: by a 65-22 percent margin, voters want Obama to sign legislation approving the oil pipeline. The president has instead threatened to veto.
Cuba, on the other hand, is a winning issue for Obama: by a 56-33 percent margin, voters approve of normalizing relations between the U.S. and Cuba. In addition, they think doing so is more likely to make Cuba become a democracy.
However, many voters doubt the U.S. got enough in return: 46 percent think it is fair to say the administration "gave away the farm" without guarantees that Cuba will do anything in return, while 39 percent think that criticism is unfair.
Who will win on the looming battle over the future of Obamacare? That's unclear. The poll also shows 60 percent of voters want all (33 percent) or parts (27 percent) of Obamacare repealed. That nearly matches a high of 61 percent who favored at least partial repeal in January 2011.
At the same time, voters disagree with a change many Republican lawmakers want to make -- lengthening Obamacare's definition of a full-time work week from 30 to 40 hours. A 66-percent majority thinks employer-paid health insurance should be guaranteed for people who work 30 hours a week.
When it comes to individual performances, Obama's job rating is similar to his personal favorable rating -- both are virtually flat despite low gasoline prices and improving views of the economy. Currently 42 percent of voters approve of the job he's doing, while 52 percent disapprove. Last month it was 42-53.
Obama's highest rating came at the start of his term, when 65 percent approved and just 16 percent disapproved (January 2009). His worst performance rating was just a few months ago when 38 percent approved and 56 percent disapproved (September 2014).
Views of Obama personally stand at 46 percent favorable and 51 percent unfavorable. That's unchanged from a year ago when it was 46-52 (December 2013).
Views of Vice President Joe Biden are split: 44 percent each positive and negative.
Among self-identified Democrats, Obama's rating skyrockets to 82 favorable vs. 16 unfavorable. For Biden it's 70-17 percent.
Meanwhile, more voters have a negative rather than a positive view of both House Speaker John Boehner and Senate Majority Leader Mitch McConnell.
Some 23 percent view Boehner favorably, while 45 percent view him unfavorably. Another 33 percent are unable to rate him.
For McConnell, it's 20 percent favorable vs. 31 percent unfavorable, and fully half (50 percent) have no opinion or have never heard of him.
Among self-identified Republicans, 29 percent have a positive opinion of Boehner, 40 percent unfavorable and 31 percent are unsure. Views of McConnell among Republicans are more mixed: 27 percent favorable, 23 percent unfavorable and 50 percent unsure.
Overall, First Lady Michelle Obama tops them all with a 57-percent favorable rating. Some 36 percent have a negative opinion of her. Among Democrats, it's 82 favorable and 15 unfavorable.
The Fox News poll is based on landline and cell phone interviews with 1,018 randomly chosen registered voters nationwide and was conducted under the joint direction of Anderson Robbins Research (D) and Shaw & Company Research (R) from January 11-13, 2015. The full poll has a margin of sampling error of plus or minus three percentage points.