Fox News Poll: Voters approve of Trump meeting with North Korea
Twice as many voters approve as disapprove of President Trump's decision to meet with North Korean dictator Kim Jong-un.
A new Fox News Poll shows voters favor the meeting by a wide 63-30 percent margin.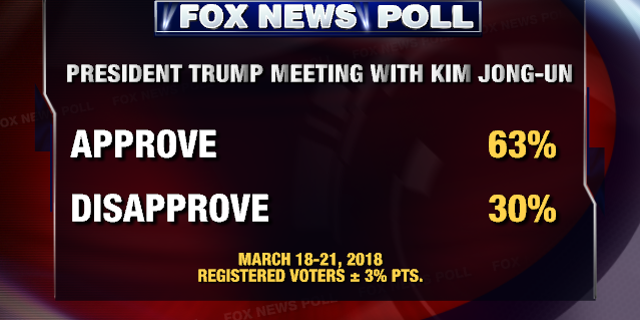 In addition, they expect Trump to come out of the meeting with the better deal (42 percent Trump, 26 percent Kim, and 19 percent neither). Even so, most voters don't think North Korea will ever be convinced to give up its nuclear weapons (76 percent), and they continue to give Trump negative ratings for his handling of North Korea overall (41 percent approve, 49 percent disapprove).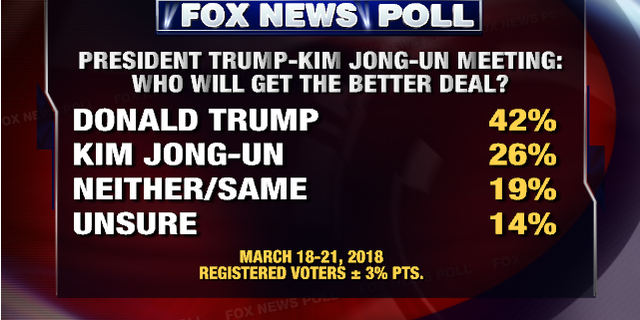 CLICK HERE FOR THE COMPLETE POLL RESULTS
Far more Republicans than Democrats approve of Trump meeting with Kim (84 vs. 44 percent), expect Trump to get the better deal (68 vs. 20 percent), and like the job he's doing on North Korea (75 vs. 11 percent).
The poll also asked about the president's performance on other top issues.
Republicans passed a new federal tax law last December, and the new poll marks the first time Trump receives a positive job rating on taxes: 48 percent approve and 46 percent disapprove. In October, it was 37-51 percent.
The president's best issue is the economy, as a 51 percent majority approves of the job he's doing, while 44 percent disapprove.
He receives net negative ratings for his handling of international trade (42-49 percent), North Korea (41-49 percent), immigration (41-55 percent), guns (40-54 percent), and the opioid epidemic (33-46 percent).
On Trump's performance overall, 45 percent of voters approve and 52 percent disapprove. In February, it was 43-53 percent. The president's highest approval was 48 percent in February 2017, right after taking office (47 percent disapproved).
Pollpourri
Chaos. That's what voters think Russia's main goal was in interfering in the 2016 presidential election. Fifty-seven percent believe the Kremlin wanted to shake confidence in U.S. democracy rather than help either Donald Trump (21 percent) or Hillary Clinton (5 percent) win. And folks think the meddling will happen again. Roughly 7 in 10 are at least somewhat concerned Russia or others will attempt to hack into U.S. election systems this year -- and the same number thinks they'll probably succeed.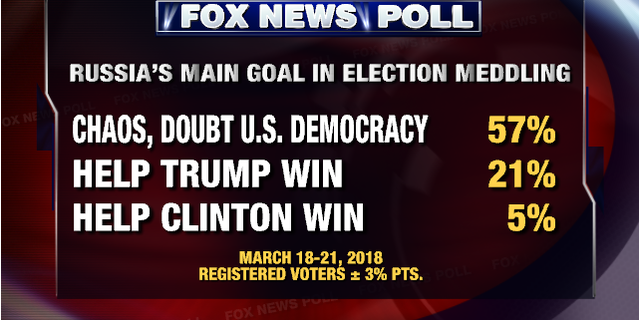 By an 11-point margin, voters give a thumbs down to the president's proposal to raise tariffs on steel and aluminum imports (37 percent good idea, 48 percent bad idea). Most Republicans (57 percent) like it, while most Democrats don't (68 percent). Voters in union households split: 42 percent good - 46 percent bad.
The White House has seen a record number of staff departures. Nearly half, 45 percent, say the turnover has made them less confident in the administration -- that includes one in five Republicans (19 percent). Just 16 percent of voters say the changes make them feel more confident, while 36 percent say it makes no difference.
The Fox News poll is based on landline and cellphone interviews with 1,014 randomly chosen registered voters nationwide and was conducted under the joint direction of Anderson Robbins Research (D) and Shaw & Company Research (R) from March 18-21, 2018. The poll has a margin of sampling error of plus or minus three percentage points for all registered voters.