Fox News poll: Romney erases Obama's lead nationally after first debate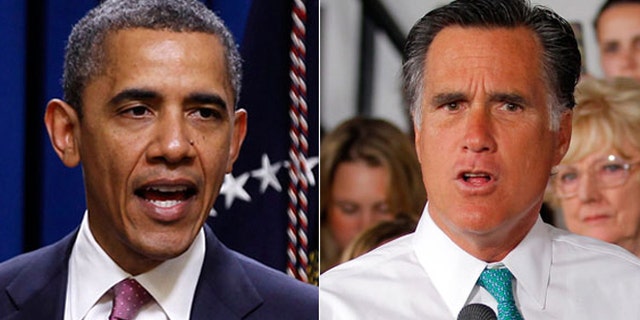 Mitt Romney now holds a narrow advantage over Barack Obama in the race for the White House -- 46 percent to 45 percent, if the election were held today, according to a Fox News national poll of likely voters released Wednesday.
That's a six-point turnaround and a three-point "debate bounce" for Romney.
Before the first presidential debate in Denver last Wednesday, Romney had 43 percent to Obama's 48 percent (September 24-26, 2012).
Romney's edge comes mainly from independents, white voters and men. Just over half of men (51 percent) back Romney now, the highest level of support he's received among this group.
The poll shows independents side with Romney by 44-32 percent. That's a reversal from before the debate when it was 43-39 in Obama's favor. One independent in four is undecided or will vote for another candidate.
Support for Obama is down a bit across the board -- most notably among young voters: Fifty percent of voters under age 30 back Obama, down from 58 percent two weeks ago.
According to the Fox News exit poll, 66 percent of young voters and 52 percent of independents backed Obama in the 2008 election.
Republicans (92 percent) are more likely than Democrats (83 percent) to be extremely or very interested in the election. Enthusiasm is higher on the Republican side as well: Those backing Romney (64 percent) are seven points more likely than those siding with Obama (57 percent) to say it is "extremely" important their candidate win.
Likewise, more Romney supporters (86 percent) than Obama supporters (81 percent) say they will "definitely" vote for their candidate.
Meanwhile, more people like Romney after the debate. Fifty-two percent have a favorable opinion of him, up from 48 percent two weeks ago. This is not only his highest favorable rating among likely voters, but also the first time it has been more than 50 percent. Plus, it's the first time he has had a higher favorable rating than Obama -- albeit by just one percentage point. Fifty-one percent of voters view Obama favorably, unchanged from before the debate (September 24-26).
Also for the first time, by an 8-point margin, more likely voters trust Romney than Obama to improve the economy and create jobs (51-43 percent). Two weeks ago, Obama had a one-point edge on dealing with the economy.
Romney's chipping away on other issues as well. Obama had an 11-point edge over Romney on handling foreign policy two weeks ago. That's down to a 6-point advantage now. Similarly on health care, Obama's previous 9-point lead is down to 2 points.
More voters trust Romney to reduce the deficit (+13 points), manage their tax dollars (+7 points) and handle illegal immigration (+3 points). More trust Obama to protect Medicare (+8 points), handle foreign policy (+6 points) and deal with terrorism (+4 points).
In addition, Romney is more trusted by voters to handle their personal finances, and fewer think he'll raise their taxes. By a four-point margin (50-46 percent), more say they would trust Romney to manage their family's money and bank accounts. By a 21-point margin, voters say they wouldn't trust Obama (38-59 percent).
Half of voters (50 percent) think their taxes will go up if Obama is re-elected, while 41 percent think Romney will raise their taxes.
Meanwhile, by a narrow 3-point margin more voters want Romney than Obama to nominate the next Supreme Court justice (47-44 percent).
Last week had good news for both campaigns. For Romney, the good news was the debate. Most voters who saw some of last week's debate think Romney won (76-14 percent). For Obama, it was economic news. On Friday, a favorable jobs report showed the national unemployment rate at less than 8 percent for the first time since Obama took office.
So far, the debate appears to have trumped the jobs report. Nearly half of voters -- 46 percent -- say they've heard or read something in the past week that makes them feel "more positive" about Romney, while 34 percent say "less positive." The results are the opposite for Obama: 30 percent say they heard something that made them feel "more positive" and 46 percent "less positive."
Voters are split over whether the job situation is getting better or worse (45-46 percent).
Still, more voters say the economy overall is getting better than getting worse by 49-42 percent.
Sentiment is divided when the question is taken from the national level to the individual: 43 percent say it feels like things are getting better for their family, while slightly more -- 45 percent -- say things are getting worse for them. Some 12 percent say things are staying the same.
One percent of likely voters rates economic conditions as "excellent," while 15 percent say "good." Most voters rate the economy negatively: 42 percent say "only fair" and another 41 percent say it's in "poor" shape. Two years ago, 58 percent said "poor" (October 2010).
Just under half of voters say Obama's economic policies aren't working so it's time to vote him out (48 percent). The remaining half says the president's policies are working and he should be re-elected (32 percent) or they are hesitant to change presidents now even though Obama's policies aren't working (17 percent).
Some 28 percent of Democrats say Obama's economic policies haven't done enough, even if they think it's too risky to change leadership right now.
Over half of voters -- 52 percent -- don't trust the federal government, while 43 percent generally do. Voters who trust the government mostly back Obama, while those who don't mainly side with Romney.
By a 2-to-1 margin, voters think Americans rely too much on the government (65-30 percent).
And by a wide 31 percentage-point margin, voters think Obama relies more than Romney on a teleprompter.
The Fox News poll is based on live telephone interviews on landlines and cell phones from October 7 to October 9 among 1,109 randomly chosen likely voters nationwide. Likely voters are registered voters who are considered most likely to vote in the November presidential election. The poll is conducted under the joint direction of Anderson Robbins Research (D) and Shaw & Company Research (R). For the total sample, it has a margin of sampling error of plus or minus three percentage points. The poll is weighted by age and race; it is not weighted by party identification.