Fox News Poll: Race for Virginia governor remains tight
NEWYou can now listen to Fox News articles!
With the election just a day away, Democrat Ralph Northam holds a five-point edge over Republican Ed Gillespie in the close race to succeed Virginia's Democratic governor, Terry McAuliffe.
That's according to a Fox News Poll of Virginia likely voters conducted Thursday through Sunday evenings.
Neither candidate receives majority support, as Northam garners 48 percent to Gillespie's 43 percent. That leaves 1-in-10 voters either undecided (7 percent) or opting for Libertarian Cliff Hyra or another candidate (3 percent) -- which could make a difference come Tuesday.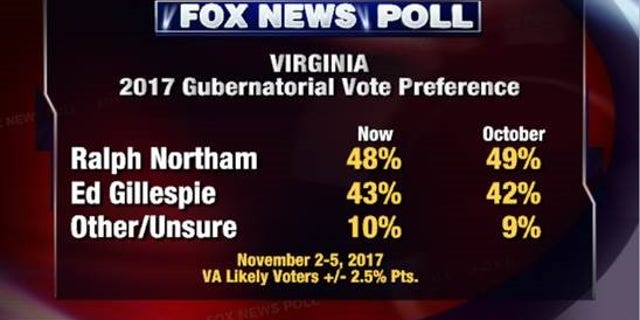 Northam's advantage is at the poll's 2.5 percentage-point margin of sampling error. Last month he had a 7-point lead (49-42 percent, October 15-17, 2017).
Nearly all Northam (94 percent) and Gillespie supporters (91 percent) are certain of their vote choice and both candidates receive strong backing from their party faithful (93 percent of Democrats and 91 percent of Republicans respectively).
Independents are a mixed bag, as nearly one-third favors the Democrat, one-third backs the Republican, and another one-third backs the libertarian or is undecided.
Northam is favored by blacks by 79 points (86-7 percent), moderates by 32 (55-23), voters with graduate degrees by 30 (61-31), women by 20 (56-36), and those with a college degree by 18 (54-36).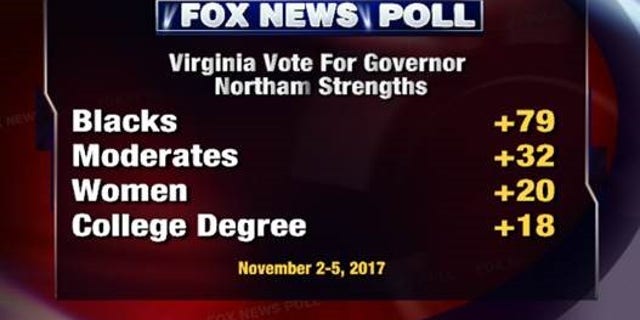 The key groups preferring Gillespie include conservatives by 59 points (76-17 percent), white evangelical Christians by 57 (73-16), whites without a college degree by 43 (67-24), and men by 9 (49-40).
Gillespie is also the pick for veterans by 20 points (55-35 percent), despite the fact that Northam is an Army vet.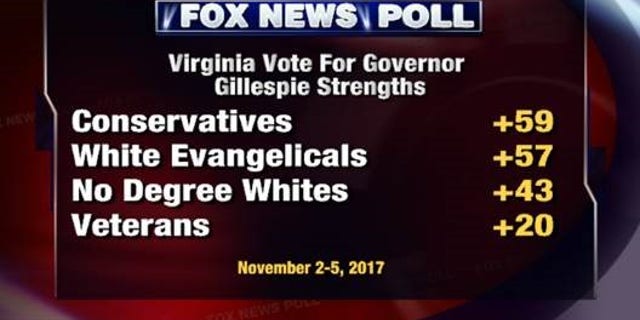 By far, the economy (24 percent) and health care (24 percent) are the top two concerns for voters. Those prioritizing health care back Northam by 49 points (69-20 percent). Economy voters go for Gillespie by a narrower 25-point spread (58-33 percent).
Meanwhile, voters are more likely to blame Gillespie for how ugly the race has gotten: 50 percent say he has attacked Northam unfairly, while 39 percent say the Democrat made unfair attacks.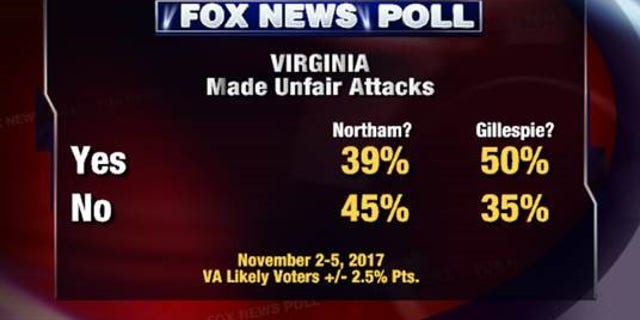 Overall, voters rate Northam positively by 16 points (53 percent favorable vs. 37 percent unfavorable) and Gillespie by 10 (51-41 percent).
By a seven-point margin, McAuliffe is also viewed positively (43 percent favorable vs. 36 percent unfavorable), while President Trump is in negative territory by 15 (40-55 percent).
Fully 88 percent of voters who view Trump favorably back Gillespie, while 81 percent of those who have a negative view support Northam.
Interest in the election is a tad bit higher among Democrats, as 48 percent say they are extremely interested compared to 44 percent among Republicans.
Northam is favored by majorities of both those who are extremely interested (52 percent) as well as those who are certain of their vote choice (53 percent).
Conflict between neo-Nazi protesters and counter-protesters on August 12 led to deadly violence in Charlottesville, Virginia. Confederate monuments and statues were a campaign issue in the wake of that conflict.
A 60 percent majority of Virginia voters agrees with Gillespie that Confederate monuments should remain in place. However, that isn't the decisive factor for his voters, as just 64 percent of those wanting the monuments to stay up support Gillespie. By comparison, 92 percent of those wanting them to be taken down favor Northam.
Nearly half of Virginia voters live in a gun-owner household. They back Gillespie by 23 points, while Northam has a larger 38-point advantage among non-gun owners.
A tight race is hardly a surprise, as the Old Dominion State has been a swing state in recent years. Even so, Democrats have been on a bit of a roll. Hillary Clinton won Virginia in the 2016 presidential election, and Barack Obama won the state in both 2012 and 2008.
The Fox News Poll is conducted under the joint direction of Anderson Robbins Research (D) and Shaw & Company Research (R). The poll was conducted November 2-5, 2017, by telephone (landline and cellphone) with live interviewers among a sample of 1,239 voters selected from a statewide voter file in Virginia. It has a margin of sampling error of plus or minus 2.5 percentage points for the full sample of likely voters.