Fox News Poll: Guadagno trails Murphy by 14 in New Jersey governor race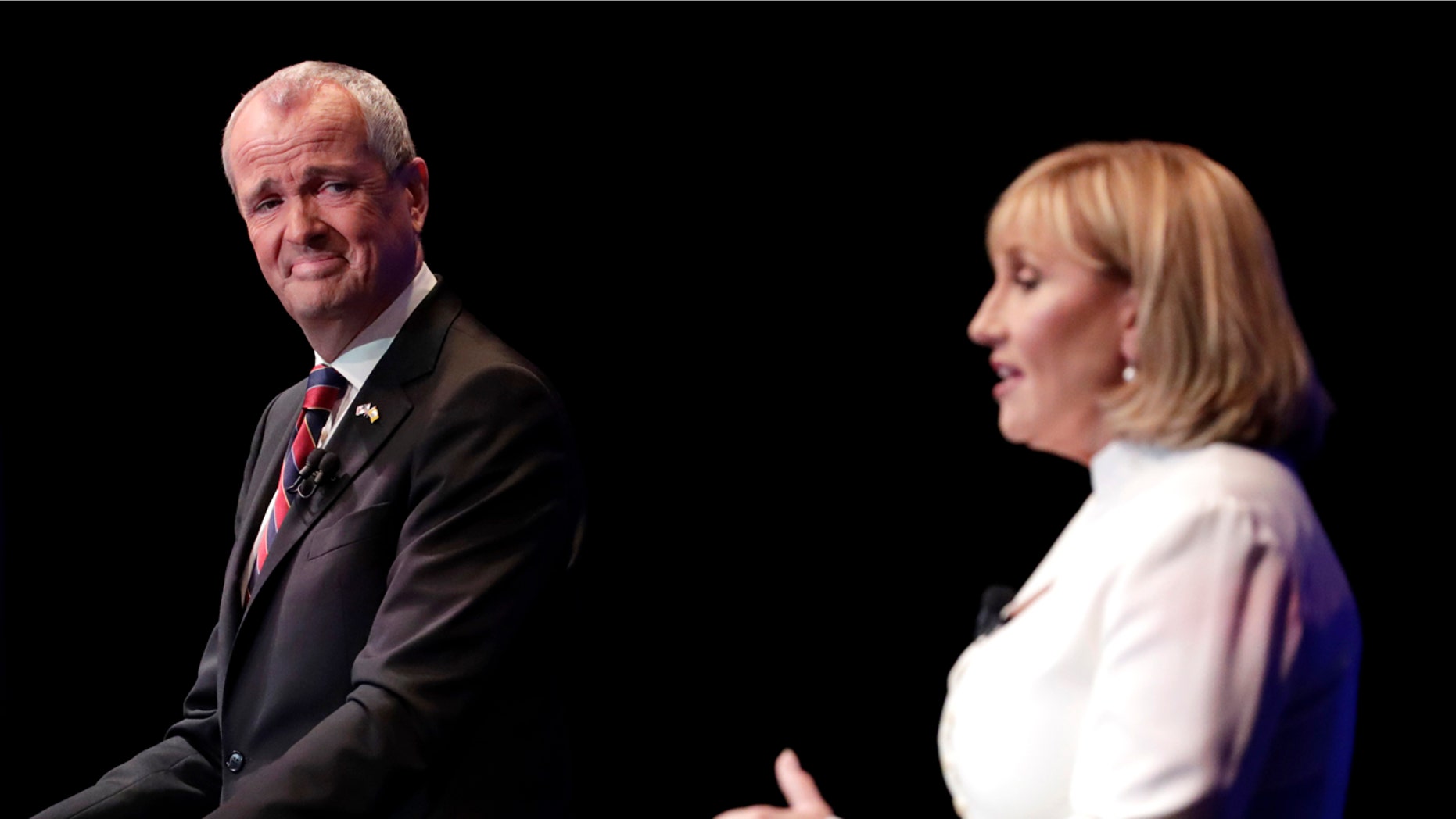 In the contest for New Jersey governor, Republican Lt. Gov. Kim Guadagno trails Democrat Phil Murphy by double digits.  That's according to a new Fox News Poll of likely voters in New Jersey, the first this season.
The poll also finds a large majority wants Sen. Bob Menendez to resign immediately if he's convicted of corruption charges.  More on that later.
READ THE FULL FOX NEWS POLL RESULTS.
If the election for governor were held today, 47 percent of NJ likely voters would opt for Murphy while 33 percent would pick Guadagno.  Still, 2-in-10 voters are either undecided or would vote for someone else (19 percent).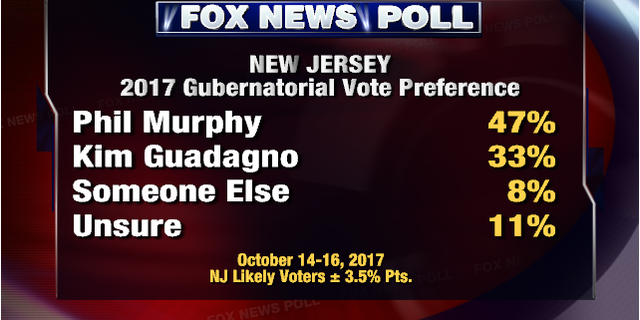 "New Jersey is a deep-blue state, and Murphy's lead there reflects that," says Republican pollster Daron Shaw, who conducts the Fox News Poll along with Democratic pollster Chris Anderson. "But the defining characteristic of this race so far is the lack of engagement on the part of voters. The fact that one-in-five haven't decided shows us that people haven't tuned in yet."
Equal numbers of Republicans are supporting Guadagno (77 percent) as Democrats are supporting Murphy (78 percent).  Independents prefer Murphy by a 19-point margin (41-22 percent), but 37 percent are unsure or would pick somebody else.
Sixty-seven percent of likely voters are "extremely" or "very" interested in the governor's race.  It hurts Guadagno that slightly more Democrats (70 percent) than Republicans (64 percent) are interested.
Overall, Murphy leads "extremely" or "very" interested voters by 19 points (52-33 percent).
The two gubernatorial candidates are viewed favorably by likely voters in the Garden State:  Murphy nets positive by 27 points (53 percent favorable vs. 26 percent unfavorable) and Guadagno by 9 (43-34 percent).
Guadagno, however, may be getting hurt by two other Republicans' dismal ratings.  Gov. Chris Christie's numbers are deep underwater, by a 56-point margin (21 percent favorable vs. 77 percent unfavorable), while President Donald Trump receives a net negative 24 favorability rating (37-61 percent).  The embattled Menendez in the midst of a corruption trial is viewed more favorably than Trump, though just slightly with a net negative 20 rating (28 percent favorable vs. 48 percent unfavorable).
The silver lining for Guadagno, though, may come in the form of taxes, which have been central to her campaign messaging.  When voters were asked who they thought was more likely to lower state property taxes, the Republican won out over Murphy by a slim 3-point margin (28-25 percent).
The candidates squared off in their first debate October 10 where property taxes were a key topic of discussion.  They meet Wednesday for their second and final debate ahead of the November 7 election.
But taxes account for Guadagno's only win in the poll.  Murphy takes the "W" on the other issues tested:
• "More likely to create jobs":  Murphy +12 (36-24 percent)
• "More likely to clean up corruption in state government":  Murphy +10 (31-21 percent)
• "More likely to lower drug addiction":  Murphy +2 (24-22 percent)
Yet, many voters don't think either candidate is likely to lower state property taxes (32 percent), clean up corruption (31 percent), lower drug addiction (31 percent) or create jobs (22 percent).
Menendez Corruption Trial
When asked if they think Menendez is "guilty of the corruption charges he is facing," over half of likely voters can't say (51 percent).  Thirty-two percent think he is guilty versus 10 percent who say he's not.
Voters are more decisive on what should happen if he is convicted: 73 percent say he should resign immediately.  Just 19 percent think he should wait until the next governor is in office.
"Most voters are withholding judgment on Senator Menendez's guilt, but if he is convicted they want to wash their hands of him quickly," says Anderson.  "It says something about New Jersey's desire to turn the page on corrupt politicians that even Democrats would rather have the universally disliked Governor Christie appoint Menendez's replacement than to let the Senator hold the seat for a few more months to allow for Christie's successor to make the appointment."
Democrats (62 percent), Republicans (89 percent), independents (71 percent), Murphy supporters (59 percent), and Guadagno supporters (89) all think Menendez should resign ASAP if convicted.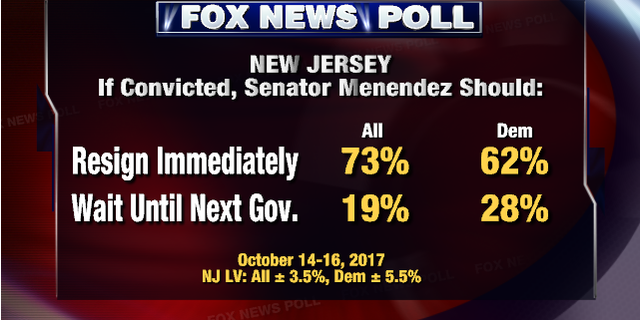 Vice President Mike Pence weighed in on the issue on a radio show Tuesday saying, "Having a convicted felon in the United States Senate, I think, would be altogether inappropriate and wrong."
The Fox News Poll is conducted under the joint direction of Anderson Robbins Research (D) and Shaw & Company Research (R). The poll was conducted October 14-16, 2017, by telephone (landline and cellphone) with live interviewers among a sample of 679 likely voters selected from a statewide voter file in New Jersey. It has a margin of sampling error of plus or minus 3.5 percentage points for the total sample.