Fox News Poll: Fewer fret over, more focus on politics
When the nation is divided on seemingly every issue, it's no surprise many voters feel the jitters.
Sixty percent say they're nervous about American politics today. And that's after the election helped settle some anxieties: last March, 82 percent felt nervous.
On the flip side, the number saying they're confident has tripled:  33 percent, compared to only 11 percent last year.
That's according to a Fox News Poll conducted prior to President Trump's address to Congress Tuesday.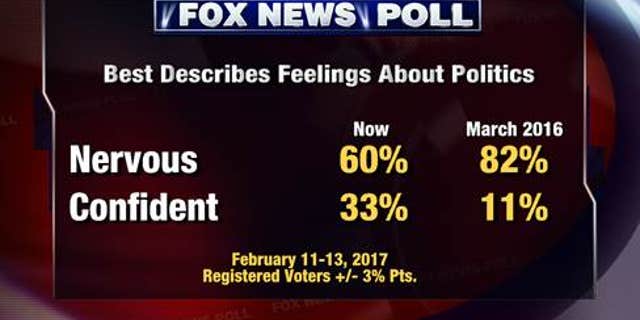 CLICK HERE TO READ THE FULL FOX NEWS POLL.
Check out this Trump effect:  In 2016, roughly equal numbers, about 8 in 10, of both Democrats (80 percent) and Republicans (84 percent) felt uneasy about politics.  Now, 92 percent of Democrats and just 29 percent of Republicans are nervous.  That's a 63-point gap.
Anxiety among independents is down 28 points, from 82 percent a year ago vs. 54 percent now.
In addition, more people are focusing on Washington these days. About nine times as many voters say they're paying more attention to politics rather than less attention (52-6 percent).  Another 42 percent say there's no change.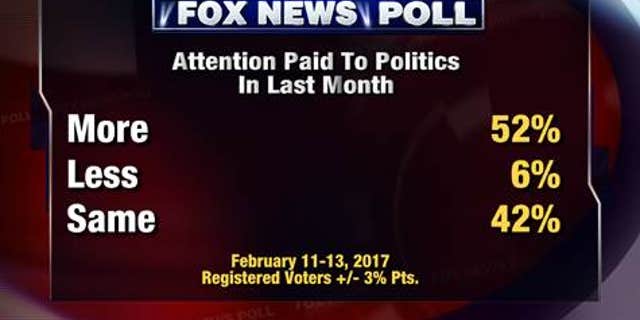 Meanwhile, three-in-four voters (77 percent) say the 2016 election made them more likely to vote in the next presidential election.  That includes 80 percent of both Democrats and Republicans, and 66 percent of independents.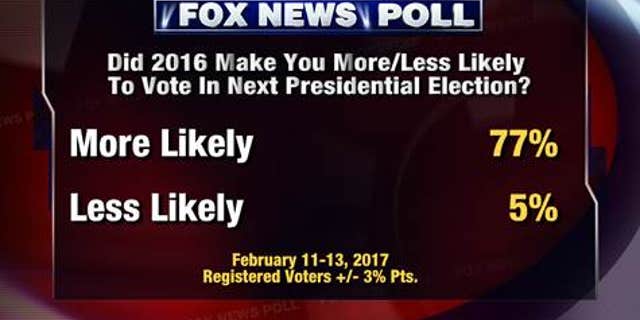 The Fox News poll is based on landline and cellphone interviews with 1,013 randomly chosen registered voters nationwide and was conducted under the joint direction of Anderson Robbins Research (D) and Shaw & Company Research (R) from February 11-13, 2017.  The poll has a margin of sampling error of plus or minus three percentage points for all registered voters.