Fox News Poll: Confidence in military remains high, in media low
More voters have faith in the U.S. military than in other national institutions, according to the latest Fox News Poll released Monday.
The news media rank at the bottom of the list asked about in the poll.
Virtually all voters believe in the military: 96 percent have either a great deal (67 percent) or some (29 percent) confidence.
CLICK TO READ THE FULL POLL DOC.
The military is followed by the Supreme Court, the FBI, and the IRS. Majorities have at least some confidence in these institutions (83 percent, 80 percent, and 55 percent respectively).
Confidence in the high court is up 14 percentage points since 2014, the last time the question was asked on a Fox News Poll.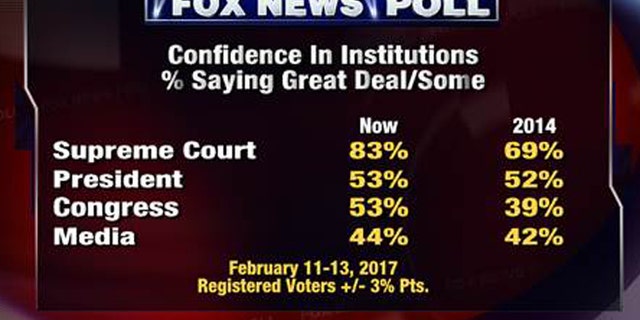 Narrow majorities have confidence in the presidency (53 percent) and Congress (53 percent). Yet four times as many have a "great deal" of faith in the presidency (33 percent) as in Congress (8 percent).
Faith in Congress is up 14 points since 2014. The highest level of confidence in Congress was 76 percent in 2002.
While overall faith in the institution of the presidency is up just one point in the last three years, the number having a "great deal" of confidence is up 10 points to 33 percent.
Confidence in the presidency hit a record high 86 percent in April 2002 -- seven months after 9/11 and just weeks after President George W. Bush launched Operation Iraqi Freedom. At that time, 59 percent had a great deal and 27 percent had some confidence in the office.
Forty-six percent lack confidence in the presidency -- almost identical to the 47 percent who felt that way in 2014. At the same time, that's nearly four times as many as the 12 percent who lacked confidence in the office 15 years ago (2002).
Congress ranks just above major business organizations, which have the confidence of 51 percent of voters.
Some 44 percent have faith in the media. While that's mostly unchanged since 2014, it's a significant 19-point drop since 2002. A majority, 55 percent, lacks confidence today.
Equal numbers of voters have no confidence at all in the media (36 percent) or the presidency (36 percent). Both are record highs.
Since 2014, confidence among Democrats has increased 19 points in the media and dropped 69 points in the presidency. By comparison, confidence among Republicans is down 14 points in the media and up 68 points in the presidency.
More independents feel confident in the presidency today (59 percent) than did so in 2014 (39 percent).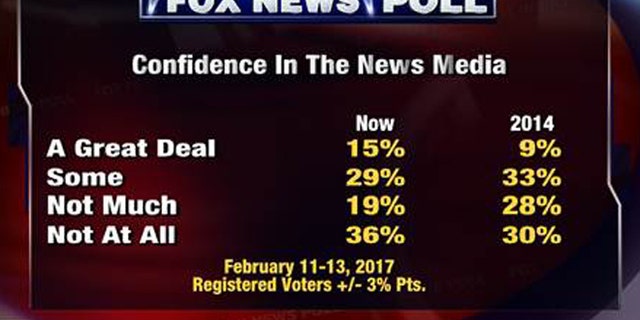 The Fox News poll is based on landline and cellphone interviews with 1,013 randomly chosen registered voters nationwide and was conducted under the joint direction of Anderson Robbins Research (D) and Shaw & Company Research (R) from February 11-13, 2017. The poll has a margin of sampling error of plus or minus three percentage points for all registered voters.