Fox News Poll: 67 percent say delay Obamacare, 53 percent would vote to repeal it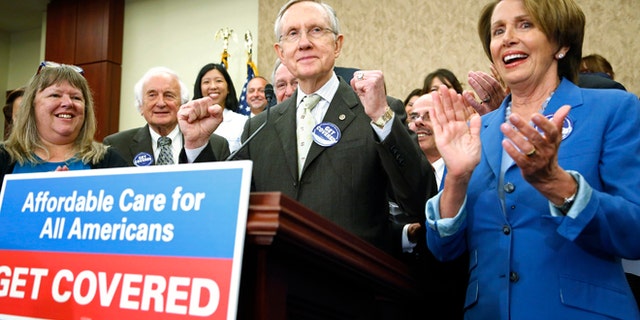 Americans remain unhappy with the health care law: Majorities say they wish it had never passed, would vote to repeal it if they could, and think implementation should be delayed until the kinks are worked out. At the same time, a shrinking majority believes the law will survive.
That's according to a year-end Fox News poll released Wednesday.
Click here for the poll results.
The number of voters who want implementation of the law delayed continues to grow. The new poll shows 67 percent think it should be postponed a year "until more details are ironed out." That's up four percentage points since last month -- and up 10 points since October.
Those favoring a delay also now include a majority of Democrats: 54 percent support delaying implementation. That's up 10 points from 44 percent last month.
Overall, by a 54-38 percent margin, people wish the health care law had never passed and the 2009 system were still in place.
Similarly, 53 percent would vote to repeal the law if given the chance, while 41 percent would keep it.
Republicans (86 percent repeal) are 14 points more likely to want the health care law repealed than Democrats are to want to keep it (72 percent keep).
About one Democrat in five would vote to repeal the law (22 percent).
Sixty-one percent of voters believe the Obama administration knew ahead of time that not everyone would be able to keep their doctor. What's more, almost everyone says it's important to them to be able to choose their doctor (82 percent "very" and 13 percent "somewhat" important).
Most voters are troubled that a couple of the basic guarantees Americans were given before the health care law passed -- are now broken promises: 32 percent find it more troubling that people were told they could keep their health plan, while 15 percent think it was worse that the administration told people they could keep their doctor. Another 25 percent of voters say those are equally troubling. Just 27 percent finds neither of these is troubling.
President Obama's job rating on health care remains extremely negative. By a wide 22-point margin voters are more likely to disapprove (59 percent) than approve (37 percent) of the job he's doing. His current approval rating on health care is just one point above his record-low 36 percent approval in November.
Will Obamacare succeed? Voters aren't convinced it will: 38 percent feel confident that enough people will sign up to make it successful, yet many more -- 60 percent -- don't think that will happen.
The number thinking Obamacare will eventually be repealed or defunded is up: 40 percent feel that way, an increase of 13 points since October. On the other side, 54 percent believe it will remain the law of the land, down from 64 percent two months ago.
The Fox News poll is based on landline and cell phone interviews with 1,027 randomly chosen registered voters nationwide and was conducted under the joint direction of Anderson Robbins Research (D) and Shaw & Company Research (R) from December 14-16, 2013. The full poll has a margin of sampling error of plus or minus three percentage points.