Fox News Poll: 60 Percent Still Favor Offshore Drilling After Spill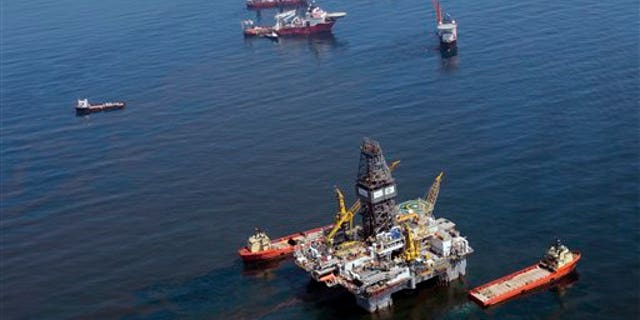 NEWYou can now listen to Fox News articles!
Though support for offshore drilling has dipped in the wake of the recent oil spill in the Gulf, a majority of American voters still favor increasing drilling in U.S. coastal waters, according to the latest Fox News poll.
A British Petroleum oil rig exploded in the Gulf of Mexico on April 20 and the resulting oil spill has caused tremendous damage to the region — reminding Americans of the risks involved in offshore drilling.
Even so, the new poll finds 60 percent of voters favor increasing offshore drilling in U.S. coastal areas, while 33 percent oppose it. Last month, 70 percent favored it and 22 percent were opposed, and previous Fox News polls showed just over 7 voters in 10 favored increasing offshore drilling (71 percent favored it in 2008, and 72 percent in 2009).
Half of American voters (50 percent) approve of how the Obama administration is dealing with the oil spill, while 29 percent disapprove and 21 percent are unsure.
That's a just a tad bit better than the president's ratings overall: 48 percent approve of the job President Obama is doing and 43 percent disapprove.
The number of voters approving of the president's job performance is up slightly from two weeks ago (46 percent approved), and up 5 percentage points from a month ago (43 percent approved). A year ago this time, 60 percent approved and 30 percent disapproved (May 2009).
The national telephone poll was conducted for Fox News by Opinion Dynamics Corp. among 900 registered voters from May 4 to May 5. For the total sample, the poll has a margin of sampling error of plus or minus 3 percentage points.
The drop in support for increasing drilling is completely attributable to a decline among Democrats and independents. Some 47 percent of Democrats favor the idea now, down from 61 percent last month. Similarly, 57 percent of independents favor it, down from 71 percent.
Among Republicans, 78 percent favor it today and 79 percent favored it last month.
There are significant differences among views regionally. The largest number in favor of increasing offshore drilling is in the South, where — despite being closest to the current danger — 67 percent support the idea. With 49 percent in favor, those living in the Northeast are the least likely regionally to support it. In the Midwest, 62 percent favor increasing drilling, as do 57 percent of those living in the West.