Fox News-Google Debate Draws Nearly 20,000 Viewer Questions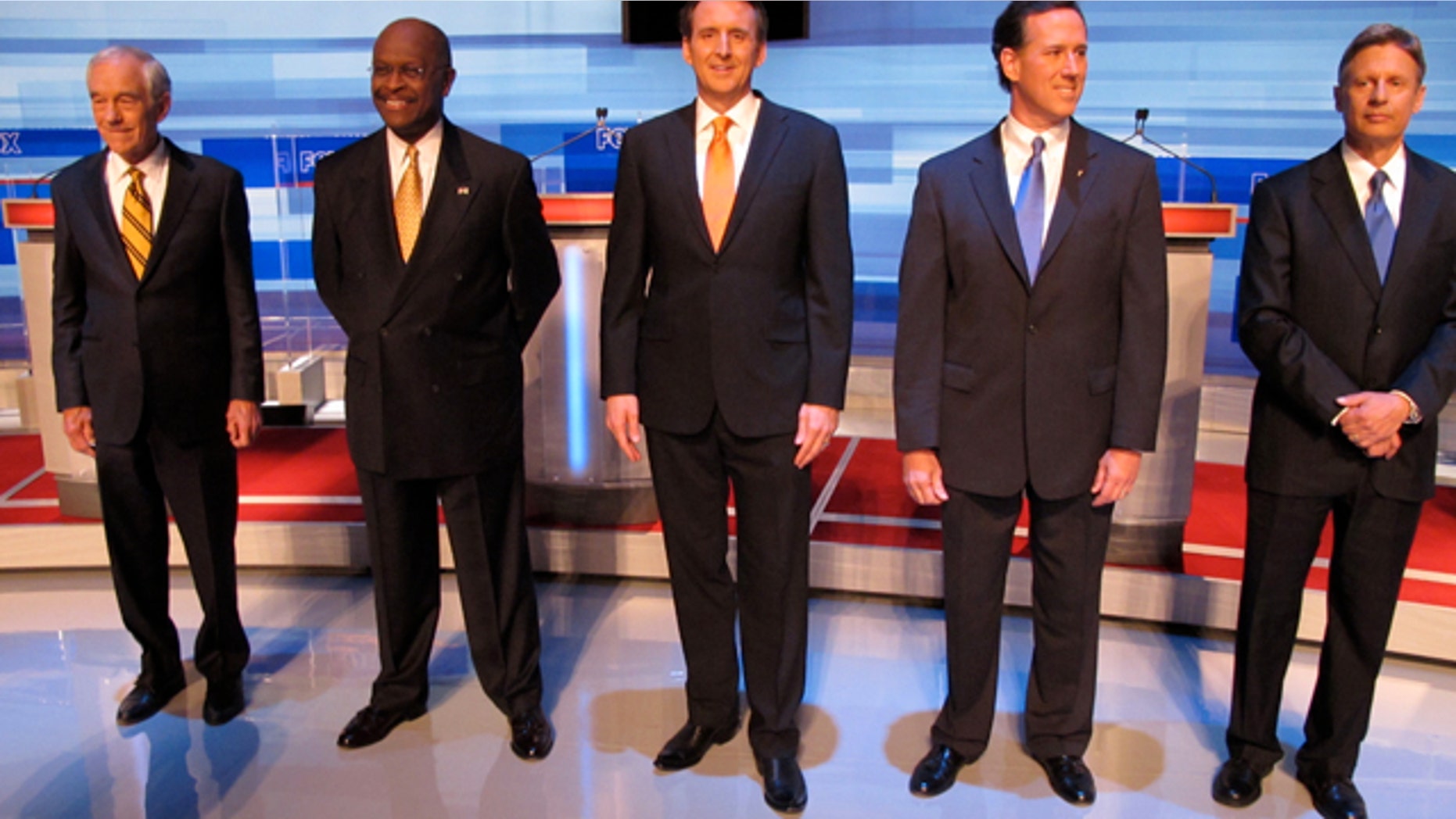 With online submissions now closed for Thursday's Fox News-Google debate, more than 18,000 questions and 100,000 votes have been offered via text and videos on YouTube.
About a dozen of the questions will be delivered at the GOP presidential debate Thursday, hosted by Fox News and Google from 9 to 11 p.m. ET in Orlando, Fla., in conjunction with the Republican Party of Florida. Fox News' Bret Baier will moderate, joined by Fox News anchors Megyn Kelly and Chris Wallace as panelists.
The nine candidates slated to appear at the debate are Texas Gov. Rick Perry, former Massachusetts Gov. Mitt Romney, Minnesota Rep. Michele Bachmann, Texas Rep. Ron Paul, former Utah Gov. Jon Huntsman, former House Speaker Newt Gingrich, businessman Herman Cain, former Pennsylvania Sen. Rick Santorum and former New Mexico Gov. Gary Johnson.
It will be Johnson's first debate appearance since May.
The partnership between Fox News and Google for the debate enabled the viewing public for the first time to weigh in with votes on questions they want asked. All the submissions can be viewed on the YouTube.com/FoxNews website.
The YouTube website features the hottest topics that people are talking about in the submitted questions.
The hottest topic is immigration, and it was the topic of the most popular submitted question: "With so many people waiting years if not decades to enter this country legally, why do we give illegals so many benefits, like free health care, schooling, and in-state-tuition while denying these things to American citizens and legal residents?"
Another hot topic is government spending and debt.
"Would you favor repealing the golden parachute retirement benefits that Congress now enjoys and make them subject to Social Security and Medicare just like everyone else?" another popular question reads.
On Thursday, FoxNews.com will air a preshow and a live stream of the debate. Fox News and Google will also present public data and Google search trends on air to help provide context to the questions and inform the debate throughout the evening.
There will also be poll questions for viewers during the debate featuring a new topic every three minutes. Viewers will also be able offer their reaction to the debate online. Those comments will be visible to other readers and some will be shared at the debate. Fox News commentators will also offer analysis online too.