Former Nebraska governor and congressman Charles Thone dies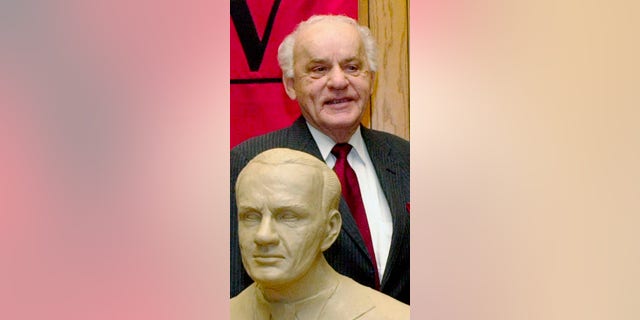 Charles Thone, a former Nebraska governor and congressman who helped investigate the assassinations of President John F. Kennedy and Martin Luther King Jr., has died. He was 94.
Thone -- "Charley" to those who knew him -- died of natural causes at 4:15 p.m. Wednesday at his home in Lincoln, said Mark Schorr, his longtime friend and law partner. Thone had spent the last few weeks in hospice care.
Thone, a Republican, represented Nebraska's 1st Congressional District from 1971 to 1979. He served one term as governor, from 1979 to 1983, and lost his 1982 re-election bid to Democrat Bob Kerrey.
In Congress, Thone served on the House Select Committee on Assassinations that looked into the deaths of Kennedy and King. He concluded there was no evidence that Kennedy's death was part of a conspiracy.
Schorr said as governor, Thone was particularly proud of his efforts to fund the University of Nebraska, which he viewed as one of the state's greatest assets. He said Thone always wanted to "do good for the state."
"Charley had a very big heart -- people always talked about how big his heart was," Schorr said.
Thone focused heavily on fiscal restraint, arguing in his 1980 State of the State address that "people want less government" and fewer laws. In 1979, he vetoed an attempt by lawmakers to abolish the death penalty.
Thone returned to private life after his tenure as governor and continued to work as an attorney in Lincoln. In 2010, he led a coalition of governors to persuade voters to reject a ballot measure that would have eliminated the Nebraska state treasurer's office. The measure failed.
"He had friends in every corner of the state, and engaged everyone he met with warmth, respect and good humor," said Nebraska Secretary of State John Gale.
Thone was born on Jan. 4, 1924, and grew up on a 400-acre farm near Hartington, in northeastern Nebraska, where his family raised cattle, corn and hogs. He served as an officer in the U.S. Army infantry during World War II, and went on to graduate from the University of Nebraska's law school in 1950.
Before he reached public office, Thone served as the Nebraska Republican Party's state chairman. He held to his conservative beliefs throughout his life, but voiced concerns about the country's partisan divide in his later years.
"Gov. Thone was a man of integrity who provided stable leadership as Nebraska endured a national recession," said Gov. Pete Ricketts. "While we mourn his passing, the people of Nebraska will remember his legacy of fiscal responsibility as governor of Nebraska and congressman."
Thone is survived by his wife, former first lady Ruth Thone, and three daughters.