Former House Republican Leader Bob Michel dead at 93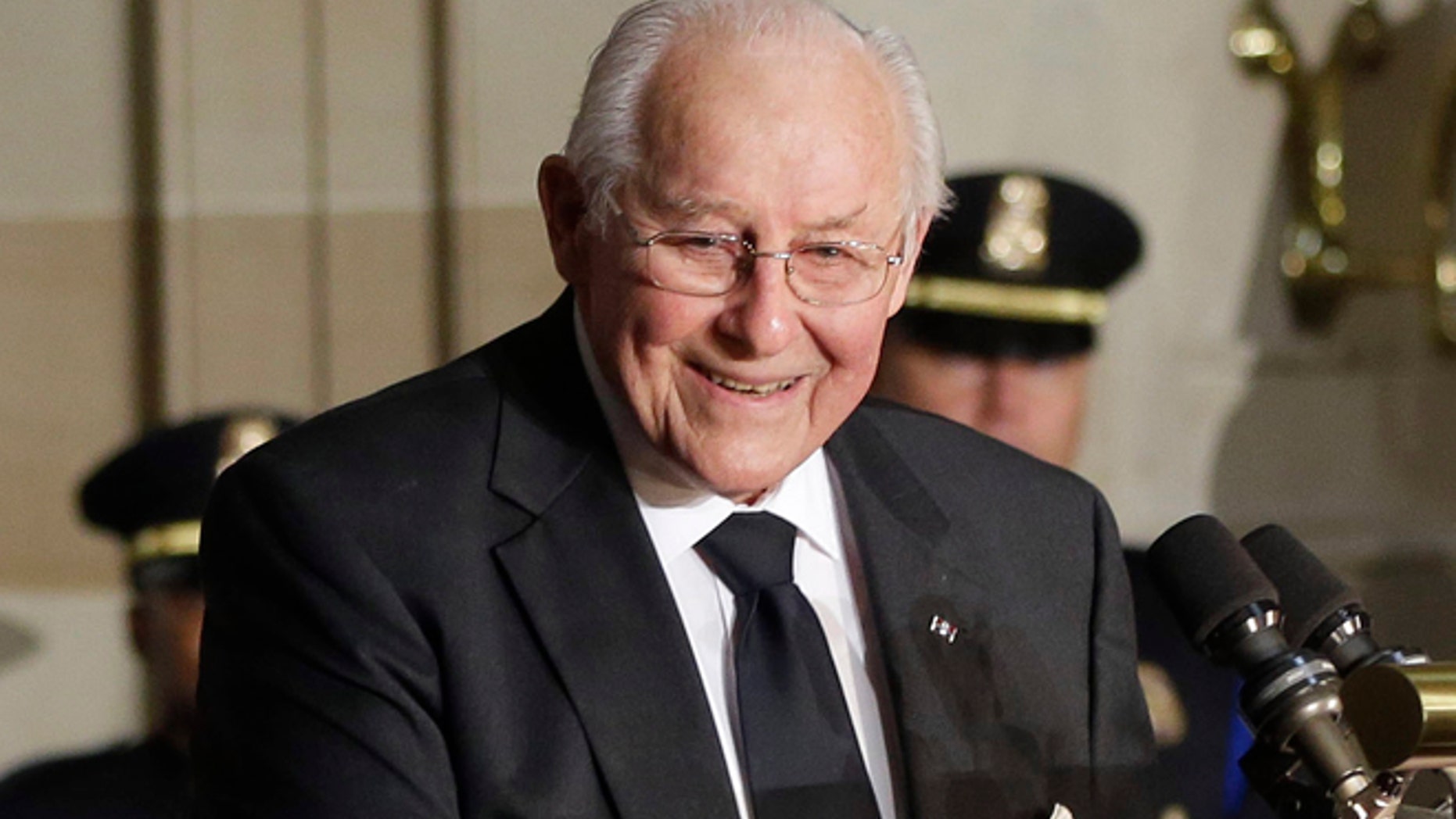 Robert H. Michel, who served his entire 38-year congressional career in the congressional minority and rose to the post of House Republican leader, is dead at 93.
First elected in 1957, Michel gradually worked his way up through the party leadership first as chairman of the Republican Congressional Campaign Committee in 1972, then as minority whip from 1974 to 1980 and finally as minority leader until his retirement after the historic 1994 Republican wave elections.
Although Michel had a voting record similar to the Georgia congressman who would eventually succeed him as Republican leader, Newt Gingrich, he was known for a negotiating style that embraced consensus over confrontation. Michel had strong friendships with then-Speaker Thomas "Tip" O'Neill, D-Mass., and Ways and Means Committee Chairman Dan Rostenkowski, D-Ill.
Raised in Peoria, Ill., Michel initially entered public service during World War II as a combat infantryman in 1943. After he was wounded in battle, he was discharged as a disabled veteran in 1946. He was awarded two Bronze Stars, the Purple Heart and four battle stars.
Former Rep. Ray LaHood, R-Ill., who would later fill Michel's vacant congressional seat in 1995, once remarked that Michel refrained from using political rhetoric that evoked images at war because he "knew warfare at first hand."
"That is the reason he never used the macho phrases like 'warfare' and 'take no prisoners' when discussing politics with his staff. To Bob, the harsh, personal rhetoric of ideological warfare had no place in his office, no place in the House, and no place in American politics," LaHood said at a 2003 Congressional Distinguished Service Award ceremony that honored Michel.
In 1949, after finishing college upon his return from the war, Michel became an aide to Rep. Harold Velde, D-Ill., which served as his introduction to Capitol Hill. After Velde announced that he would not seek reelection in 1956, Michel ran for public office for the first time and won to replace his former boss.
Michel first served on the Committee on Government Operations (now known as the Oversight and Government Reform Committee) from 1957 to 1958. A year later, he changed committees and worked on the Appropriations panel from 1959 to 1980.
The Illinois Republican first entered the leadership hierarchy when he was elected the chairman of the Republican Congressional Campaign Committee in 1972, a position which helped him cement loyalty among his colleagues with his fundraising prowess. Two years later, Michel became the minority whip and by 1980, he had risen to minority leader.
In 1988, Michel came under fire when he reminisced about blackface minstrel shows and said that changing racially offensive words in songs was comparable to the totalitarian Soviet Union government's rewriting of history. He later apologized for his remarks, claiming that they "were not in any way intended to be anything more than an honest attempt to understand and come to grips with the fact of American culture."
By the early 1990s, many in Michel's caucus complained that he was too conciliatory with Democrats and was pushing the GOP agenda hard enough. Gingrich, then minority whip, was considered a potential threat to Michel's position. In 1994, even as his party was poised to regain the House for the first time in four decades, Michel announced that he would not seek reelection. He denied that Gingrich's rise in popularity had motivated his decision to retire, but it was clear that Michel would have received a challenge for the speakership had he stayed in Congress.
In announcing his retirement, Michel complained about the diminished "camaraderie" on Capitol Hill and colleagues who preferred "trashing the institution" over effective legislating – a veiled criticism of the combative Gingrich.
Following Michel's announcement not to pursue reelection, President Clinton said in a statement: "For over a decade as Republican leader, Bob Michel has exhibited the balance of partisanship and cooperation which makes our system work. He would never give my party quarter in a partisan fight, but Bob Michel would never put his party's interest above the national interest."
Clinton would later go on to award Michel the Presidential Medal of Freedom – the nation's highest civilian honor – that same year. Michel had previously received the Presidential Citizens Medal from President Ronald Reagan in 1989.
Only once would Michel have the opportunity to hold the gavel in the House chamber. On the last day of the lame-duck session in 1994 following the midterm elections, then-Speaker Tom Foley, D-Wash., allowed Michel to preside over the House. The move surprised Michel. His colleagues roared and applauded as the Illinois Republican strode to the dais and took clasped the gavel, handed him by his old friend Foley.
Michel then noted never presided over the body during his entire Congressional career. Republicans had never held the majority during Michel's tenure on Capitol Hill.
After Michel retired from the House, he joined the Hogan & Hartson political consulting firm as a senior adviser for corporate and governmental affairs.