Former House Majority Leader Eric Cantor joins Wall Street investment bank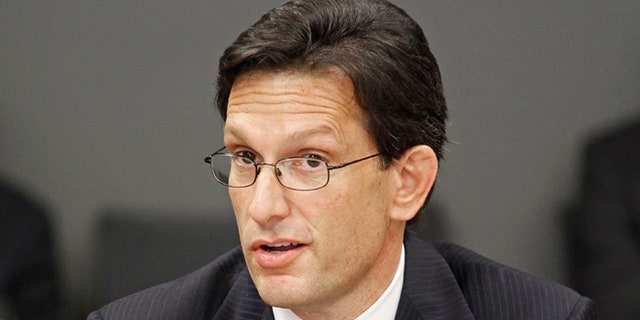 Former House Majority Leader Eric Cantor was not unemployed for long.
The Wall Street boutique investment bank Moelis & Co. announced early Tuesday that Cantor will be joining the firm Moelis & Co. as Vice Chairman and Managing Director, effective this week. Cantor and firm founder Ken Moelis first disclosed the Virginia Republican's move to The Wall Street Journal late Monday.
The Journal reports that Cantor will advise Moelis & Co.'s clients on takeovers and other deals, and also have a role in the opening of a Washington office for the firm. Cantor, who worked in his family's real estate business before his election to Congress, will continue to live in Virginia, though he will have an office at the firm's New York headquarters.
"Eric has proven himself to be a pro-business advocate and one who will enhance our boardroom discussions with CEOs and senior management as we help them navigate their most important strategic decisions," Moelis said in a statement released by the firm.
Cantor resigned from Congress last month following his shocking defeat by Tea Party-backed college professor David Brat in the June GOP primary. He was first elected to Congress in 2000 and had served as Majority Leader since 2011. Cantor's defeat to Brat made him the first sitting House Majority Leader to lose in a primary since the position came into being in 1899.
While in office, Cantor was popular among Wall Street firms. The Journal, citing the Center for Responsive Politics, reported that he had raised over $1.4 million from financial companies and their employees since 2012. Among the biggest donors were Goldman Sachs, which formerly employed Cantor's wife, Diana, and Blackstone Group LP.
The Journal also reported that Moelis first raised the prospect of Cantor joining his firm shortly before the July Fourth holiday, just after Cantor's primary defeat. Cantor told the paper that he had held discussions with other organizations about possible employment, but none were as serious as those with Moelis.
"I have known Ken for some time and having followed the growth and success of his Firm, I have long admired his vision and leadership," Cantor said in the company's statement. "The new model of independent banks offering conflict free advice, in a smaller more intimate environment, was a place where I knew my skills could help clients succeed."
Click for more from The Wall Street Journal.