Former Guerrilla Fighter Poised To Win Presidency In El Salvador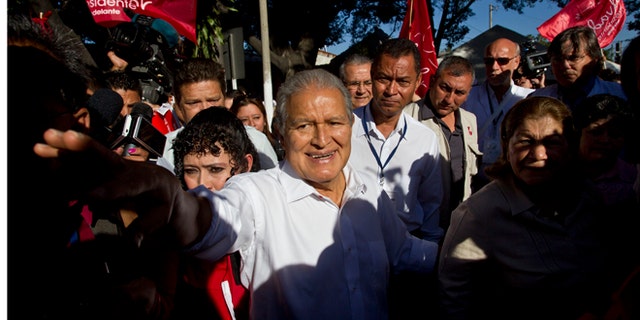 SAN SALVADOR, El Salvador (AP) – A former Marxist guerrilla who has promised to continue the government's popular social programs is poised to win El Salvador's presidential election runoff on Sunday, giving the ruling party a second consecutive term.
Most polls show Salvador Sánchez Cerén, 69, of the Farabundo Marti National Liberation Front, or FMLN, with a lead that ranges from 10 to 18 percentage points ahead of San Salvador Mayor Norman Quijano, the candidate of the conservative Nationalist Republican Alliance, known as ARENA.
Quijano, 67, campaigned with Cold War references to the country's 12-year civil war, in which the United States backed the Salvadoran government against the FMLN to stop the spread of communism in Latin America. Quijano said Sánchez Cerén, one of the top rebel commanders, would take the Central American country down a communist path and invoked images of Venezuela's late socialist president Hugo Chávez.
"The FMLN proposals are based in giving the country's sovereignty to Venezuela," he said during the campaign.
But analysts say the strategy backfired in the country of 6 million people more concerned with gang violence and a sluggish economy than ghosts of the past.
"(It) only works with one sector of society, the most conservative one in Salvadoran society, which is still afraid of an electoral victory by the FMLN," said political analyst Alvaro Artiga.
Sánchez Cerén said he will take a moderate approach to government like that of his presidential model, Uruguay's President José Mujica, another former guerrilla who formed an inclusive government.
El Salvador has had one of the highest murder rates in the world, even with a 2012 gang truce that was billed as cutting the country's daily average of 14 dead — the majority gang members — in half.
Current President Mauricio Funes, a former television journalist who never participated in the war, was elected in 2009 as the FMLN's first, unseating decades of ARENA governments. Sánchez Cerén would be the first true guerrilla to lead the country. He helped negotiate the 1992 Peace Accords that ended the war that left 76,000 people dead and 12,000 missing.
He campaigned door to door while his party worked to paint ARENA as the party of corruption. Funes pushed the investigation of former ARENA President Francisco Flores, formerly Quijano's campaign manager, over the destination of millions in aid he received from Taiwan.
Quijano criticized Funes for negotiating with criminals based in coming up with the truce between the country's two largest and most dangerous gangs, the Mara Salvatrucha and 18th Street.
After an initial drop in killings in 2013, murders are on the rise again so far this year. According to police, between Jan. 1 and March 1, there were 501 murders, 106 more than in the same period of 2013. And many dead are starting to be discovered in mass graves, fueling criticism that the truce didn't nothing more than cause the gangs to hide their victims and create the illusion of less crime.
Sánchez Cerén said he will fight crime by boosting community investment, better education and fortified police.
He will also continue Funes' social programs, including giving books, shoes and uniforms to school children, seeds and fertilizers to the poorest farmers and a small pension to the elderly.
Quijano said he would deploy the army to fight street gangs. He has proposed giving military training to all young men between ages 18 and 30 who are unemployed and not in school.
Though Quijano initially criticized Funes' social programs, he says he will continue them as well.
Follow us on twitter.com/foxnewslatino
Like us at facebook.com/foxnewslatino