Florida felons are latest point of contention in fight for battleground state's votes
Florida is embroiled in a debate that could have serious ramifications for the midterm elections, and for 2020, with a federal judge ordering the governor to revamp a "fatally flawed" voting rights restoration process for convicted felons.
Nearly 1.5 million felons -- a big chunk of the state's roughly 21 million people -- have been disenfranchised in Florida. Under the current system, felons must wait five years after completing their sentences before applying to have their civil rights restored, and the process following that initial application can take years to complete.
Florida is one of only four states that leave their felons completely disenfranchised, or deprived of their right to vote after their time has been served. The stringent law has prompted many to join the fight to restore voting rights.
In addition to a recent court order to revamp the current system, a new amendment to the Florida  Constitution will be up for a public vote in November, with a win at the ballot box heralding the return of most disenfranchised felons' voting rights.
"We know at the core of most Americans is that concept of forgiveness, redemption, and restoration," Desmond Meade, president of the Florida Rights Restoration Coalition (FRRC), said to Fox News. "At the core, we know that once a debt is paid, it's paid. And the American citizen should be allowed to move on with their life."
Meade, a convicted felon who turned his life around and earned a law degree after serving his sentence, is leading the charge in Florida to have the public there vote in a new amendment that would allow Florida's felon class to participate in the democratic process immediately after paying the debt to society.
Amendment 4 would automatically restore the right to vote for people with prior felony convictions -- except those convicted of murder or a felony sexual offense. Under the current law, felons have to wait five to seven years just to start the application process to regain the right to vote.
"At the core, we know that once a debt is paid, it's paid. And the American citizen should be allowed to move on with their life."
Meade and the FRRC have been some of the largest campaigners in the state for Amendment 4, saying that a large number of Florida's residents are in favor of restoring voting rights for disenfranchised felons. They recently garnered over a million signatures on a petition.
"Never before has Florida seen such a huge grass-roots movement, and we did," Meade says. "These people rallied from all political spectrums, all walks of life, they rallied around this and said, 'We, as citizens of Florida, are going bring sunshine back to this state.'"
According to polling experts, Amendment 4 is tracking high among voters.
"Polling from early February indicates that about 71 percent of voters are in favor of this," Josh Altic, project director for the Ballot Measures Projects at Ballotpedia, told Fox News. "In Florida, the threshold is 60 percent, so it's one of the few states that has a supermajority requirement that's pretty high."
"[It] looks like they have a good 11-point margin."
While Amendment 4 looks to be favored among voters, there are those in Florida who feel that the campaign for a yes vote would swing a historical battleground state in favor of Democrats in 2020. Critics say easing voting laws could open the floodgates.
Richard A. Harrison, a Tampa-based attorney who also heads Floridians for a Sensible Voting Rights Policy, said that an automatic restoration goes to the "complete opposite end of the spectrum" of the current clemency system, with restoration taking discretion out of the process.
"We're no longer going to consider, for example, are we talking about a nonviolent felon versus -- a career violent criminal," Harrison said. "Are we talking about a first-time felon or somebody who's had a 20-year life of crime? Are we talking about somebody who committed, maybe, a property crime, or something that you might consider a less serious felony?"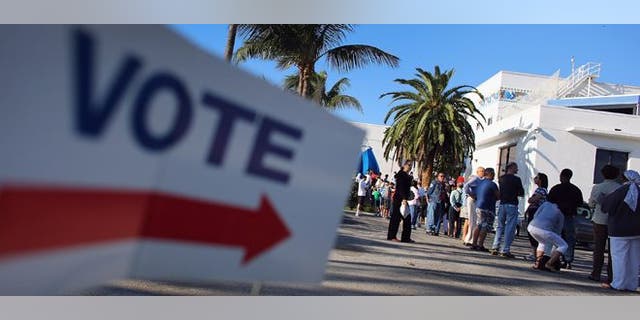 The amendment "takes all felons, other than the murderers and the rapists, and says, 'We're not going to ask any of those questions, you're just going to get your right to vote back.' I don't really think that's the approach that most reasonable people would take."
The campaign for Amendment 4 is occurring at the same time that a federal district court judge ordered Gov. Rick Scott and his cabinet to revamp the state system.
Scott's administration has already filed an appeal, insisting that Florida clemency rules should be determined by the people elected by Floridians and not federal judges.
During his two terms in office, Scott has had his fair share of voting controversies according to a recent article in the Tampa Bay Times. They include:
•    Ordering Pinellas County to stop the use of remote sites as a convenience for voting submitting mail ballots. The state's supervisor of elections went against the order and Scott's administration backed down.
•    In 2014, Scott's Division of Elections blocked a request by city officials in Gainesville to use the student union building at the University of Florida, claiming that it was not a government-owned community center. The building was never used as a result.
•    Scott also refused to extend the deadline for voter registration in 2016 after forced evacuations due to Hurricane Matthew. A six-day extension was finally given after the Democratic Party filed a lawsuit.
The governor's office pushed back. "Under the Governor's leadership, Florida has become one of the most voter-friendly states in the nation. This includes landmark legislation signed by the Governor in 2013 that gives Floridians more voting days, hours and sites so they can have plenty of options to vote. Also, Governor Scott led the implementation of online voter registration and the investment of $19 million in federal money to increase security and aid locally elected supervisors of elections in the performance their duties," Scott's spokesman McKinley Lewis told Fox News.
As the midterm elections grow closer, the state of Florida could see both parties campaigning for or against amendment 4 respectively, Ballotpedia's Altic says, adding that it could become a hot-button issue with national implications in 2020 and beyond.
"You have people on the Democratic side saying, 'We need to get these rights to everyone. Everyone should be able to vote,'" Altic says. "So I think it's going to be interesting to watch as a national issue-- and people will be watching it from all over the country."
"There's been a lot of effort and a lot of signature gathering going into this, and a lot of money spent on it. So now we're just sitting back and watching the campaign, which is the interesting part."