First Lady Launches Mentoring Program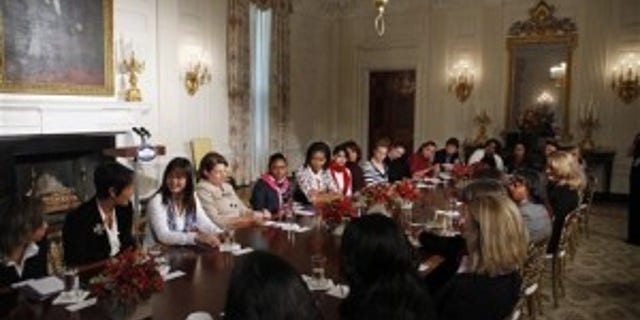 NEWYou can now listen to Fox News articles!
First Lady Michelle Obama launched a new mentoring program Monday that gives young girls access to female White House senior staff. The initiative will allow the mentoring teams to focus on developing, "educational, career development, life-skills," and other mentoring activities, said the White House.
Thirteen 10th and 11th grade girls from D.C., Maryland and Virginia schools joined the First Lady in the State Dining room for the event launch.
Mrs. Obama explained to the girls how she and the President developed the idea for the mentoring program. "When we came to the White House, we thought 'wow, we've got the most powerful seat in the land to help be a bridge builder," she said, "and we thought , 'what can we do to make the White House different? To let kids in our new neighborhood know that the White House is a place for them?' So we started thinking of new ways to bring new kids in, to have their voices heard, to know that the President of the United States hears you and values you and cares about your growth and development."
Among the staff participating are Valerie Jarrett, Senior Advisor the President; Melody Barnes, the President's Domestic Policy Advisor, and Desiree Rogers, White House Social Secretary.
A similar program for young men is expected to begin soon.