Feds warn anarchists could blockade roads, use acid-filled eggs to protest conventions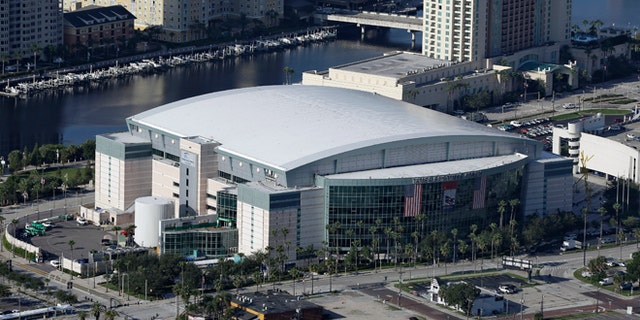 Federal authorities are urging law enforcement agencies across the country to watch out for signs that extremists might be planning to wreak havoc at the upcoming political conventions -- by blocking roads, shutting down transit systems and even employing what were described as acid-filled eggs.
The warning came in a joint FBI-Department of Homeland Security bulletin issued Wednesday.
The bulletin specifically warned about a group of anarchists from New York City who could be planning to travel to the convention sites to disrupt the events by blockading bridges.
Anarchists "see both parties as the problem," so both conventions are prime targets for them, a federal law enforcement official told Fox News.
The Republican National Convention is set to open Monday in Tampa, Fla., and the Democratic National Convention gets underway a week later in Charlotte, N.C.
The joint bulletin, titled "Potential For Violent or Criminal Action By Anarchist Extremists During The 2012 National Political Conventions," says anarchist extremists likely don't have the capability to overcome heightened security measures set up by the conventions themselves. In addition, Tampa Police Chief Jane Castor said Tuesday that fences have been established around "some of the more attractive government targets."
Instead, extremists could target nearby infrastructure, including businesses and transit systems, according to Wednesday's bulletin.
The bulletin mentions possible violent tactics anarchist extremists could employ, including the use of molotov cocktails or acid-filled eggs.
In August 2008, federal authorities arrested a man who was planning to use a molotov cocktail during the Republican National Convention in St. Paul, Minn. In addition, authorities executed four search warrants and arrested eight others for planning to disrupt the convention, according to a 2010 FBI intelligence assessment posted online.
On Tuesday, Tampa police confiscated bricks and pipes found on a rooftop several blocks away from the site of the Republican convention. Graffiti associated with the anarchist movement was also found. Castor called the discovery "disconcerting but ... not surprising."
The bulletin issued Wednesday notes that in 2008, anarchists discussed trying to shut down roads and skyways in St. Paul.
In addition, the bulletin discusses anarchists' use of social media to inform each other of law enforcement actions and positions.
Even though activists associated with the Occupy Wall Street movement are planning to converge on both conventions to protest what one OWS group called "this political system that only works for the 1%," the bulletin issued Wednesday makes no mention of Occupy Wall Street -- focusing instead on "extremist" activities.
"We have said all along that the vast majority of individuals coming to the Tampa Bay area to demonstrate will do so peacefully but there is no doubt that there is a small percentage that will come bent on destruction and disruption, and those are the individuals that we will deal with very quickly," Castor told reporters Tuesday.
The conventions have each been designated a "National Special Security Event" by the U.S. Secret Service, which by law leads operational security plans for such events in coordination with federal, state and local law enforcement.
The Tampa Police department has been asking fellow officers from across the state to help provide security for the convention. Those officers would be paid from $50 million Congress has given both Tampa and Charlotte to offset security costs associated with hosting a convention.
The FBI has long warned of potential dangers posed by "anarchist extremism," particularly during global summits and big events hosted in the United States.
The federal law enforcement official told Fox News there is "no credible threat" tied to international terrorism, but there is always concern that big events such as the political conventions are "attractive targets."