Federal court again orders North Carolina congressional districts redrawn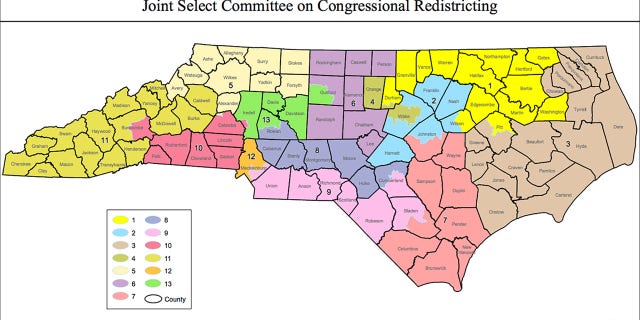 NEWYou can now listen to Fox News articles!
A federal court in North Carolina ruled again Monday that the state's congressional districts must be redrawn and suggested that November's scheduled general election may need to be postponed.
The three-judge panel found that the election advocacy groups and Democrats who brought an initial lawsuit challenging North Carolina's congressional map had standing to do so under the Constitution's Equal Protection Clause.
The panel initially had rejected the boundaries in a January ruling that said Republican legislators had unconstitutionally redrawn the districts to give the GOP an insurmountable advantage in most seats. Currently, North Carolina is represented by 10 Republicans and three Democrats in the House of Representatives.
The Supreme Court declined to hear the case in June, instead ordering the lower court to examine whether the plaintiffs had standing to bring the case.
In Monday's ruling, U.S. Circuit Court Judge James Wynn wrote that North Carolina's General Assembly "expressly directed" the lawmakers and consultants responsible for crafting the congressional district map "to rely on 'political data'—that is, past election results specifying whether, and to what extent, particular voting precincts had favored Republican or Democratic candidates, and therefore were likely to do so in the future—to draw a districting plan that would ensure Republican candidates would prevail in the vast majority of the State's congressional districts, and would continue to do so in future elections."
Wynn added that lawmakers drew the map "not because they believe doing so advances any democratic, constitutional, or public interest, but because, as the chief legislative mapdrawer [state Rep. David Lewis] openly acknowledged, the General Assembly's Republican majority 'think[s] electing Republicans is better than electing Democrats.'
"But that is not a choice the Constitution allows legislative mapdrawers to make," Wynn added.
The court added: "It may be possible for the State to conduct a general election using a constitutionally compliant districting plan without holding a primary election. Or, it may be viable for the State to conduct a primary election on [Election Day] 2018, using a constitutionally compliant congressional districting plan, and then conduct a general election sometime before the new Congress is seated in January 2019."
The current court fight marks the second time that a panel of judges has thrown out Republican-drawn congressional boundaries in North Carolina. In 2016, another panel tossed out two majority black congressional districts initially drawn in 2011, saying there was no justification for using race as the predominant factor in forming them.
The matter could return to the Supreme Court, potentially in time for the new term that begins in October.
The Associated Press contributed to this report.