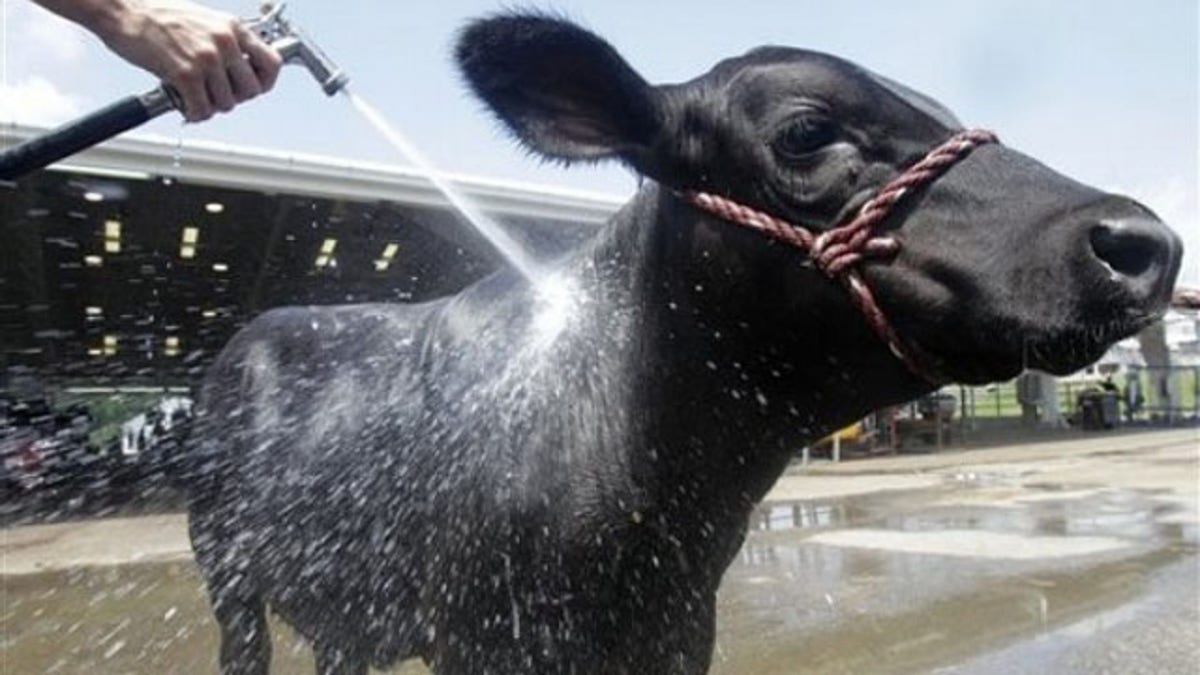 Federal funding meant to compensate ranchers for lost livestock could soon run dry, a looming financial hit that comes after the summer heat wave wiped out thousands of farm animals.
The relief programs -- which pay ranchers for cattle and other livestock that die from extreme weather, disease and other conditions -- were authorized under the 2008 farm bill. While the bulk of that bill lasts through the end of the next fiscal year, the relief programs are set to expire by October of this year.
"It certainly throws a huge wrench into the cash flow," said Tom Shipley, policy director with the Iowa Cattlemen's Association.
There may not be a way to avert at least a temporary funding cutoff. Lawmakers aren't expected to start writing the next farm bill at least until the end of the year.
Agriculture Department spokesman Kent Politsch said it looks like the relief provisions will lapse, though he couldn't estimate for how long.
The question is whether lawmakers will reinstate the programs or some version of them next year. A House Agriculture Committee aide said it was too early to tell and that "every program has to be reviewed."
Without saying specifically how lawmakers should approach it, Politsch said: "The greatest emphasis has to be on preserving the safety net."
A department statement confirmed that to date, "there are no safety net programs to protect producers from natural disaster hardships beginning Oct. 1."
Agriculture officials have been testifying about several programs, including disaster assistance, at hearings in the run-up to the bill-writing process. At a hearing last month, Farm Service Agency Administrator Bruce Nelson estimated that one of the livestock programs has paid ranchers $110 million for losses between 2008 and 2010. Another broader program has paid $29 million in that period.
Cost is surely a factor as lawmakers try to find ways to curb discretionary spending and reduce the deficit. The latest deficit-reduction bill signed into law this week only increases the pressure to find savings.
House Agriculture Committee Chairman Frank Lucas, R-Okla., said at a recent hearing that the bill will be crafted "under a very different fiscal climate" than before.
"The simple truth is that we must make some difficult decisions. There are no sacred cows, so to speak, and during these tough fiscal times, every program, in every title, will be on the table," he said.
Rep. Leonard Boswell, D-Iowa, ranking Democrat on the risk management subcommittee for agriculture, stressed in a statement last month, though, that the industry is subject to "uncontrollable forces," making the "support system" all the more important.
Several relief programs were established under the 2008 farm bill. Aside from programs covering crop loss and grazing loss, one known as the Livestock Indemnity Program pays ranchers for livestock death from extreme weather and disease. More losses are eligible for payments under the Emergency Assistance for Livestock, Honeybees and Farm-Raised Fish Program.
For ranchers, the importance of the programs was underscored during the latest heat wave sweeping the country. Widespread cattle deaths have been reported, and ranchers are being urged to apply for federal assistance. In Iowa, Shipley estimated as many as 4,000 cattle died from the heat in the past two weeks.
Ranchers still have time to be compensated for those deaths. The payments vary depending on the animal. Under the LIP program, payments range from less than $1 for a dead duckling to nearly $1,000 for a dead dairy bull.