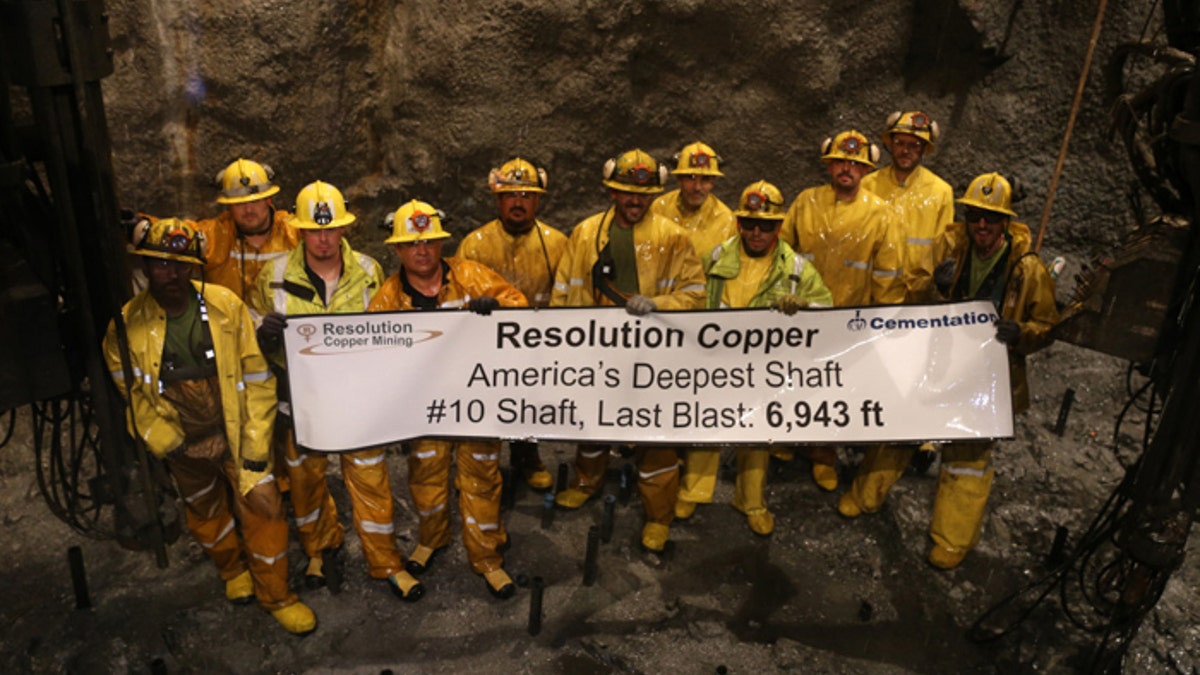 In Arizona's Copper Triangle, 1.6 billion tons of copper ore has been trapped beneath 7,000 feet of rock for billions of years and under a pile of paperwork for a few more, but a development last week has finally put the motherlode of precious metal within reach.
Geologists estimate Resolution Mine could supply the country with 25 percent of its copper needs for the next 40 years, for everything from home and building construction, car manufacturing, power connectivity and wind turbines to medical supplies, appliances and money. Resolution Mining Company, a joint project of two of the world's biggest mining firms, Rio Tinto and BHP Billiton, has already spent $1.2 billion to dig a 28-foot-in-diameter shaft some 1.3 miles down, but until just days ago, environmental concerns and the complaints of Native Americans left it uncertain whether the mine would become an engine of Arizona's economy, or remain merely an impressive hole in the ground.
[image]
"Environmentalist extremist groups have done everything they can to kill it," said Rep. Matt Salmon, R-Ariz. "However, the environmental impact is incredibly minimal. The project has been studied for a decade. Detractors are taking extreme positions that are not based on sound science."
Buried deep in the 1,600-page National Defense Authorization Act for Fiscal Year 2015 that President Obama signed last week was language facilitating a land swap in which the mining company will get 2,400 acres of federally owned land surrounding the mine in the Oak Flat area of the Tonto National Forest in exchange for 5,300 acres of its pristine private land. The deal paves the way for full build-out of the mine, near Superior, 60 miles east of Phoenix. It sits among 80 other active mines in the Arizona Copper Triangle, but once operational, will be the largest in the country - by far.
The project's most vocal critic of the project, Terry Rambler, chairman of the San Carlos Apache Tribe, said the vast dig that will spread outward from the bottom of the shaft could cause the surrounding territory, which he considers Apache ancestral land, to collapse. Rambler said the national forest is sacred, and bears the name of the Tonto Apaches, who were forced from the Oak Flat area in the 1870s and imprisoned at Camp Verde Reservation.
[pullquote]
"Oak Flat is a place of irreplaceable beauty," Rambler said in a statement. "Resolution Copper plans to use the highly destructive block cave mining method to remove one cubic mile of ore – the equivalent of 1,400 stadiums – 7,000 feet beneath the surface of the earth without replacing any of the earth removed because it is the cheapest form of mining. Resolution Copper itself admits that the surface will collapse, creating a crater visible from outer space and destroying forever our place of worship."
But Salmon said the mine will bring thousands of much-needed jobs to Arizona.
"Arizona has been really struggling since 2008," Salmon said. "When there was a downturn in the economy, Arizona was hit harder than other states, and from a jobs point of view, we've been slow to come out of it."
Resolution Copper will invest $6 billion more, creating 3,700 mining-related jobs and generating more than $61 billion to the state over the life of the mine, according to estimates The company also will set up a refining plant in Utah.
"This mine will be incredibly important to our economy," Salmon said.
Glenn Hamer, president and CEO of the Arizona Chamber of Commerce, said in a statement the mine will mean $20 billion in tax revenue, $6 billion of which goes to state coffers, and another $220 million in annual wages.
[image]
Critics have noted the copper won't all be used in the United States, but Salmon said Americans should be proud to export a product like copper in a global economy.
"Whether sold domestically or sold in other countries, it doesn't matter. The mine is creating American jobs," Salmon said.
"To the extent that a part of the copper is exported from the United States, that is a good thing, in that it addresses our trade imbalance with like places like China, Korea and Japan," Todd Malan, vice President of external affairs for Rio Tinto PLC said in a phone interview.
A 7.5-mile plot along the Lower San Pedro River deemed by the Nature Conservancy as one of the "Last Great Places on Earth," is among the properties Resolution Copper will turn over to the government.
Resolution Copper also will cede several other parcels including a 940-acre area next to a federal conservation area; a 149-acre property with structure ruins, petroglyphs and grinding sites, and the Apache Leap, a famous Apache warrior battleground site important to the San Carlos Apache.Resolution Copper must undergo strict regulatory review over the next four to five years, Malan said.
Proponents in Congress inserted the measure into the Defense Appropriation bill after separate legislation known as The Southeast Arizona Land Exchange Conservation Act, stalled for six years. In a joint statement, Arizona senators John McCain and Jeff Flake defended placing it in a defense bill.
"To maintain the strength of the most technologically-advanced military in the world, America's armed forces need stable supplies of copper for their equipment, ammunition, and electronics," they wrote. "In fact, copper is the second-most utilized mineral by the Department of Defense, and the Pentagon has labeled it an 'essential mineral.'"
They called the land exchange a "game-changer for an area of Arizona facing grave economic challenges" and "victory for the State of Arizona, after years of hard work."