FBI chief Comey says at Liu's funeral that number of 2014 police deaths is 'shocking'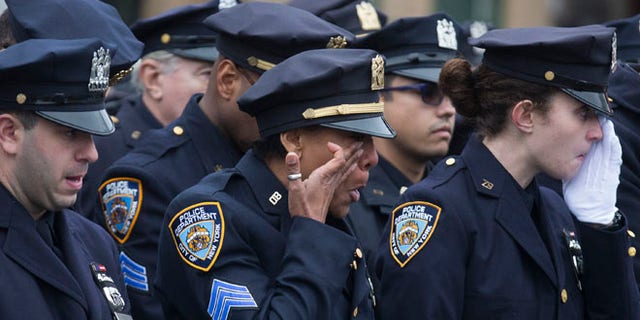 NEWYou can now listen to Fox News articles!
FBI Director James Comey on Sunday honored murdered New York City Police Officer Wenjian Liu and remarked that he was shocked and bewildered by the increased number of police officer deaths in 2014.
"One hundred and fifteen were killed last year," he said. "That's a shocking increase from 2013. I don't understand evil and I cannot try."
Comey was the highest-ranking Obama administration official to attend Liu's memorial service at a Brooklyn funeral home.
Liu was killed Dec. 20 with fellow Officer Rafael Ramos inside their police car in Brooklyn.
The shooter, Ismaaiyl Brinsley, who killed himself after the murders, suggested on social media before carrying out the deadly shooting that the killings were in retaliation for two unarmed black males -- Eric Garner and Michael Brown -- dying last year during separate encounters with police.
The FBI report on officers killed last year was released before the deaths of Liu and Ramos, though similar reports show about 115 to 120 officers killed in the line of duty, including about 50 by a firearm. The agency's 2013 report states 76 law enforcement officers were killed while on duty.
Though numbers vary among similar reports, including how many officers were fatally shot, all appear to show an increase since 2013 and a decline since the historical highs of past decades.
Vice President Biden spoke Dec. 27 at Ramos' memorial service at the Christ Tabernacle Church in Queens.
On Sunday, Comey said he came to Liu's memorial to "honor a peace maker" and that Americans need to "make something good out of the tragedy … so that evil does not rule the day."
The event also was attended by thousands of police officers and New York City Mayor Bill de Blasio.
The 32-year-old Liu also was remembered as an incarnation of the American Dream. He emigrated from China at 12 and devoted himself to helping others in his adopted country.
The Associated Press contributed to this report.