Family ties: Grandson of Jimmy Carter tries to shake legacy in Georgia guv run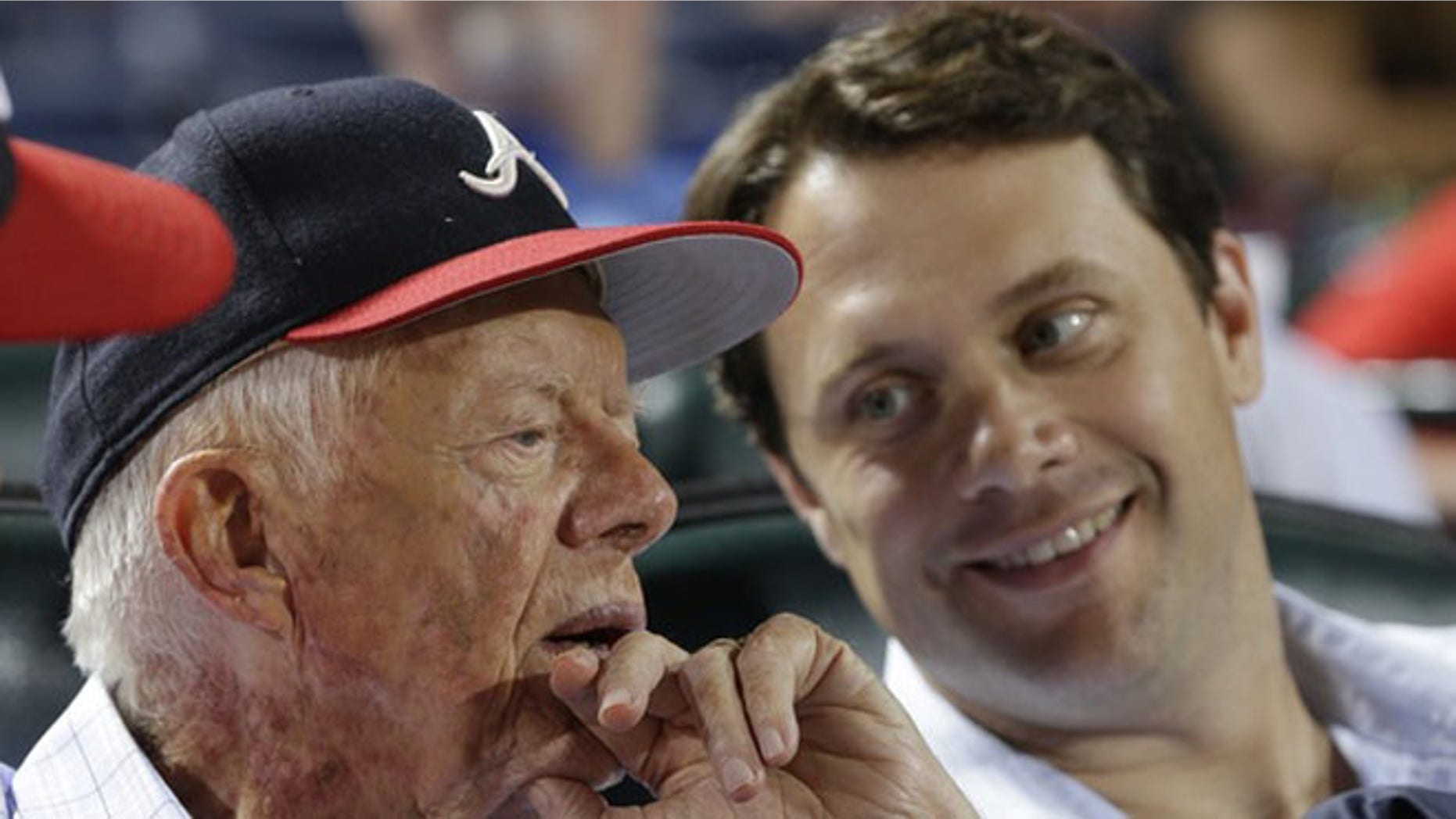 On the plus side, Jason Carter's got serious name recognition. The grandson of former President Jimmy Carter is running for governor in the same state his grandfather led before winning the White House.
But on the downside for him, the younger Carter is running as a moderate in deep-red Georgia -- which doesn't exactly jibe with the ex-president's legacy.
Jason Carter, a state senator who announced his bid for governor a month ago, is already running into problems as he tries to distance himself from his grandfather's liberal reputation. Carter may benefit in part from the family name -- and Georgia's growing minority population which could eventually change the state's solid Republican status -- but Republicans are trying to defeat the candidate by reconnecting him to the family.
"Jason has a lot to overcome in regards to his family name in a traditionally red state," Republican strategist Joe Desilets told FoxNews.com.
For now, Carter must convince an electorate that has installed a Republican governor, a GOP-led General Assembly and twice as many Republicans as Democrats on Capitol Hill.
Within days of announcing his campaign in early November, Carter was already distancing himself from a recent call by his grandfather, also a former Georgia governor, to end the state's death-penalty sentences.
"I love my grandfather," the 38-year-old Carter told The Atlanta Journal-Constitution. "But we disagree on this issue. I believe in the death penalty for heinous crimes, and that won't change when I'm governor."
Carter, a moderate state senator, is the first Democratic candidate to enter the gubernatorial race, potentially clearing the primary field for himself to challenge incumbent Republican Gov. Nathan Deal in the November 2014 general election.
An internal poll by Alabama-based firm Anzalone Liszt Grove Research conducted in mid-October showed Carter might have an opening. It showed 49 percent of respondents preferring a new governor, compared with 36 percent wanting to re-elect Deal.
And Carter trailed Deal by just single digits in a head-to-head race, according to the poll results, released Nov. 12 and obtained by FoxNews.com.
While the elder Carter's popularity has grown since leaving the White House, as is often the case with ex-presidents, Republicans and Democrats have not forgotten that his controversial liberal policies opened the door for Ronald Reagan to defeat him in 1980.
"If Jason Carter's campaign looks to place an emphasis on his grandfather being a former president ... then they can't wrap themselves in the good and distance themselves from the bad," Deal campaign manager Tom Willis told Politico. "We are sure everyone in the Carter family is anxious to see what a 2014 referendum on President Carter's administration will look like. We look forward to that referendum as well."
Desilets argues President Carter's personal involvement in the grandson's previous campaigns "also limits the distance that Jason is legitimately able to put between himself and his grandfather."
He said: "If Governor Deal and the [Republican Governors Association] can tie Jason to his grandfather, then he has even more of an uphill battle than he already has against a popular incumbent governor."
Carter, who has already staked out a centrist position that focuses on education and the economy, will also have to overcome a substantial fundraising disadvantage against Deal whose campaign for a second term had $1.1 million this summer, according to the most recent fundraising records.
Carter had $27,800 in his General Assembly filings, over the same period.
Desilets thinks the disparity will be compounded by the likelihood that big money from state and national Democratic donors will go first to the U.S. Senate race in which they think Michelle Nunn, the daughter of former Democratic Georgia Sen. Sam Nunn, has a legitimate shot at winning GOP Sen. Saxby Chambliss' open seat.