Facts Belie Fantasy Resume of Socialite Who Crashed White House Dinner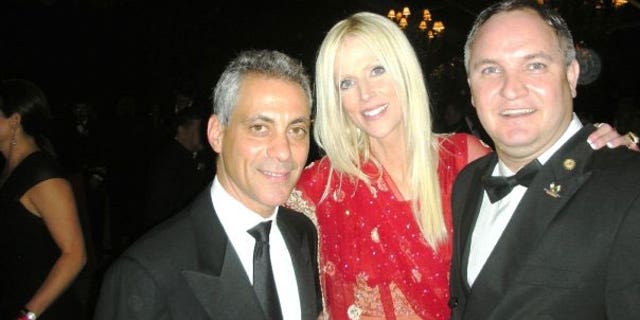 She was a former NFL cheerleader. She once modeled for Victoria's Secret. She could be seen in top fashion and women's magazines. And this week, Michaele Salahi made her way with her husband to the most exclusive party in Washington, D.C. -- guests at the first state dinner of President Obama's term.
At least that's the story Salahi was telling.
But her resume as a Virginia socialite is increasingly looking like a fantasy, as news broke Friday that the Salahis' names were nowhere on the state dinner's guest list and as the Secret Service scrambled to explain how it allowed party crashers at such a prominent event.
Michaele and Tareq Salahi passed through the same security checkpoints as invited guests -- and even met Obama in the receiving line, a White House official told Fox News -- but they were never threat to Obama, the Secret Service has said.
Even so, Secret Service Director Mark Sullivan acknowledged Saturday that the Salahis "should have been prohibited from entering the event entirely. That failing is ours."
This apparently isn't the first time the Salahis have tried to embellish their credentials.
Several press accounts, including a November 2008 Washington Post report, identify Michaele Salahi as a former cheerleader for the Washington Redskins. And photos posted to the 44-year-old's Facebook page show a beaming Salahi -- pompoms in hand -- at a September 2009 Redskins cheerleader "alumni get together."
But the team told FoxNews.com it's never heard of Salahi. Michael Pehanich, Redskins assistant director of communications, and Terri Lamb, president of the Redskins' cheerleader alumni association, said Friday that they have "no records to indicate she was a cheerleader for the team."
Salahi, whose maiden name is Holt, also claims on her Facebook page to have modeled for a number of top fashion and women's magazines, including Vogue, Elle Magazine and Victoria's Secret.
But a spokeswoman for Victoria's Secret told FoxNews.com on Friday that Salahi did not model for the company.
After the Salahis were revealed to have slipped into Obama's state dinner Tuesday for the Indian prime minister without an invitation, the Secret Service launched an investigation into the security breach and has not ruled out filing criminal charges against the couple.
The couple's attorney, Paul Gardner, claims the Salahis were authorized to attend Tuesday's star-studded event honoring Indian Prime Minister Manmohan Singh, but Gardner didn't elaborate.
"My clients were cleared, by the White House, to be there," attorney Paul Gardner said. "More information is forthcoming."
The couple, who reportedly auditioned for the Bravo reality TV show "Real Housewives of D.C.," showed up at the dinner with a professional camera crew and makeup artist. The Salahis managed to pass through a Secret Service security checkpoint before snapping photos with dozens of high-profile attendees, including Vice President Joe Biden, White House Chief of Staff Rahm Emanuel and CBS News anchor Katie Couric. They left before dinner was served.

Edwin Donovan, a Secret Service spokesman, said the couple went through the same security screening for weapons as the 300-plus people invited to the dinner. Donovan said the officers at the checkpoint did not follow proper procedure when the Salahis arrived and it was determined they had not been invited. He declined to reveal the levels of security screening at the White House.
NBC News anchor Brian Williams, who was an invited guest at the dinner, told the "Today" show that he saw the couple's SUV being turned away from the White House's East Gate entrance. A camera crew accompanied them, Williams said, as well as a woman who touched up the Salahis' makeup and hair.
"I was honored to be invited to attend the First State Dinner hosted by President Obama & the First Lady to honor India," Michaele Salahi wrote on her Facebook page.
FoxNews.com's Cristina Corbin contributed to this report.