Expert says China likely working on third airstrip in disputed South China Sea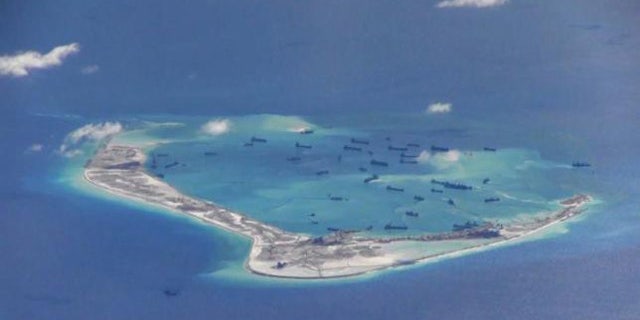 China is "more likely than not" preparing to build a third airstrip in a disputed part of the South China Sea, an American expert said Monday.
Greg Poling of the Center for Strategic and International Studies think tank told Reuters that satellite photographs taken over the Spratly Islands last week show construction taking place on Mischief Reef, one of seven artificial islands built by Beijing.
Poling said the images show a retaining wall around an area approximately 3,280 yards long, matching similar work by China on two other reefs in the Spratly archipelago. Satellite photographs from late June showed that China had almost finished a 3,280-yard airstrip on one of the reefs, known as Fiery Cross. Poling added that other photos showed work proceeding apace at the other reef, known as Subi.
"Clearly, what we have seen is going to be a 3,000-meter airstrip and we have seen some more work on what is clearly going to be some port facilities for ships," Poling told Reuters of the building taking place on Subi.
Reuters reported that the airstrips would be large enough to accommodate most Chinese military aircraft, and give Beijing the upper hand in the complicated Southeast Asian maritime disputes. Several of China's neighbors also claim the reefs — including U.S. ally the Philippines — which lie in one of the world's busiest shipping routes and are rich in fish and potential gas and oil reserves.
In particular, Poling said that three airstrips would allow China to mount "more or less constant" patrols over areas the Philippines has explored for oil and gas, as well as threaten all air traffic over the South China Sea. The U.S. has a policy of not taking sides in the territorial disputes, but it has declared it has a national interest in ensuring freedom of navigation and overflights.
On Monday, Chinese Foreign Ministry spokesman Hong Lei told Reuters that Beijing had "indisputable sovereignty over the Spratly Islands and claimed that China therefore had the right to establish military facilities there.
Pentagon spokesman Commander Bill Urban did not comment on Poling's analysis, but called on China to halt its ongoing land reclamation and construction projects in order to "ease tensions and create space for diplomatic solutions."
The ongoing Chinese buildup in the region is expected to be a key issue when Chinese President Xi Jinping visits Washington next week.