Exit Poll: N.J. Independents Gave Christie Boost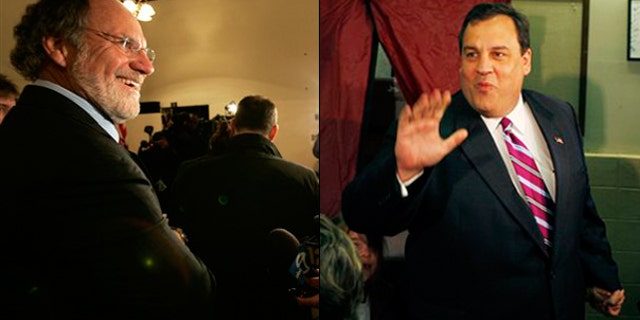 NEWYou can now listen to Fox News articles!
A few key groups contributed to Republican Chris Christie's win in New Jersey on Tuesday.
Seniors, one-in-five of the voters are 65 years or older, favored Christie with 55 percent of their votes to 40 percent for Incumbent Democratic Governor Jon Corzine.
Independents are always sought after in NJ – they made up more than one-quarter of the voters. On Tuesday they sided strongly with Christie, 60 percent to 30 percent for Corzine.
Republicans voted solidly red: 91 percent for Christie, 6 percent for Corzine.
Democrats were not as loyal to their candidate: 86 percent for Corzine, 8 percent for Christie.
Conservatives stood firmly by Christie giving him 82 percent, 15 percent for Corzine
Moderates split their votes 45 percent for Corzine, 48 percent for Christie.
Voters in New Jersey were looking for change -- 39 percent said they voted for the candidate who can bring needed change. Christie got 67 percent of those folks.
Corzine did well among voters looking for a candidate with experience – he captured 82 percent of those voters. Unfortunately for Corzine, just 17 percent wanted a candidate with experience.
Most important issue: 32 percent said the economy/jobs mattered most in deciding how they voted for governor; property taxes was the number one concern to 26 percent of Jersey voters; 20 percent cited corruption in government as the most important issue; 17 percent said health care was the determining factor in their vote decision for governor.
Voters believe both candidates used "attack" ads -- 73 percent say Corzine went after Christie, whereas 62 percent said Christie went negative as well.
But interestingly voters didn't seem to be swayed by the ads -- 28 percent say the ads were important to their vote decision, 67 percent said they were not.
56 percent of Christie's voters said their vote was mostly a vote for him, but 42 percent said they were voting against his opponents.
57 percent approve of the job Obama is doing as president; 42 percent disapprove. Christie got 88 percent of the vote of those who disapprove and 19 percent of the votes from those who approve of Obama's job.
19 percent said their vote sent a message of support to Obama; 19 percent wanted to send a message of opposition. 60 percent said Obama was not a factor in their vote for New Jersey governor.
Methodology
Edison Research conducted this exit poll for FOX News and interviewed 2169 voters as they left randomly selected polling places in New Jersey.