Excuses, Excuses: Democrats Dig Deep to Explain Loss in Massachusetts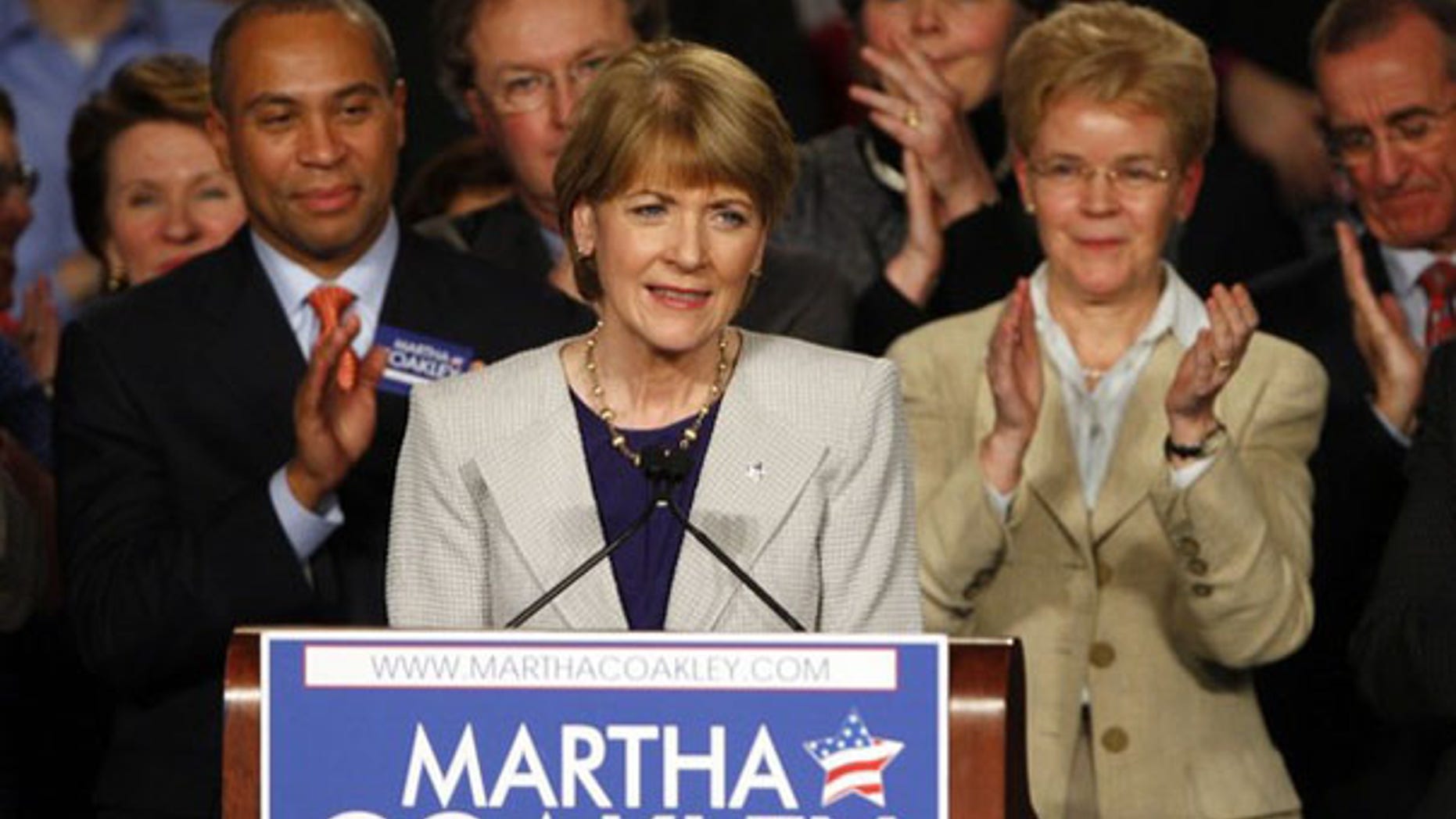 Health care reform. The economy. Bad candidate. Cheap Democrats. Ben Nelson.
These are among the myriad excuses Democrats were circulating on Wednesday to explain why a truck-driving, war-supporting, health care reform-opposing Republican will be sitting in "Ted Kennedy's seat" in the U.S. Senate.
Democrat Martha Coakley promised there would be "plenty of Wednesday-morning quarterbacking" after she lost to Scott Brown in the Massachusetts special election Tuesday night. And she was right.
Several themes emerged as the Democratic top brass and rank-and-file took to the press to account for Brown's upset victory. Among the excuses were:
Bad candidate: Coakley's campaign was widely criticized for running a lackluster operation and being slow to combat Brown's late-in-the-game momentum. As a public speaker, she couldn't hold a candle to Brown.
She also made several missteps and gaffes, none more telling than over the weekend when she called Boston Red Sox icon Curt Schilling a "Yankee fan."
"We had a candidate who wasn't very good," Rep. Anthony Weiner, D-N.Y., told Fox News on Wednesday.
White House Chief of Staff Rahm Emanuel was blaming Coakley for failing to act against Brown's surge even before polls opened, Politico.com reported.
Too much health care reform, not enough jobs: Several Democrats said the election was a clear sign that Americans have major concerns about the health care reform bill and want Washington to focus more on jobs.
"There was an expression of dissatisfaction with the status quo in Washington, maybe some specific anxiety about lack of attention on the economy and some concern about health care reform," said Sen. Joe Lieberman, I-Conn.
Weiner went so far as to suggest that Democrats consider stepping back on health care reform and taking up jobs legislation instead.
"We can't just keep moving on as if nothing happened in Massachusetts. It might not have been only about health care but it's clear we've got a problem on that issue," he said.
The White House and Senate Majority Leader Harry Reid both talked about the importance of concentrating on the economy in their statements on the race.
Rep. Steve Driehaus, D-Ohio, said Democrats never properly messaged the health care bill. "We have been so focused on getting the right number of votes and getting the legislation drafted that we forgot we have to message this to the American people and help the American people understand what's in it," he said.
Not enough health care reform: While some Democrats were saying slow down, others said speed up, and that the reason Coakley lost is because voters were frustrated by the legislative inertia in Washington.
"The reason Ted Kennedy's seat is no longer controlled by a Democrat is clear: Washington's inability to deliver the change voters demanded in November 2008," Service Employees International Union President Andy Stern said. "Make no mistake, political paralysis resulted in electoral failure."
AFL-CIO President Richard Trumka had a similar take. He said in a statement that the election was a "sobering reminder" that voters expect "RESULTS from Washington."
Special deals in health care reform: In a Coakley campaign memo obtained by Politico.com, the campaign cited widespread voter concerns about Nebraska Sen. Ben Nelson holding out for a "better deal." Nelson eventually committed his vote after winning a Medicaid benefit for his state that he later said he did not want.
Maryland Rep. Chris Van Hollen, head of the Democratic Congressional Campaign Committee, also cited such deals, telling The New York Times that the "people of Massachusetts were right to be upset about provisions in the Senate bill."
Van Hollen failed to mention another deal cut with the major labor unions a week ago that would exempt them for several years from a tax on high-cost insurance plans -- a tax House Democrats, along with the unions, fiercely oppose.
National Democrats dropped the ball: The Coakley campaign memo put the blame squarely at the feet of national Democrats, saying they didn't contribute money early enough. The campaign said the Democratic National Committee did not get actively involved until right before the election.
Bush? Maybe?: Van Hollen seemed to throw the "blame Bush" argument out into the mix, subtly, in his statement on the race Tuesday night.
"President George W. Bush and House Republicans drove our economy into a ditch and tried to run away from the accident. President Obama and congressional Democrats have been focused repairing the damage to our economy," he said.
Not sure. Just kind of happened: Some were intent on drawing no lessons from Tuesday's election.
Richard Kirsch, national campaign manager for Health Care for America Now, basically called the outcome a fluke.
"Tuesday's vote was not a referendum on health care reform. It was a referendum on a particular candidate in a climate in which people, hard-pressed by the economy, are impatient for change. When it comes to the need to make good health care affordable, nothing is different today than it was yesterday. Congress must keep going and finish reform right," he said.
New Jersey Sen. Robert Menendez, chairman of the Democratic Senatorial Campaign Committee, acknowledged something went wrong and pledged to "sort through the lessons" of the race. But he cautioned against reading too much into it.
"It is important to keep in mind that today's special election in Massachusetts was just that: a special election, with a whole host of circumstances that are unique. I would caution against taking a single unique election and extrapolating what it means for the midterms 10 months away," he said.
Former Bush adviser Karl Rove said Democrats, in their postmortem, have focused too heavily on blaming Coakley. He said Brown won because he put himself on the opposite side of the issues from Democrats in Washington.
"They're trying to say this is all the result of a bad candidate, but look, she was the attorney general of the state. ... She's won statewide, she's been a political fixture in Massachusetts," Rove said. "Simply being a bad candidate has not kept Democrats from winning Massachusetts. Michael Dukakis was governor twice, for God's sake."