Ex-Defense official Michele Flournoy takes self out of running to succeed Hagel at Pentagon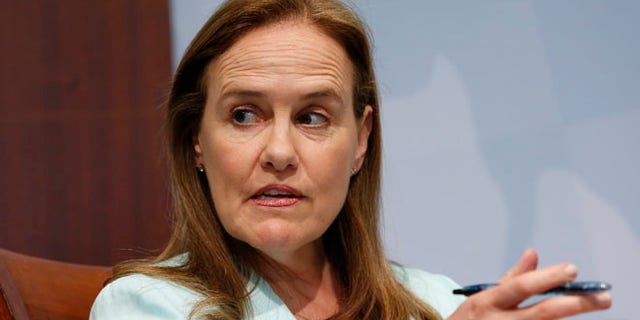 Former Defense official Michele Flournoy has taken herself out of the running to succeed Chuck Hagel as the next Defense Secretary because, according to a source, she wants to be Hillary Clinton's Pentagon chief -- not President Obama's.
A source familiar with the circumstances of the decision confirmed to Fox News Tuesday that Flournoy has taken her name out of the running for the job. Flournoy had been discussed as a front-runner for the position after Hagel announced he was quitting Monday.
Fox News has learned that Homeland Security Secretary Jeh Johnson is now being considered to succeed Hagel. Before heading DHS, Johnson was General Counsel for the Department of Defense.
Among the other names mentioned to replace Hagel are former high-ranking Defense official Ashton Carter and senior Rhode Island Democratic Sen. Jack Reed. However, multiple sources told Fox News that rumors that White House Chief of Staff Denis McDonough is in the running are untrue and he is not in consideration.
A well-placed Senate source told Fox News Tuesday that Flournoy would not take the nomination if she was offered it because Flournoy aspires to serve in the post under Hillary Clinton, should Clinton eventually become president.
"It's pretty well known that she wants to be Hillary's SecDef – not Obama's," the source said.
A source told Fox News that Flournoy also told the board of directors for the Washington, D.C.-based Center for a New American Security, where she is the chief executive officer, that she had taken herself out of the running.
Flournoy told the board that her decision was influenced by health considerations in her family and the fact that her two of her children will leave for college in the next two years, according to the source.
The 53-year-old Flournoy has a distinguished career in public service dating back to the Clinton administration, which she served as a Defense Department appointee. She rose to Undersecretary of Defense for Policy, the agency's third highest-ranking position.
Fox News' Mike Emanuel and Justin Fishel contributed to this report.