Eric Trump, Lara welcome first son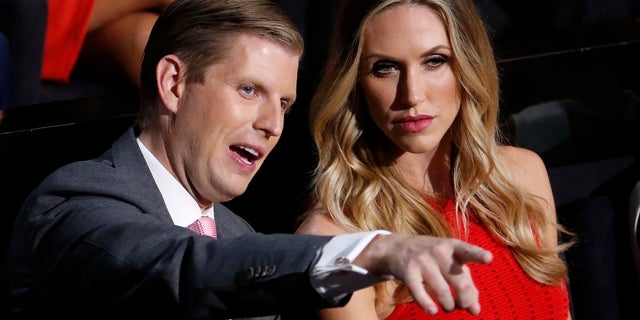 There's a new member of the Trump family.
President Trump's son, Eric Trump, and his wife Lara welcomed a baby boy on Tuesday. The new father announced the birth of his son on Twitter with a sweet photo of the newborn.
".@LaraLeaTrump and I are excited to announce the birth of our son, Eric 'Luke' Trump at 8:50 this morning," Eric Trump wrote on Twitter.
Trump congratulated his son on Twitter, saying: "Congratulations to Eric & Lara on the birth of their son, Eric 'Luke' Trump this morning!"
Vice President Mike Pence also congratulated the new parents.
Donald Trump Jr., who has five children himself with wife Vanessa, also wrote on Twitter: "Congrats buddy. Welcome to the club. Now that the niceties are out of the way it's older brother revenge for that drum set to my kids."
Trump's daughter, Ivanka, tweeted a message on the new parents.
"Welcome to the world, baby boy. I can't wait to meet you," she wrote on Twitter shortly after the announcement.
This is the first child for the couple, who got married in 2014 at the family's Mar-a-Lago resort in Palm Beach, Fla. This is also the ninth grandchild for President Trump. Ivanka Trump also has three children -- Arabella, Theodore and Joseph -- with husband Jared Kushner.