Egg Recall Exposes Gaps in Federal Oversight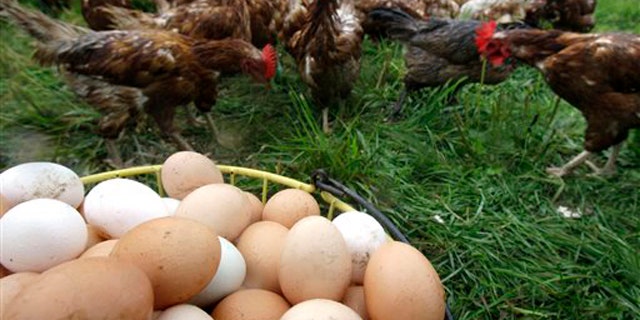 Two federal agencies are downplaying their oversight roles in the wake of a massive egg recall that so far has affected 22 states and shined a light on what lawmakers and watchdogs for years have claimed is a broken system for regulating a primary source of salmonella outbreaks.
About 1,300 cases of salmonella poisoning have been linked to the latest outbreak, and approximately 500 million eggs have been recalled from two Iowa egg distributors.
One supplier linked to the cases has a history of violations dating back to 1994 -- but the Food and Drug Administration says the violations that were recorded were outside its purview. On top of that, the U.S. Department of Agriculture says it never had an inspector dedicated to food safety at the farms.
According to an FDA fact sheet, the FDA has traditionally been responsible for monitoring egg safety after the eggs are processed and the USDA is responsible for egg safety at the processing facilities.
A USDA official, though, told FoxNews.com that USDA agencies have had no involvement in food safety regulations over shell eggs. The official said USDA's chief task was to send an official to the farms, including one involved in the latest outbreak, to grade the eggs -- in other words, inspect them for thickness and cracks and other quality assurance factors in order to give them a USDA seal of approval. That stamp, though, does not certify that an egg is salmonella-free.
FDA Commissioner Margaret Hamburg said Monday that new rules that went into effect last month giving the FDA authority to test eggs for salmonella "very likely" would have enabled the FDA to flag the problem before the outbreak. She said the FDA will conduct "hundreds" of inspections in the months ahead under its new authority.
That proposal has languished for years -- President Clinton laid the groundwork for it during a 1999 address in which he called for "extensive tests" at egg farms and set a goal of eliminating egg-based salmonella cases by 2010.
That didn't happen.
The FDA probably had some authority to inspect egg farms but did not exercise it, said Caroline Smith DeWaal, food safety director at the Center for Science in the Public Interest. She said the confusion is no surprise since federal law does not clearly put one agency in charge of egg safety.
"Food safety just totally fell through the cracks here," she said. "If you have a company violating a number of different types of laws and (it) is found to be a repeat violator ... it's highly likely that they're also cutting corners when it comes to food safety. But no one was checking."
Instead, the FDA has mostly been reacting after outbreaks occur, she said, "like the fire department."
Implementation of the new salmonella inspections program took so long to go into effect that it could have done very little to prevent the latest outbreak. But now that it's in effect, DeWaal said, it will provide an "early warning" whenever there's evidence of salmonella. A food safety bill pending in the Senate could do the same, she noted.
That bill, the FDA Food Safety Modernization Act, passed the House and the Senate Health, Education, Labor and Pensions Committee last year, but it has not been taken up by the full Senate. The bill would require the FDA to inspect high-risk facilities and give the health and human services secretary the authority to suspend operations at facilities where a serious health risk is suspected. It would also allow FDA to mandate what are now voluntary recalls.
Hamburg told CBS and NBC on Monday that she was "very anxious" to see that legislation pass, saying it would "make sure the companies have the appropriate preventive measures in place." She also said the new egg rules would play a "very, very important" role in the future.
"Unfortunately, they went into effect a little bit after this outbreak began," she said.
The two farms linked to the poisonings, Wright County Egg and Hillandale Farms, both used the company Quality Eggs for their young chickens and feed, an egg industry spokeswoman said.
The owner of that company and Wright County Egg, Austin "Jack" DeCoster, has been cited multiple times by safety officials, mostly at the local level.
Rep. Henry Waxman, D-Calif., chairman of the House Energy and Commerce Committee, and Rep. Bart Stupak, D-Mich., chairman of the Subcommittee on Oversight and Investigations, sent a letter to DeCoster on Monday demanding answers on how and when Wright County Eggs realized it had a salmonella contamination, and when it notified federal and state health officials.
The two also called for all records on inspections, citations for violations, allegations of other contaminations for all 24 companies under the DeCoster umbrella as well as documents on its safety practices and protocols, monitoring and analysis.
DeCoster Farms was cited in 1994 by the state of Iowa for environmental violations; it paid $2 million in fines in 1997 for other health and safety violations; it settled an employment discrimination suit in 2002; and its successor company in Maine agreed in 2010 to pay $125,000 over animal cruelty violations. DeCoster Farms were also the subject of several immigration raids.
Hamburg said Monday that those violations were not food safety-related, suggesting FDA did not have jurisdiction.
Wright County Egg spokeswoman Hinda Mitchell said the company had reacted quickly in the past to correct its operations when safety issues were raised. She said Monday that company officials cannot respond to Hamburg's remarks because they have not received any written reports from the agency, but that the company is addressing or in the process of addressing any concerns raised verbally during FDA's ongoing inspection of the farms.
"Wright County Egg strives to operate our farms in the most responsible manner, and our management team has worked closely with FDA through their review of our farms," she said.
The Associated Press contributed to this report.