Education secretary called out for misleading 'pink slips' claim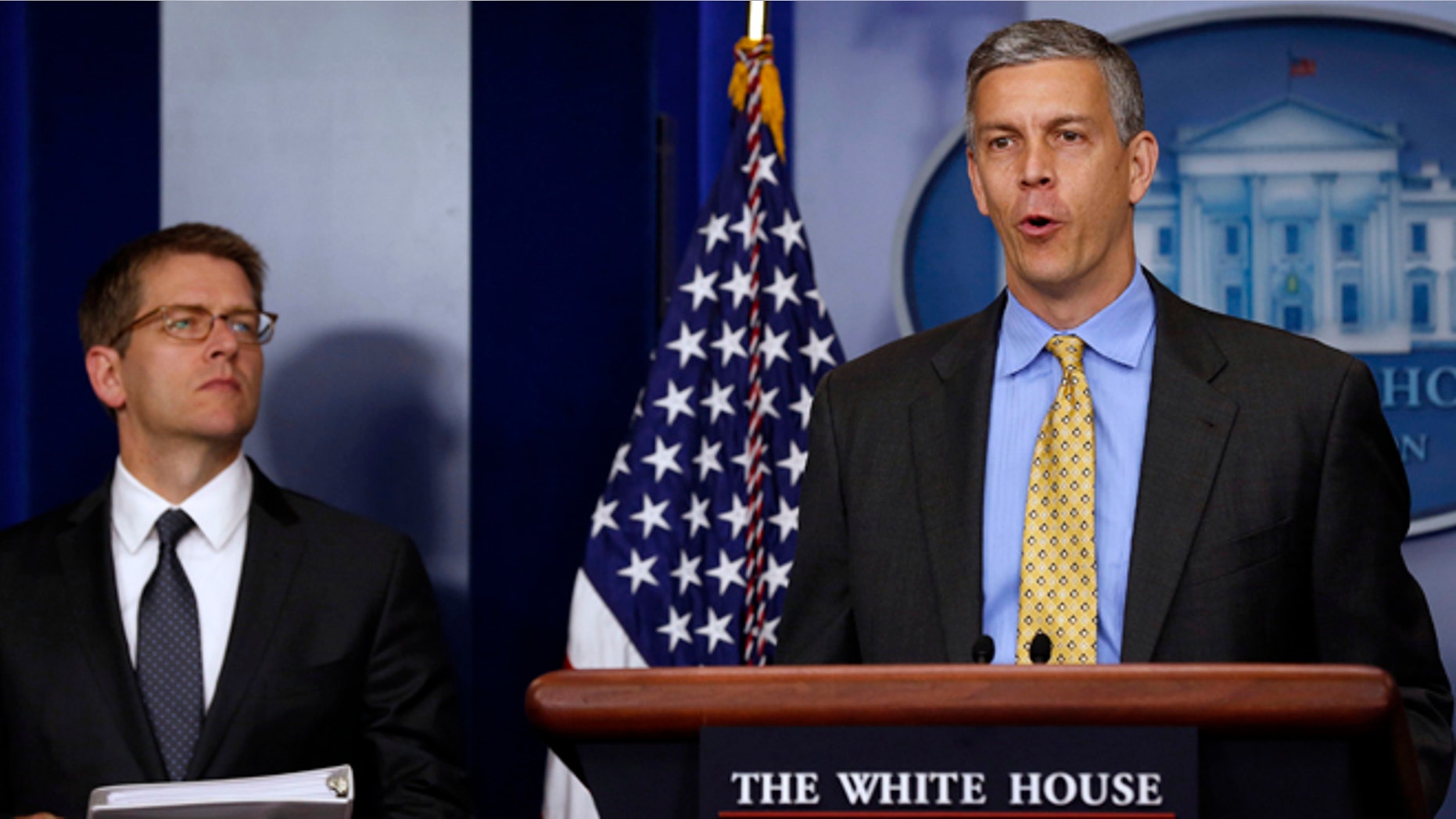 Education Secretary Arne Duncan is getting called out for claiming -- erroneously -- that teachers are "getting pink slips" as the sequester looms.
Duncan made the claim on CBS' "Face the Nation" Sunday. Discussing the looming spending cuts that begin to kick in Friday, he said: "There are literally teachers now who are getting pink slips, who are getting notices that they can't come back this fall."
The claim raised eyebrows, and Duncan was pressed at Wednesday's White House press briefing to explain. That's when holes in the story started to appear. Duncan said "most haven't happened yet," but he knew of one district in West Virginia that had "issued notices."
Questioned again, Duncan said it was in Kanawha County, but that it dealt with "Title I teachers and Head Start teachers" whose funding sources are being cut. He conceded:  "Whether it's all sequester related, I don't know," before claiming again that "these are teachers who are getting pink slips now."
Apparently, it's not sequester-related, and most of those teachers are not actually getting pink slips.
Officials in that county told The Washington Post that "transfer notices" went out to at least 104 employees. But Pam Padon, director of federal programs and Title 1 for the Kanawha County public schools, said it did not have to do with sequestration. Further, she said most of those teachers were being notified that they could move to a different position -- only five or six positions would ultimately be eliminated.
"The major impact is not so much sequestration," she told the Post. "Those five or six jobs would already be gone regardless of sequestration."
Other Head Start teachers were also notified they could lose their jobs, but not because of the sequester, the Post reported.
White House Press Secretary Jay Carney, pressed on the issue Thursday, repeatedly deferred to the Department of Education and would not speak to the accuracy of Duncan's comment.
But the Washington Post's fact-checker gave Duncan's claims "four pinocchios" -- which is the worst score the newspaper hands out for factual accuracy.
"Duncan's scare story about teacher layoffs -- right now, at this moment -- was apparently too good to check," fact-checker Glenn Kessler wrote.
He added: "There is little debate that across-the-board spending cuts in education funding will cause pain for some schools and states. But there is no reason to hype the statistics -- or to make scary pronouncements on pink slips being issued based on misinformation. Indeed, Duncan's lack of seriousness about being scrupulously factual undercuts the administration's claim that the cuts are a serious problem."