Early voting in Iowa, other states kicks off presidential election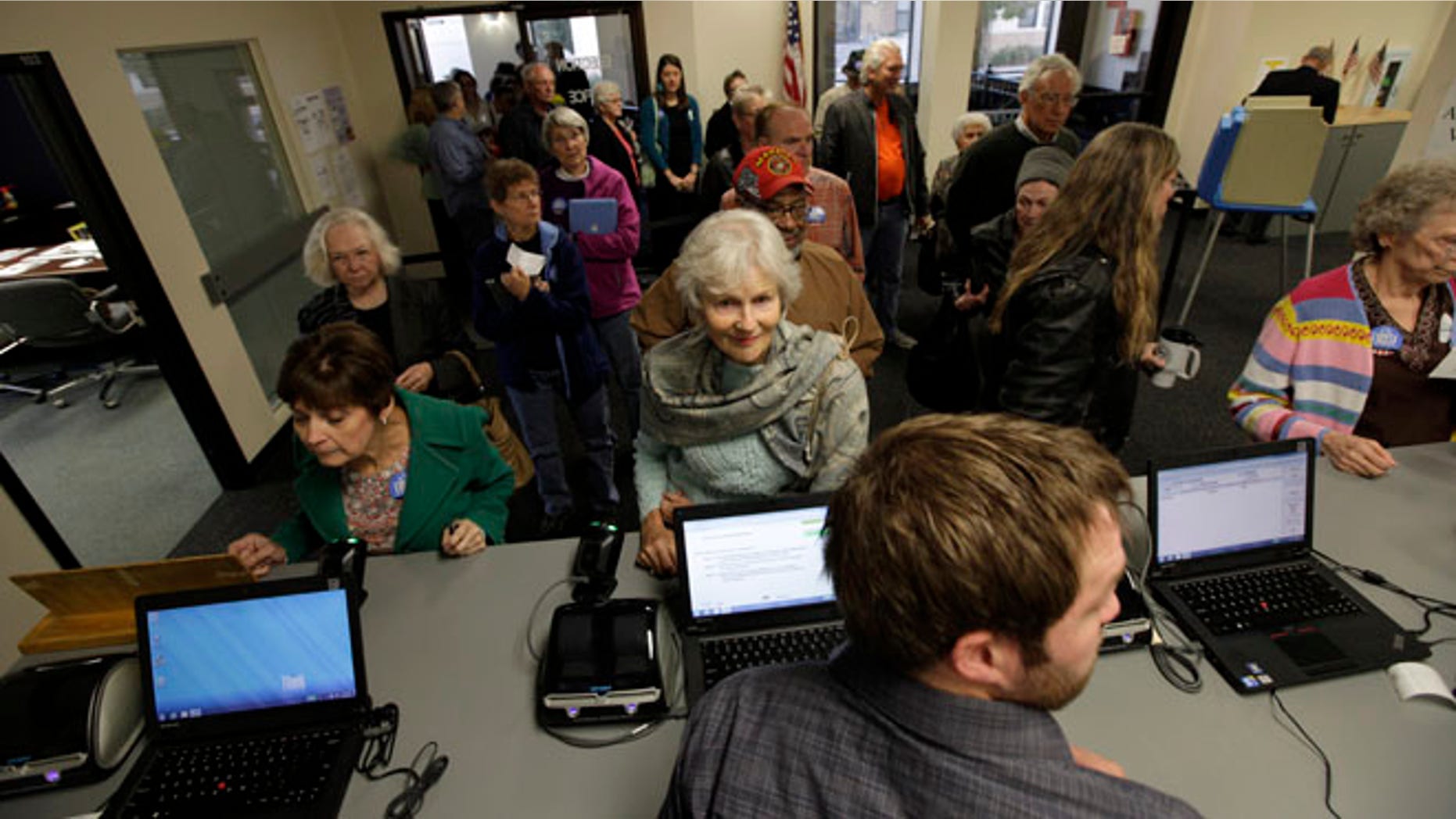 Let the voting begin.
More than five weeks before Election Day, voters in the Iowa battleground began to cast their ballots Thursday as early voting opened.
The opening helped mark the start of a process that both campaigns have tried to take advantage of -- though it also challenged President Obama and Mitt Romney to quickly make their closing arguments to this group with considerable time, and three presidential debates, still left on the calendar. Iowa is the first swing state to open in-person early voting, though a few other states including South Dakota and Idaho have already started.
In Iowa, experts predict four in 10 will likely end up voting before Election Day. A total of 34 states and the District of Columbia allow early voting, with relatively few restrictions -- many states launch the process next month.
For some, Iowa's early-voting window was a chance to get their civic duty out of the way after a tiring campaign season.
"I'm just so sick and tired of the process, and maybe it will cut down the calls," said Jane Ommen, 70, a retired University of Iowa clerical worker who voted for President Obama at the Johnson County Auditor's Office.
The Obama campaign worked for weeks to promote early voting, which it sees as a key advantage in the race for Iowa's six electoral votes, and was quick out of the gate. Its theme to supporters was "Be the First," drawing a parallel between the state's first-in-the-nation presidential caucuses that launched Obama to the White House and its status as one of the earliest voting swing states. The start of voting comes as polls show Obama pulling into a lead in Iowa.
To be sure, Republicans are also urging voters to fill out absentee ballot requests, The Quad-City Times reported. Sen. Kay Bailey Hutchinson, R-Texas, was leading a rally to support GOP nominee Mitt Romney, the report said.
The Democrats have built a nearly 5-1 advantage statewide in the number of absentee ballots requested as of Wednesday, with 119,318 compared to 24,909 for Republicans, according to the Iowa Secretary of State's Office. Another 41,000 independent voters have also requested ballots. Both campaigns say they believe the gap will narrow as Republicans increase their early voting efforts, but it also reflects differences in the parties' get-out-the-vote operations.
Democrats have been casting a wide net looking for early votes, from party activists to college students to voters who usually favor the party but do not always turn out. They are putting a greater emphasis on voting in-person at county auditor's offices and at satellite locations in places like libraries and grocery stores than the Republicans.
Voters lined up as county auditor's offices opened from Des Moines to Dubuque to be among the first to record their preferences in the battleground state, one of the first states where the election process is now in full swing. Some said they were excited to vote, while others were simply eager to put the bitter election behind them.
By contrast, Republicans are sending out mass mailings with absentee ballot request forms targeting swing voters, allowing them to request their ballots and vote by mail, said Tom Szold, a spokesman for the Republican National Committee in Iowa. He said the Democrats' intense efforts toward early voting shows the party is worried about turning out its base, while Republicans are confident their voters will show up in greater numbers on the Nov. 6 election, as they typically do in Iowa.
Obama campaign spokeswoman Erin Seidler said that after years of organizing in the Hawkeye State, the campaign has a wide network of supporters who are eager to vote. The campaign is far ahead of where it was 4 years ago for early voting, with tens of thousands of additional ballots having been requested, she said.
Statewide, more than a third of the 1.54 million votes cast in 2008 were cast early, which was slightly above the national average. Elections officials expect another increase this cycle, with perhaps 40 percent of votes coming in the 40-day window before Election Day.
While Democrats organized walks to early voting sites, Republicans planned a rally Thursday with Texas Sen. Kay Bailey Hutchison in Cedar Rapids to promote early voting. Szold said similar events in coming days will promote voting in-person and by mail.
The Democrats also were bringing in prominent Obama backers to shine a spotlight on voting. Actor Jason Alexander, who played George Costanza on "Seinfeld," was to be in Des Moines to promote the effort Thursday. First Lady Michelle Obama is scheduled to hold a rally Friday at the University of Northern Iowa in Cedar Falls to encourage early voting.
Mrs. Obama recorded a web video asking Iowa supporters to vote early and to bring at least one other relative, neighbor or coworker to the polls with them.
"We know that early votes provided the difference between winning and losing in key battleground states in 2008," she says on the video, "and we all know that this year's election is going to be even closer."
The Associated Press contributed to this report.