Early Afghanistan election tallies indicate winner would sign security deal with US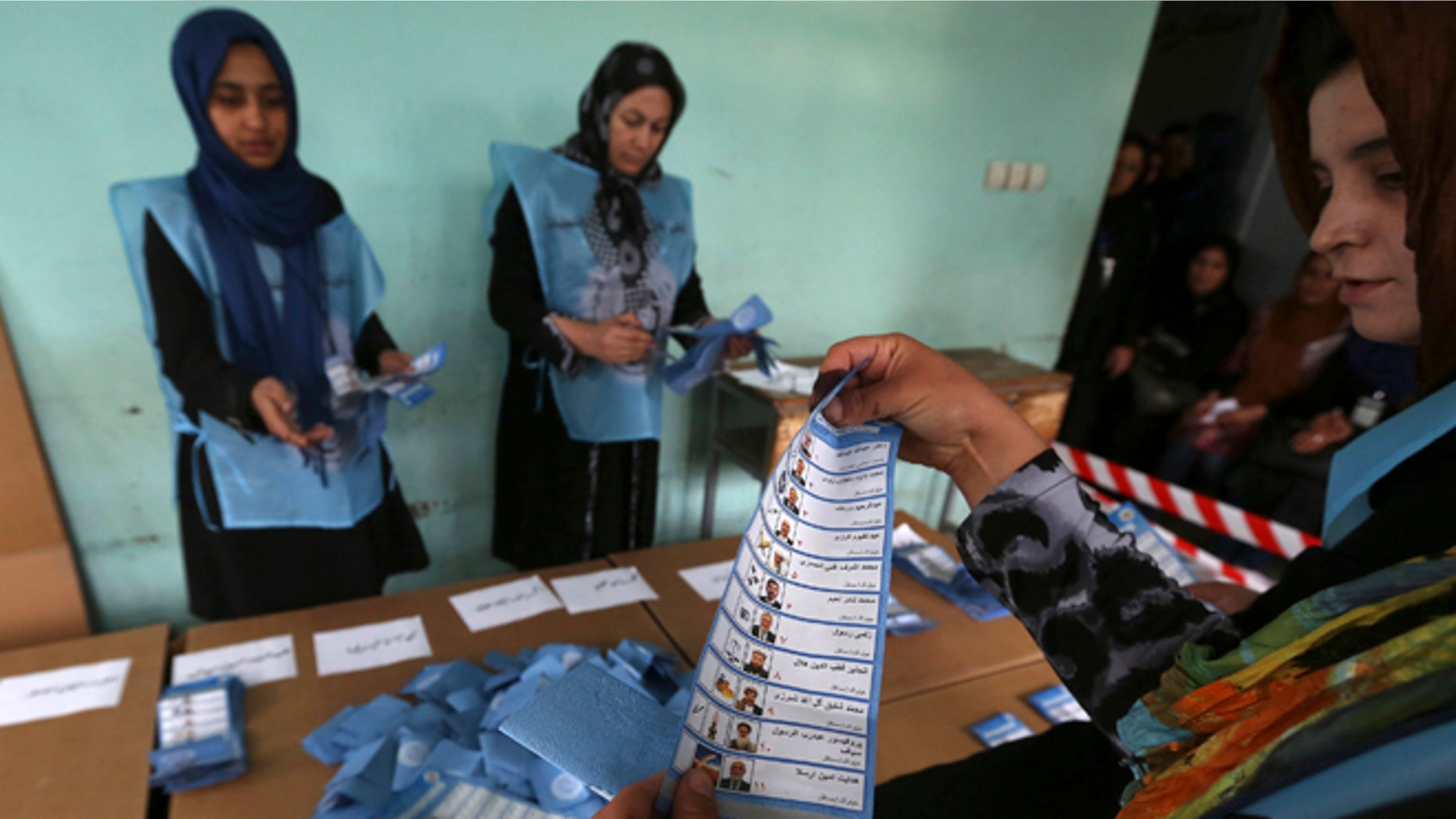 The results of the Afghanistan presidential election on Saturday are likely several weeks away, but preliminary tallies show the candidate backed by outgoing President Hamid Karzai is trailing the two likely finalists.
That could be welcome news for the Obama administration.
Publicly, the administration has stayed neutral about the candidates in the Afghanistan race. However, the United States clearly wants the winner to be somebody who will agree to a security deal, which Karzai has refused to sign, allowing for a small U.S. peace-keeping force to remain in Afghanistan past 2014.
The front-runners for president right now are Ashraf Ghani, a former World Bank executive, and opposition leader Abdullah Abdullah -- both of whom have indicated they'll sign the agreement.
The so-called Bilateral Security Agreement would replace the 2001, NATO-initiated International Security Assistance Force mission that ends in December and essentially withdraws all U.S. and international forces from Afghanistan. The U.S. considers the new agreement critical toward keeping the Taliban and other extremists from retaking the country, after the U.S. spent roughly 13 years fighting to move Afghanistan toward democracy.
The Afghan news agency Pajhwok has Ghani with 42.1 percent of the vote and Abdullah with 40.7 percent, based on information gathered in the capital city of Kabul and several other provinces.
The Wall Street Journal also found Ghani and Abdullah to be the clear leaders, based on partial election results posted by local polling supervisors. Trailing far behind was Zalmai Rassoul, the former foreign minister for Karzai, who has been Afghanistan's president since 2001.
An estimated 7 million of 12 million eligible Afghan residents voted Saturday.
Though Rassoul does not appear to be headed for a top-two finish, the eventual winner remains unclear because he must win 50 percent of the vote, which means a runoff election later this spring is likely.
Ghani and Abdullah both lost to Karzai in 2009, but the term-limited Karzai could not run this year. Abdullah, 54, finished second to Karzai in the last race. The 64-year-old Ghani has a doctorate degree from Columbia University in New York and is a former Afghan finance minister.
On Monday, Pajhwok reported Foreign Minister Zarar Ahmad Osmani said the security agreement would indeed be signed, perhaps before Karzai leaves office.
He said at a press conference that "peaceful conduct" on Election Day was one of the conditions and that the eventual winner would sign the agreement even if Karzai did not.
Karzai has said he won't sign the agreement until foreign forces stop raiding Afghan homes, the country had transparent elections and peace talks are negotiated with the Taliban.