Dogfight between Congress, Air Force could delay F-35 program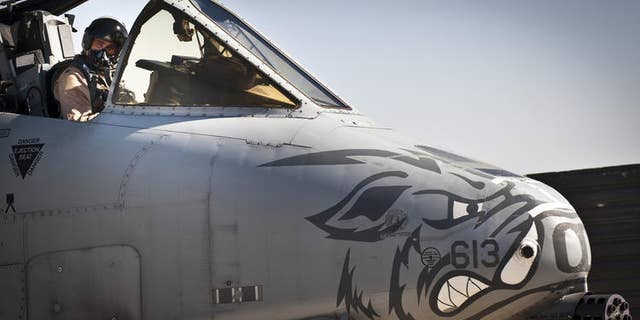 NEWYou can now listen to Fox News articles!
Congress and Air Force officials are engaged in a virtual dogfight over the delayed retirement of the A-10 Thunderbolt II, which could in turn push back the introduction of the F-35 fighter planes.
The military wants to mothball the plane, affectionately known as the "Warthog," and says it needs the maintenance crews for the new plane. But lawmakers spared the venerable A-10 from defense cuts over the summer, and that means the labor and expertise that keeps the A-10 aloft is not available for the F-35.
"You have to have about 1,100 maintainers by 2016 to man and maintain those airplanes," Lt. Gen. Christopher Bogdan, the F-35 program manager, said last week. "What I've learned is a combination of those 1,100 people includes new trainees and experienced maintainers from other platforms to include the A-10. If we don't get rid of the A-10, then you don't get experienced maintainers."
[pullquote]
Air Force brass has sought to retire the Cold War-era A-10 fleet to finance the new F-35s. By permanently grounding roughly 300 of the decades-old fleet, Air Force officials have said the move could save roughly $4.2 billion. But with the A-10 spared from defense cuts, Air Force officials say it will take much longer than originally expected to acquire and train crews for the next-generation F-35B fleet, which the Marine Corps had planned to introduce as early as July 1, 2015. The Air Force, meanwhile, had planned to introduce the F-35A's initial operating capability on Aug. 1, 2016.
Various fixes, however, to the aircraft's engine have delayed scheduled testing by as much as 45-50 days, Bogdan said. Issues with the F-35's engine halted operations for several weeks earlier this summer.
"The engine problem put us behind 45 days," he said. "That extra time puts pressure on air worthiness and the ability to certify the full envelope by July 1. [Marine Corps] needs 10 planes in warfighting and configurations and modifications are not easy. We have to make sure the airframe can fly in the full warfighting envelope. We have to work hard to be get to July 1."
Marine Corps officials may need to delay the F-35B's initial operational readiness date by several weeks — and perhaps even longer.
Mission data files for the F-35 — essentially the aircraft's brain — also have to be completed on time.
"The mission data files contain all sorts of information that the airplane needs to make sense of the battlespace that it is flying in," Bogdan said. "Finishing this is a threat to [initial operational readiness] because we only have one factory up and running and they are trying to service all the airplanes."
Bogdan said the mission data files, consisting both of hardware and software, are being produced at a reprogramming laboratory at Eglin Air Force Base in Florida. They're loaded with a wide-range of information, including details on commercial airliners, Russian planes and Chinese fighter jets, to allow a pilot to quickly identify those aircraft once detected by F-35 sensors.
In all, the Air Force is developing 12 distinct mission data files for 12 separate geographical areas. The first four were expected to be ready in August 2016, but delays and other setbacks have plagued the effort.
Air Force officials, meanwhile, told FoxNews.com on Monday that it's simply "too soon" to tell what will happen to the withered Warthogs.
"It's too soon to tell what will happen, not until we have a budget," an Air Force spokeswoman said Monday. "It could have an impact on the F-35, but it's just too soon to tell because we don't have an NDAA [National Defense Authorization Act] yet. Congress is still deciding its position on the A-10."
At least one lawmaker hopes his fight to keep the venerable aircraft in the air will propel him to victory on Election Day. Rep. Ron Barber, D-Ariz., who introduced amendments to keep the A-10 for at least another year, recently launched a television spot showcasing his role to save the aircraft so crucial to his Tucson district.
"No one has worked harder to save the A-10 aircraft than Ron Barber," Maureen Phillips, a veteran who served as a tactical intelligence officer for A-10 missions, says in the advertisement.
Barber, a two-term congressman, is locked in a tough rematch against retired Air Force pilot Martha McSally, a Republican who has criticized Barber for not making earlier effort to keep the A-10 airborne.
Nearby Davis-Monthan Air Force reportedly boasts roughly 80 Warthogs, or one-third of the service's 283-plane fleet. And with more than 10,000 employees, the Tucson base is the district's third-largest employer and generates about $1.5 billion into the local economy, according to military officials.
In September, an Indiana National Guard unit announced that it planned to deploy about 300 airmen and an unknown number of the embattled A-10 Thunderbolt II to the Middle East, where it could be used to fight Islamic State militants in Iraq and Syria. The 122nd Fighter Wing, based at Fort Wayne Air National Guard Base, has 21 aircraft, Stars and Stripes reported.
Meanwhile, Sen. Kelly Ayotte, R-N.H., said in a statement to FoxNews.com that suggesting the premature retirement of the A-10 to fulfill long-anticipated maintenance requirement for the F-35A is a "false choice," adding that there's a variety of steps the Air Force can take to maintain the combat-proven aircraft.
"Rather than threatening to unnecessarily undermine the maintenance of the F-35A — which the Air Force has said is one of its top three acquisition priorities — I hope the Air Force will listen to our ground troops and end its dangerous and misguided effort to deprive our troops of the A-10, which is the aircraft that is most likely to help them survive a firefight with the enemy," Ayotte's statement read.
FoxNews.com's Joshua Rhett Miller contributed to this report.