DNC co-chair, Minnesota Rep. Keith Ellison denies abuse allegations from ex-girlfriend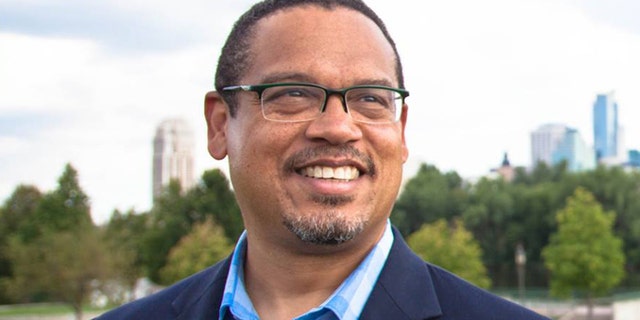 The co-chair of the Democratic National Committee, Rep. Keith Ellison, was accused of emotional and physical abuse by an ex-girlfriend who said: "You know you did that to me."
Ellison responded to the allegations Sunday, issuing a brief statement that said, "I never behaved in this way."
The allegations surfaced Saturday night from Karen Monahan after her son alleged in a Facebook post that he had seen text messages from Ellison threatening her and video of the congressman screaming obscenities at her as he dragged her off a bed by her feet, The Associated Press reported.
"My brother and I watched out mom come out of pure hell after getting out of her relationship with Keith Ellison," 25-year-old Austin Monahan said.
On Sunday, Karen Monahan said that what her son posted was the truth.
"Every statement he made was true. @keithellison, you know you did that to me," she tweeted.

Karen Monahan did not respond to a request from The Associated Press asking for copies of the video or text messages.
"Karen and I were in a long-term relationship which ended in 2016, and I still care deeply for her well-being," Ellison said. "This video does not exist because I never behaved in this way, and any characterization otherwise is false."
The allegations come days before Democratic voters choose between Ellison and other candidates in a Tuesday primary for attorney general.
Ellison posted photos to his Twitter account showing him posing with Monahan.
Earlier on Sunday, Ellison's rivals in the race for attorney general demanded that he respond to the allegations, WCCO-TV reported.
Matt Pelikan and former Minnesota House Speaker Debra Hilstrom called the allegations troubling, the station reported.
Another candidate in the race, former Ramsey County Attorney Tom Foley, said the allegations were serious, according to the station.
"If there are records and video of his interaction with the victim, those materials also should be turned over to law enforcement for immediate investigation," he said.
The station reported reaching out to Austin Monahan and left a message on the cell phone believed to be his that was not returned.
Hilstrom said in a tweet that Austin Monahan tagged her with his post. She then shared it with her followers.