Despite Low Polling, Pawlenty Likes His Odds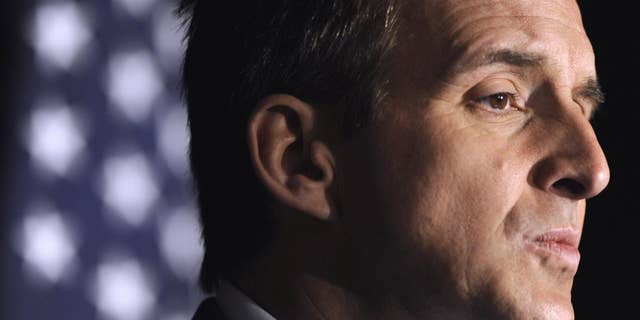 NEWYou can now listen to Fox News articles!
He's in the single digits in the latest national poll matching him against other Republican 2012 hopefuls, but former Minnesota Gov. Tim Pawlenty says he likes his odds in the race.
A slim 5 percent of respondents to a Quinnipiac poll* released Wednesday indicated they would support Pawlenty if the Republican primary were held today. Former Massachusetts Gov. Mitt Romney scooped up the most interest at 25 percent, trailed by former Alaska Governor and FOX News contributor - and still undecided -- Sarah Palin at 15 percent.
"We're not interested yet in the national polls," Pawlenty said on FOX News Wednesday morning, stressing that he is more focused on early primary states. "If the early polls were a good measure of who is going to win, Rudy Giuliani would be president, or Howard Dean would be president, or Hillary Clinton would be president. They almost never predict the final outcome."
Pawlenty chalks up the numbers to low name recognition, an obstacle unfelt by Romney or Palin. "If you ask people how they feel, remember for me, at least half the people don't know who I am," he explained on CNBC's "Squawk Box." "As we get name ID, we are getting support, so I like the trend line in that regard."
"I'll acknowledge that Mitt is going to be the front-runner to start," he said, citing Romney's "financial infrastructure," "legacy," and "personal wealth." "I think you'll see these numbers change over the next six months to a year, as they always do. So we'll acknowledge he's the front-runner for now."
The former governor, however, was quick to stress that he has no interest in playing second fiddle to Romney in the long term. "I'm not running for vice president, I can tell you now. I don't want my name put for that, I wouldn't put it forward for that. I'm running for president, and we're going to win."
* Quinnipiac University surveyed 1,946 registered voters with a margin of error of +/- 2.2 percentage points from May 31-June 6. Live interviewers call land lines and cell phones. The Republican primary included 830 respondents with a +/- 3.4 percent margin of error.