Dems Seek to Undermine Vitter's Momentum by Highlighting Prostitution Scandal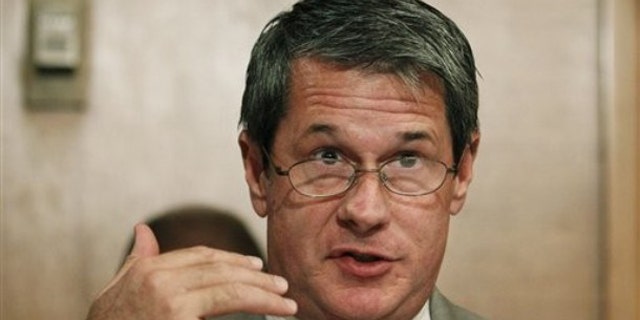 Louisiana Democrats are seizing on Sen. David Vitter's role in a 2007 prostitution scandal for a new campaign attack ad that seeks to cut into the Louisiana Republican's commanding lead over his election opponents.
The online video details Vitter's history with prostitutes, including a re-enactment of an alleged encounter between Vitter and a New Orleans hooker.
Vitter admitted in 2007 to an unspecified "serious sin" after his phone number was linked to Deborah Palfrey, the so-called "D.C. Madam," who committed suicide as she faced prison time for running a prostitution ring that catered to the powerful. But Vitter has steadfastly refused to discuss "the serious sin."
The Vitter campaign declined to comment to FoxNews.com on the video.
The documentary-style video, "Forgotten Crimes: Lawmaker, Lawbreaker," says it seeks to expose crimes by Vitter.
"The law may forget…we won't," the website says.
The narrator notes that Vitter won election to the Senate on a platform of family values but was "battling demons" under the surface.
The video reminds viewers that Vitter has never taken questions on the scandal, didn't have to testify in the D.C. Madam's trial before she killed herself, and was not investigated by his colleagues in the Senate.
Louisiana voters appear in the video with their identity concealed expressing outrage over Vitter's acts and the double standard they say he lives by.
"The only thing that stands between him and re-election are the voters," the narrator intones.
Vitter is in his first election since the scandal. But he holds a double-digit percentage lead in most polls over Charlie Melancon, the Democratic Senate candidate, and 10 other candidates. The video was released as a new Rasmussen poll showed Vitter leading Melancon 54 to 33 percent.
Melancon is pressing Vitter for a series of TV debates before the November election – a tactic that appears aimed partly at cornering Vitter into answering questions about the scandal.
But Vitter didn't appear likely to agree to Melancon's request for a series of town hall-style matchups without pre-screened questions.