Dems return to usual script on gun control after Las Vegas massacre
It's what congressional Democrats didn't do in the wake of the Las Vegas massacre.
Sen. Chris Murphy, D-Conn., didn't commandeer the Senate floor for 14 hours and 50 minutes in a filibuster about gun violence.
House Democrats didn't occupy the floor for more than 24 hours, staging a sit-in to protest the GOP leadership refusing to bring gun legislation to a vote.
Instead, Democrats reverted to what they usually do after a mass shooting.
They held press conferences about guns. And they gave floor speeches about mass violence -- following the mass shooting in Las Vegas on Sunday night in which 59 people were killed and at least 515 others were injured.
Democrats also made calls for bills to enhance background checks, curb heavy-duty ammo and restrict high-capacity weapons. On Wednesday morning, Democrats will rally on the House steps for legislation to prevent gun violence and mourn the dead in Las Vegas.
Republicans have said very little so far.
In the wake of the hell unleashed from the 32nd floor, of the Mandalay Bay Resort and Casino, Democrats defaulted to a time-honored, yet futile script on firearms in the wake of a mass shooting.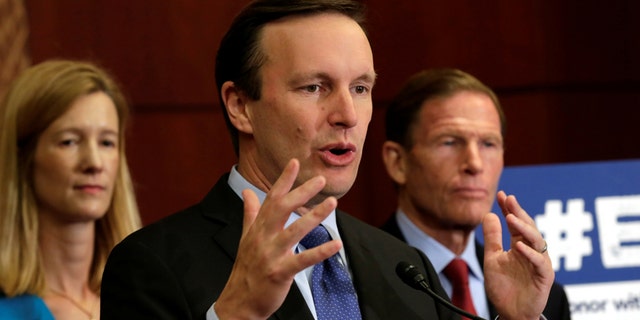 Democrats again pined for gun control legislation -- prepared to get really nowhere. It doesn't matter if it's Columbine, Virginia Tech, Aurora, Colo., Sandy Hook, San Bernardino, Orlando or Las Vegas. Congress likely won't take the kind of action Democrats demand on firearms.
Consider this: if Congress didn't act after separate mass shootings that nearly killed former Rep. Gabrielle Giffords, D-Ariz., and House Majority Whip Steve Scalise, R-La., why would there be movement now?
Now, back to the filibuster and the sit-in last June just days following the assault at the Pulse nightclub in Orlando, Fla.
Murphy -- shaken by Sandy Hook in 2012 -- crystallized new energy on the Democrats' cause with his filibuster.
"I hope this means something," he said moments after his lengthy oratory.
A week later, Democrats broke new ground in their demonstration methods. Reps. John Lewis, D-Ga., and John Larson, D-Conn., orchestrated the sit-in. That prompted the House to create new rules to sanction lawmakers for future protests.
Both the filibuster and sit-in were revolutionary in the Democrats' push for gun legislation. But their dissent yielded no progress.
After Las Vegas, Democrats are bereft of revolutionary ideas to galvanize the cause.
"I think at this point, it's probably not the best course for Democrats," said House Democratic Caucus Vice Chairwoman Linda Sanchez, D-Calif., when asked about the prospects for sit-in 2.0.
Democrats didn't hold the Senate in session through the night Monday, imploring Republicans to launch a debate about firearms legislation. Murphy spoke, but for just 18 minutes.
"I think there is an unintentional endorsement that is sent to shooters when laughter after slaughter after slaughter and Congress does nothing," Murphy said. "It looks like it is complicit."
With the explosion of mass shootings in recent years, Democrats frequently scold Republicans for what they see as vacuous moments of silence on the House and Senate floors and bromides of "thoughts and prayers."
Democrats may chastise their Republican colleagues for these gestures, however well intentioned. But without compelling change on the issue, the Democrats' tactics could be just as vacant.
Now to be fair, Democrats don't control the House or Senate and can't set the agenda.
"We are stuck," lamented Sanchez of her party's plight.
Yet Democrats founder on two points: prevailing on Republicans to bring firearms legislation to the floor, and perhaps more importantly, electing gun-reform lawmakers who would actually flip control of the House and Senate.
"It baffles me as to why we can't make that happen," said Sanchez when addressing a way to put gun control bills on the floor. She and fellow Democratic Rep. Elizabeth Esty -- who represents the Connecticut district where the Sandy Hook massacre occurred -- noted that House Speaker Paul Ryan, R-Wis., rejected an entreaty for a special, bipartisan committee on gun violence.
So, if the gun issue is so resonant, why can't Democrats make this an issue central to their campaigns?
"Our agenda for the 2018 midterm is a "Better Deal" agenda, talking about better jobs, better wages and a better future for the American families," Sanchez said.
Democrats really haven't had a successful House or Senate candidate who ran predominantly on a gun-control platform since former Rep. Carolyn McCarthy, D-N.Y., prevailed in a 1996 House contest. A gunman opened fire on a Long Island Rail Road commuter train in 1993, killing McCarthy's husband and seriously injuring her son.
House Minority Whip Steny Hoyer, D-Md., says Democrats not being able to gain electoral traction on the gun issue it "confounds."
When asked whether Democrats should instead recruit candidates to favor firearm restrictions, Hoyer replied, "maybe that's what needs to happen."
Giffords wasn't supposed to visit Capitol Hill on Monday afternoon. She was scheduled to campaign for Virginia Democratic gubernatorial nominee Ralph Northam. But she and husband instead dropped by the Capitol to plead for firearms legislation.
"The nation is counting on you," exclaimed Giffords, pointing at the Capitol dome.
Less than an hour later, House Chaplain Fr. Patrick Conroy delivered his daily invocation as the House gaveled to session. Conroy anticipated the days ahead in his prayer.
"The debates will once again ensue," said Conroy of the gun issue. "Speed us to the day where the wisdom of Solomon might inspire our congressional members beyond the limitations of sound bytes and platitudes before more American citizens are deprived of their lives."
Congress is a reactive body. But when it comes to mass shootings, a deep permafrost seals Democrats and Republicans. The venue and the horror don't matter. An elementary school. A university. A nightclub. A baseball practice.
"I do not think that that the United States Congress can legislate away evil. I don't think the United States Congress can legislate sanity," said Sen. John Kennedy, R-La.
And lawmakers won't act until they think they can do something.
Capitol Attitude is a weekly column written by members of the Fox News Capitol Hill team. Their articles take you inside the halls of Congress, and cover the spectrum of policy issues being introduced, debated and voted on there.