Dems look to new Colorado voting law to save Senate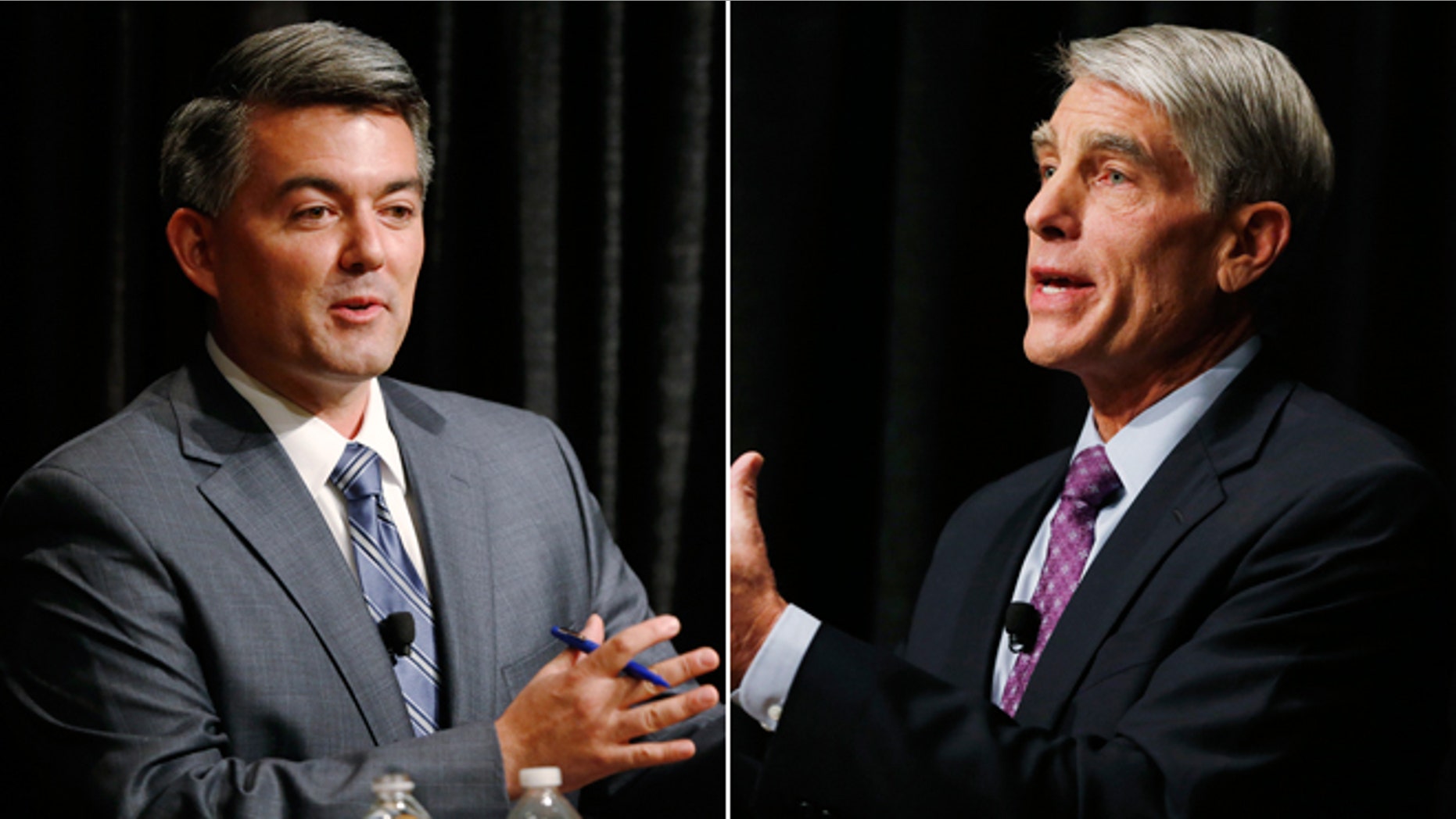 **Want FOX News First in your inbox every day? Sign up here.**
Buzz Cut:
• Dems look to new Colorado voting law to save Senate
• Ruh-roh: Dem congressional approval lowest since '94
• Power Play: Brown breaks down his Senate strategy
• Hillary heats up rhetoric
• Leave 'em laughing
DEMS LOOK TO NEW COLORADO VOTING LAW TO SAVE SENATE
Colorado is the key to Senate Majority Leader Harry Reid's firewall. It, along with Democrat-held seats in Iowa and North Carolina, is part of the last line of defense against Republican majority. If they lose any of these three seats, it would be hard to imagine Reid & Co. holding the Senate. And right now, things aren't looking good for the blue team in Colorado. After an abysmal campaign by Democratic incumbent Sen. Mark Udall, Republican challenger Rep. Cory Gardner holds a lead of nearly 3 points in the RealClearPolitics average of polls. And any incumbent polling at an average of 44 percent the week before the election would ordinarily look like a sure loser. But Colorado's election is going to be anything but ordinary.  The combination of same-day registration and mail-in ballots also has many on the right worried about outright fraud in what could be a razor-thin vote to decide a razor-thin Senate majority. Even without fraud, though, Republicans have reason to worry.

[The latest NBC News/Marist Poll gives Rep. Cory Gardner, R-Colo., 46 percent to Democratic Sen. Mark Udall's 45 percent.]

Wild West - Colorado is making its first foray into voting by mail, leaving just a handful of in-person polling places around the state. Similar moves in Washington and Oregon have helped cement those states as Democratic bastions after decades of dabbling in occasional Republicanism. Instead of having to physically take unenthusiastic voters to the polls in vans, Democrats could just catch them at home and get them to sign on the line and mail in their votes. But the specifics of Colorado's law, as David Drucker explains, go far beyond even what's been done in the Northwest. As Democrats work hard to fire up Hispanic voters with talk of a mass amnesty granted by President Obama after the election, Colorado also remains the only state on the midterm map to boast a large enough Latino population to provide an opportunity for Obama-style demographic dicing to be successful. As Democrats demonstrated in 2010 for Reid, an organizing surge can help save an incumbent down in the polls.

[Washington Examiner: "Enough non-citizens illegally vote in U.S. elections to potentially decide close races, a new study suggests. Old Dominion University political scientists Jesse Richman and David Earnest found, in an article due to be published by the journal Electoral Studies, that 6.4 percent of non-citizens voted in the 2008 elections and 2.2 percent voted in the 2010 midterms.]

Not flat-footed - Republicans, though, have learned some lessons in Colorado. Aside from actually competing for Latino votes, the GOP has also gone all in on the vote-by-mail system. With over a half million ballots received, according to the most recent figures from Colorado's secretary of state, election offices have tallied 62,000 more ballots from Republican voters than Democrats. That puts the GOP in the lead with 44 percent to Dems' 32 percent, hardly where anyone expected the race to be given the incredible sums that Democrats have spent on advertising and organization. Remember that Udall, unlike some other endangered Dems, is actually very liberal. He's not running against the president, he's mostly been talking about ladyparts. But Republican operative remain very nervous that despite a new focus in the party on pushing early voting the state is just too friendly to Democratic base turnout efforts with the new law. One top GOPer told Fox News First that he thinks Garner needs to be up by more than 3 points in pre-election polls to actually pull out the win.

[AP: "Former President Bill Clinton is headlining an evening rally in Aurora [today]. He'll be promoting Udall, along with Gov. John Hickenlooper and congressional hopeful Andrew Romanoff.]

Knock, knock - Whatever the case, the new voting regime provides Democrats unprecedented opportunities to drive turnout, even when their voters are not feeling enthusiastic. It's one thing to have to go wait in line to vote, but quite another to just sign on the dotted line when the party canvasser comes to your door.

-- 8 days until Nov. 4 --

RUH-ROH: DEM CONGRESSIONAL APPROVAL LOWEST SINCE '94 ABC News: "With congressional elections virtually upon us, public disapproval of the Democrats in Congress has hit a new high in ABC News/Washington Post polls dating back 20 years."

WITH YOUR SECOND CUP OF COFFEE...
With nearly 1.3 billion users world-wide, Facebook is not only changing the way people connect but the way they get their news. More and more, individuals are no longer going to the Web sites of news outlets but finding headlines in their Facebook news feeds on Facebook. The result: a 20 percent increase to traffic to news Web sites. NYT explores how Facebook is reshaping the way we get our news: "Though other services, like Twitter and Google News, can also exert a large influence, Facebook is at the forefront of a fundamental change in how people consume journalism. Most readers now come to it not through the print editions of newspapers and magazines or their home pages online, but through social media and search engines driven by an algorithm, a mathematical formula that predicts what users might want to read…If Facebook's algorithm smiles on a publisher, the rewards, in terms of traffic, can be enormous. If [Facebook's engineers] decide that users do not enjoy certain things, such as teaser headlines that lure readers to click through to get all the information, it can mean ruin."

Got a TIP from the RIGHT or LEFT? Email FoxNewsFirst@FOXNEWS.COM

POLL CHECK
Real Clear Politics Averages
Obama Job Approval: Approve – 41.2 percent//Disapprove – 54.6 percent
Direction of Country: Right Direction – 27.5 percent//Wrong Track – 65.8 percent
Generic Congressional Ballot:  Democrats – 42.1 percent// Republicans – 45.6 percent

POWER PLAY: BROWN BREAKS DOWN HIS SENATE STRATEGY
For Democrats, New Hampshire is a must win: a state President Obama carried in 2008 and 2012 and one Democrats didn't expect to have to defend in this year's effort to preserve their Senate majority. With polls showing a tight race between Republican Scott Brown and Sen. Jeanne Shaheen, D-N.H., the former Massachusetts senator is feeling more optimistic he will be returning to the upper chamber. Find out how he plans to get there by watching "Power Play with Chris Stirewalt."

Shaheen gets boos for blurting - Daily Caller: "Democratic New Hampshire Sen. Jeanne Shaheen was jeered with cries of 'Rude!' Sunday after she interrupted her Republican opponent Scott Brown's closing debate remarks to make a statement about the Koch Brothers. After Brown asserted that he was endorsed by the U.S. Chamber of Commerce, Shaheen butted in to call the Chamber a 'Koch-funded organization.' Members in the crowd yelled 'rude' at her. Brown received a round of applause moments later for criticizing Shaheen's lack of decorum."

NRSC USES HAGAN'S 2008 ATTACKS AGAINST HER
Washington Free Beacon: "A new ad released by the National Republican Senatorial Committee shows that Senator Kay Hagan (D., N.C.) is guilty of the same sins she attributed former North Carolina Senator Elizabeth Dole in 2008. 'She's been in office for one term, and she really hasn't done anything,' Hagan said during her 2008 campaign. 'I go across this state, and people cannot tell me what she's done.' The ad points out that during her six years in office, Hagan has not written a single bill that became law."

[Hagan, Tillis tied - The latest NBC News/Marist Poll shows Sen. Kay Hagan, D-N.C. and Republican Thom Tillis tied at 43 percent.]

REID BACKED PAC INVOKES TRAYVON MARTIN TO TRASH TILLIS
Daily Caller: "Thom Tillis, the Republican candidate for the U.S. Senate in North Carolina, pushed a law that contributed to the 2012 shooting death of Trayvon Martin in Florida. That's according to the Harry Reid-backed group, Senate Majority PAC, which is out with a new radio ad tying Tillis to the controversial 'stand your ground' law in an effort to help keep Democratic incumbent Kay Hagan in office. 'Tillis even led the effort to pass the type of stand your ground laws that caused the shooting death of Trayvon Martin,' says the narrator of the radio spot."

TEMPTING THE GAFFE GODS: BIDEN TO CAMPAIGN WITH BRALEY
Vice President Joe Biden will campaign today for Rep. Bruce Braley, D-Iowa, and later today for Gov. Pat Quin, D-Ill., and Sen. Dick Durbin, D-Ill.

[Ernst holds steady lead - The latest NBC News/Marist Poll gives Republican Joni Ernst 49 percent to Rep. Bruce Braley's (D-Iowa), 46 percent.]

Ernst salutes sacrifice in new ad - Iowa Republican Senate candidate Joni Ernst is highlighting her military service in a new ad. Ernst appears saying, "We've taken that oath to sacrifice everything, with nothing asked in return. Threats like ISIS remind us there's good and evil in this world. Knowing the difference and be willing to do something about it, is what makes America who we are."

NUNN: HARRY WHO?
During a debate Sunday Georgia Democratic Senate nominee Michelle Nunn offered a muddled answer when asked if she would support Sen. Harry Reid as Majority Leader. "I will vote for the Democrat that I think will best serve the interests of combating gridlock and getting things done in the best interest of Georgia," Nunn answered.  She went on to further distance herself from President Obama adding, "There are a lot of things that I agree with the president on and lots of things that I disagree with the president on," spelling out her support of building the Keystone Pipeline XL, working more with Congress, and doing more to tackle the national debt. She also invoked her ties to former President George H. W. Bush over President Obama saying, "I've probably spent maybe 45 minutes of my life with President Obama. I spent seven years running President George H.W. Bush's Points of Light organization."

PRYOR TOUTS FAITH AND BIPARTISANSHIP IN AD
Sen. Mark Pryor, D-Ark., highlights his record as conservative senator in his latest ad saying, "my faith teaches me no one person or for that matter party has all the answers."

[Cotton on top - The latest NBC News/Marist Poll gives  Rep. Tom Cotton, R-Ark., at 45 percent to Democratic Sen. Mark Pryor's 43 percent.]

ROMNEY AND DOLE TO RALLY FOR ROBERTS
AP: "Former Republican presidential nominee Mitt Romney is joining fellow ex-nominee Bob Dole in the GOP's efforts in Kansas to rescue U.S. Sen. Pat Roberts' [R-Kan.,] re-election. Both Romney and Dole are joining Roberts on Monday at an Overland Park restaurant and banquet hall for a campaign rally…They're appearing in Johnson County, the state's most populous county and home to 22 percent of the state's 1.74 million voters. It's normally a Republican stronghold, but [independent candidate Greg Orman] is an Olathe businessman and expects to do well there."

[Roberts closes gap - The latest NBC News/Marist Poll gives independent candidate Greg Orman 45 percent to Sen. Pat Roberts' R- Kan., 44 percent.]

LANDRIEU AND MANESS TEAM UP AGAIN FOR DEBATE WITHOUT CASSIDY
Alexandria [La.] Town Talk: "New Orleans television station WWL is moving forward with its Monday night U.S. Senate candidate debate featuring incumbent Democratic Sen. Mary Landrieu and Republican challenger Rob Maness, but without U.S. Rep. Bill Cassidy [R-La.]"

Landrieu touts rebuilding the Bayou – Sen. Mary Landrieu, D-La., appears in a new ad highlighting her efforts to bring billions to the state following hurricane Katrina.

FRANKEN FUMBLES ON EBOLA TRAVEL BAN
Washington Examiner: "[Minnesota] Republican [Senate] nominee Mike McFadden criticized Sen. Al Franken [D-Minn.] Sunday for not clearly supporting a ban on travel to Minnesota from countries affected by Ebola, trying to leverage growing public concern over the virus into a political advantage… 'I just listened to both of you ask Al Franken three times what his answer was, and he didn't answer it,' said McFadden...Franken, the incumbent first-term member of the Democratic-Farmer-Labor Party, had avoided directly taking a position on a travel ban earlier in the debate in Minneapolis, but later on clarified that he did not necessarily oppose the idea. 'I have nothing against a travel ban from West Africa, what I'm saying is, it's insufficient,' he said. Franken had noted that the vast majority of travelers from West Africa to Minnesota do not come directly through Minnesota airports, and highlighted the need to prepare state hospitals to deal with Ebola patients… The most recent Star Tribune poll… show[s] McFadden down just 9 percentage points among likely voters… and showed a four-percentage-point improvement for McFadden."

PICK SIX: LIKELY PATHS FROM ABROAD
Republicans need six more Senate seats to take control of the upper chamber. Which blue seats are the most vulnerable in this year's midterms? Here are the top picks among Fox News First readers: Arkansas (13.8%), Montana (13.2%), West Virginia (12.5%), South Dakota (12%), Louisiana (11.7%), and Alaska (8.9%).  Reader Walter Jordan an 18-year old history student from the Netherlands adds Colorado and Iowa to his six picks writing, "My guess is they are an easier path to victory than Louisiana or South Dakota." Coast-to-coast, east to west, and around the globe, time is ticking to send us your final six picks.

Share your top six picks. Email them – just your top six, please – to FOXNEWSFIRST@FOXNEWS.COM or tweet @cstirewalt.

Climate Changes
NYT's Upshot says there's a 68 percent likelihood of the GOP winning the Senate, up five percent from Friday.

WaPo's Election Lab forecasts that Republicans will see a net gain of seven Senate seats, now putting Georgia as a likely Democratic gain. The forecast sees a 92 percent chance Republicans take the upper chamber, up one point from Friday.

Nate Silver's FiveThirtyEight gives the GOP a 63.3 percent chance of winning the Senate, mostly unchanged from Friday.

["History, geography, and the president's approval rating would suggest it's going to be a good night for Republicans." –Former Sen. Evan Bayh, D-Ind., on "Fox News Sunday with Chris Wallace."]

BAKER GETS BOSTON GLOBE'S BACKING
A progressive institution in Boston is giving its endorsement to Massachusetts Republican gubernatorial candidate Charlie Baker over Democrat Martha Coakley. "At a difficult inflection point in state government, Massachusetts needs a governor who's focused on steady management and demonstrable results," The Boston Globe said Sunday in its endorsement of Baker.  It further criticized Coakley for being, "unwilling to spell out an issue agenda — raising the possibility that, if she is elected, the public discussion might drift toward whichever priorities legislative leaders decided to emphasize."

POLL: LEPAGE PULLING AHEAD IN MAINE
Portland [Maine] Press Herald: "…Gov. Paul LePage [R-Maine]  has opened a lead over Democratic U.S. Rep. Mike Michaud in the closing weeks of the gubernatorial campaign, according to a Maine Sunday Telegram/Portland Press Herald poll. The findings mark a significant shift from previous polls showing both candidates running in a virtual dead heat. LePage leads Michaud 45 percent to 35 percent, with independent Eliot Cutler at 16 percent and 4 percent undecided, according to the poll of 639 likely voters conducted by the University of New Hampshire Survey Center…LePage is beating Michaud 48 percent to 33 percent in the district, which the congressman has represented for six terms."

PALIN DITCHES SUCCESSOR, PICKS DEM-BACKED CANDIDATE FOR ALASKA GOV
AP: "Independent gubernatorial candidate Bill Walker said he welcomes Sarah Palin's endorsement of him over her former lieutenant governor. Palin made official her support for Walker in a Facebook post Saturday. Palin last week hosted a reception at her lakeside home north of Anchorage for Walker and Byron Mallott. …Walker is challenging Republican Gov. Sean Parnell, who served as Palin's lieutenant governor after Palin was elected governor in 2006. Parnell took over for Palin as governor in 2009, when she resigned. He was elected in his own right in 2010, beating Walker in that year's Republican gubernatorial primary. Walker, whose party affiliation now is undeclared, and Mallott, a Democrat, joined forces after the primary to provide a stronger challenger to Parnell."

CHRISTIE DEFENDS EBOLA QUARANTINE
NJ.COM: "The New York Times also reported today that the Obama administration is also pressuring [N.J Gov Chris Christie] and New York Gov. Andrew Cuomo to lift the quarantine orders. An unnamed White House official told the newspaper that the governors' decisions appeared to be made haphazardly, and did not 'comport with science.' Appearing on "Fox News Sunday" Christie fired back, saying he was taking the proper action, and that the CDC's protocols 'have been a moving target.' 'Imagine that you're the person in charge of the public health of the people of...the most densely populated state in the union — and these protocols continue to move and change," Christie said. 'It was my conclusion that we needed to do this to protect the public health of the people of New Jersey. Gov. Cuomo agreed, and now [Chicago's] Mayor [Rahm Emanuel] agreed, and I believe the CDC will come around to our point of view on this,' said Christie."

[Watch Fox: Correspondent Doug McKelway considers what Gov. Chris Christie's, R-N.J., latest trips to Iowa may mean for a future 2016 presidential bid.]

CRUZ, HUCKABEE LEAD THE PACK WITH EVANGELICAL VOTERS
National Journal looks at how Sen. Ted Cruz, R-Texas and former Gov. Mike Huckabee, R-Ark., would compete for the Evangelical Christian voting bloc in a 2016 primary: 'Those are the two,' Family Research Council President Tony Perkins said of Cruz and Huckabee. 'And they share the same core base, so I do think there's probably only room for one of them to be successful.' Perkins is not alone in this view. Conversations with some of the country's most influential and well-connected evangelical power-brokers suggest an emerging consensus—out of private gatherings like CNP as well as public events like the Values Voters Summit—that 2016 is shaping up as a two-horse race. Even a senior adviser to former Sen. Rick Santorum, who won Iowa in 2012 and is considering another run, admitted that talk of Cruz and Huckabee distancing themselves from the field is 'accurate.'"

ODDS IMPROVING FOR JEB TO TRY TO BE BUSH 45?
Fox News: "Former Florida Gov. Jeb Bush is 'moving forward' on a potential 2016 White House run and it appears more likely he will enter the Republican field, according to his son, who's running for office in Texas. George P. Bush told ABC's 'This Week'… 'I think it's more than likely that he's giving this a serious thought …,' said the younger Bush, who is running for Texas land commissioner. Asked if that meant it was 'more than likely that he'll run,' George P. Bush responded: 'If you had asked me a few years back ... I would have said it was less likely."'

HILLARY HEATS UP RHETORIC
WaPo: "Here in North Carolina and in other midterm battlegrounds, [2016 Democratic frontrunner Hillary Clinton] is talking to and about women for reasons that appear to have as much to do with the next election as this one. … She also has adopted a fiercely partisan message that champions working mothers and women at the fragile edge of the middle class — a theme that could carry over well into a presidential bid should she choose to run. 'Reach out particularly to every single woman you know, because women's rights are like the canary in the mine,' Clinton said at a weekend rally for Sen. Kay Hagan (D-N.C.). 'If you don't protect women's rights at home and around the world, everybody's rights are at risk. And there is a concerted effort right now to turn back that clock, isn't there?'"

WSJ: "U.S. Senate candidates like Kentucky's Alison Lundergan Grimes are running this year as "Clinton Democrats." It's an effort to identify themselves as moderates within a party that has become increasingly anti-business. The party has moved so far to the left that the coalition of Clinton Democrats is struggling to maintain support even within the Clinton household."

HOW TO WIN THE PRESIDENCY, THROWBACK EDITION
Sixteen years before he won the presidency and four years before he became governor of California, Ronald Reagan gave a televised address on behalf of Republican nominee Barry Goldwater on this date in 1964. Goldwater faced long odds in unseating Democrat Lyndon Johnson, elevated to the White House less than a year earlier by the assassination of President John Kennedy. Goldwater lost, but Reagan became the avatar of the modern conservative movement and eventually the first and only president to rise from its ranks.

BUT WHAT'S THE MINIMUM WAGE FOR PROVIDING MEDICAL MARIJUANA TO A BEAR?
Fox News: "While candidates and parties duke it out for victory on Election Day, a just-as-heated battle is being waged in a number of states over guns, abortion, booze, marijuana -- even bears.  Ballot initiatives often are the sidebar story of any election, but for some voters the debate this year over "yes" or "no" on a range of ballot questions has been the marquee issue, drawing millions of dollars to each side and, in some cases, forcing candidates running in those states to take a position."

LEAVE 'EM LAUGHING
How do you want to be remembered? In political terms, the epitaph on your headstone is your final chance to be "on message." Thomas Jefferson chose his carefully and it would be hard to surpass former New York Mayor Ed Koch for posthumous talking points. But what if you want to be funny? It's pretty tough to get a laugh in a cemetery, so the NY Post has rounded up some of the best efforts to get a, er, rise out of mourners, including avid golfer Joel Cheskin who picked "At last, a hole in one" for his monument. "I was kind of surprised, but I liked it, so I decided that on mine, I'm going to get, 'I'm with Him,' with an arrow pointing to Joel," [widow Carole Cheskin] told the Post. "He would appreciate that."

Chris Stirewalt is digital politics editor for Fox News.  Want FOX News First in your inbox every day? Sign up here.