Dems' feud deepens with Hawaii re-vote set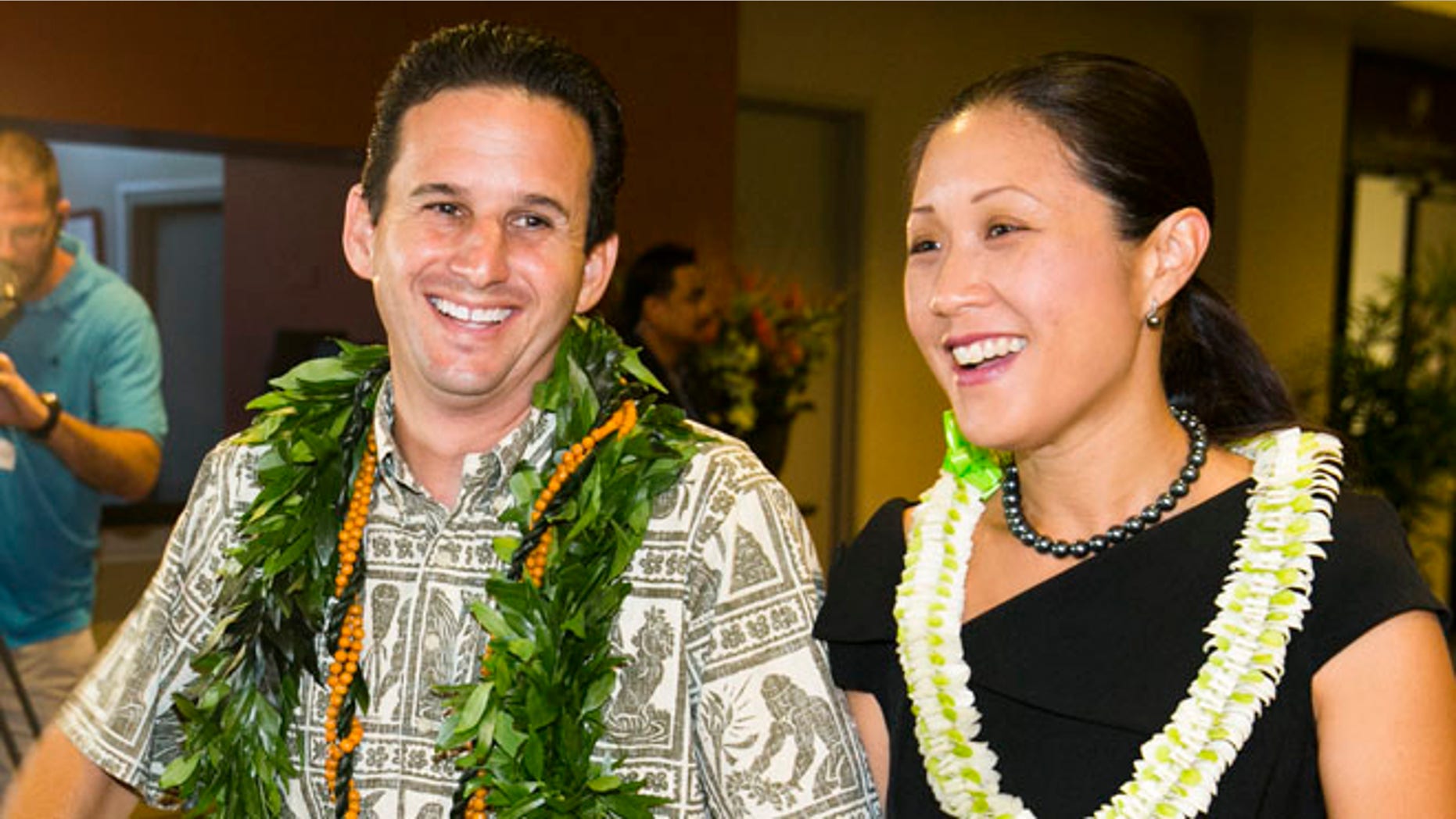 **Want FOX News First in your inbox every day? Sign up here.**
Buzz Cut:
• Dems' feud deepens with Hawaii re-vote set
• Putin pushes Obama's legal line
• Wrong track: Wages down 23 percent since 2008
• Statehouse showdowns in Minn., Wisc. and Conn.
• Mmmm… bird toxins
DEMS' FEUD DEEPENS WITH HAWAII RE-VOTE SET
Sen. Brian Schatz, D-Hawaii, remains in peril today as Hawaii elections officials have called for a re-vote in some precincts that were closed due to a tropical storm during Saturday's primary. Schatz, backed by President Obama in a bitter primary battle with Rep. Colleen Hanabusa, leads by just 1,635 votes. Worse still for the incumbent Democrat, Hanabusa said the re-vote may not be enough to keep her from mounting a legal challenge over the contested returns. Unlike the disputed GOP Senate primary in Mississippi, the result in Hawaii is close enough that, depending on how Friday's results turn out, contested ballots and other challenges might reverse the initial outcome. With Hanabusa talking openly of ""irregularities," it's clear that this race isn't over yet.

["It is unrealistic to think people struggling to find basic necessities and get out of their homes will have the ability to go to the polls Friday." – Statement from the campaign of Rep. Colleen Hanabusa, D-Hawaii.]

Republicans could be saying aloha in November - Incumbent Gov. Neil Abercrombie's stunning primary loss to Democratic state Sen. David Ige sets the stage for a three-way match-up in November with former Republican Lt. Gov. Duke Aiona and former Honolulu Mayor Mufi Hannemann, the Hawaii Independent Party nominee. While Abercrombie, who was backed by President Obama, quickly embraced Ige in a show of party unity, Democrats face a tough challenge to hold onto the blue state's governor's mansion, a residence Republicans have held before. Aiona, who served under GOP Gov. Linda Lingle, is banking on a recent poll that shows him with an early lead, and the historic upset of an incumbent Governor that he says is a call for change. The only way that the Senate race could open up for GOP nominee former state Rep. Cam Cavasso would be if the eventual loser of the Democratic primary ran an independent bid to split the party.

[Abercrombie's spectacular defeat – According to a WaPo analysis of 381 gubernatorial races between 1984 and 2013, only seven incumbents lost in the primary.]

Oh great, politicians - The hotly contested race between Schatz and Hanabusa now takes on a delicate phase as county residents recover from the ravages of Tropical Storm Iselle. "Both campaigns moved their operations to Puna on Sunday, the day after the primary, in the hopes their presence could boost voter turnout and establish enough goodwill to put them over the top," Honolulu Civil Beat reports. "They each also stressed that they are doing their best to help the people who have been hurt most by the tropical storm."

PUTIN PUSHES OBAMA'S LEGAL LINE
President Obama is looking for a way to nudge a new government into power in Iraq as his longtime frustration with Prime Minister Nouri al Maliki boils over. Maliki, whom Obama once praised and with whom he heralded "complete agreement" on the way forward in Iraq, has become the administration's scapegoat for the devolution of Iraq. Perhaps Maliki looked more appealing when Obama was in a hurry to withdraw from Iraq ahead of the 2012 election. While Obama is busy with Baghdad, though, his "number one geopolitical foe" is on the move.

Fox News: Ukrainian officials said Tuesday that 280 trucks thought to be carrying humanitarian aid from Russia to the war-torn eastern Ukraine city of Luhansk would not be allowed to cross the border between the two countries…. [Andriy Lysenko, a spokesman for Ukraine's National Security and Defense Council] showed a covertly filmed video appearing to show vehicles similar to the white-canopied trucks dispatched from Moscow on Tuesday parked at a military base in Russia. One frame displayed by Lysenko shows uniformed troops lined up in front of one of the trucks. …Western officials have repeatedly expressed fears that any Russian aid mission would serve as a precursor to action by Russian ground troops. Late last week, U.S. [President Obama], German Chancellor Angela Merkel, and British Prime Minister David Cameron issued statements proclaiming that such action would violate international law."

Scat: Obama says criticism of his 'don't do stupid s**t' foreign policy is "horses**t" - Daily Beast: "Just before the Congressional recess, President Obama invited over a dozen Senate and House leaders from both parties to the White House to talk about foreign policy. According to two lawmakers inside the meeting, Obama became visibly agitated when confronted by bipartisan criticism of the White House's policy of slow-rolling moderate Syrian rebels' repeated requests for arms to fight the Assad regime and ISIS.  According to one of the lawmakers, Sen. Bob Corker [R-Tenn.] asked the President a long question that included sharp criticisms of President Obama's handling of a number of foreign policy issues—including Syria, ISIS, Russia, and Ukraine. Obama answered Corker at length. Then, the president defended his administration's actions on Syria, saying that the notion that many have put forth regarding arming the rebels earlier would have led to better outcomes in Syria was ['horses**t.'] White House officials confirmed the charged exchange between Obama and Corker but declined to confirm that Obama used the expletive."

Pricey protection for Hillary - Daily Mail: "Hillary Clinton left her post at the top of the U.S. State Department on Feb. 1, 2013, but the federal government spent more than $55,000 on travel expenses related to her book tour just last month, procurement documents show. The expenses included a $3,668 charge for her to enjoy a single night's lodging in a suite at the posh Four Seasons George V hotel in Paris…"

WRONG TRACK: WAGES DOWN 23 PERCENT SINCE 2008
Cleveland Plain Dealer: "While 8.7 million jobs have been regained since the 2008 recession, they are paying much less, by an average of 23 percent, according to a report released Monday by the United States Conference of Mayors."

[According to a McClatchy/Marist poll the GOP leads Democrats in a generic ballot test 43 percent to 38 percent]

Top insurer says ObamaCare enrollment slipping - Investors Business Daily: "The nation's third-largest health insurer had 720,000 people sign up for [ObamaCare] coverage as of May 20, a spokesman confirmed to IBD. At the end of June, it had fewer than 600,000 paying customers. Aetna expects that to fall to 'just over 500,000' by the end of the year. That would leave Aetna's paid enrollment down as much as 30% from that May sign-up tally."

Rate hikes revealed - Most enrollees will see a 7.5 percent increase in their premiums under ObamaCare in the next year, according to data compiled by the Health Research Institute. Customers in Nevada could potentially be hit with a 36 percent increase while those in Indiana could see a 15.6 percent spike. Several states have yet to release their final projections for insurance rates in 2015.

WITH YOUR SECOND CUP OF COFFEE...
Where did uptalking come from? It's that thing people do when they're making a declarative statement but infuriatingly intone the end of the sentence as if it were a question. Was it the Valley Girls? The Aussies? The influx of Spanish speakers and their language's reliance on intonation to formulate questions? The BBC examines the origins of the perfect linguistic tic for an insecure era, suggesting that it might even be our phones. Right? "[Sharyn Collins, a voice coach and elocution expert] believes that the rising tones we so often hear in snatches of conversation are in fact people striving to divert their companion's attention away from their mobile phone. 'People are checking as they speak to make sure you're paying attention,' she says."

Got a TIP from the RIGHT or LEFT? Email FoxNewsFirst@FOXNEWS.COM

POLL CHECK
Real Clear Politics Averages
Obama Job Approval: Approve – 41.1 percent//Disapprove – 54.1 percent
Direction of Country: Right Direction – 25.4 percent//Wrong Track – 67.4 percent
Generic Congressional Ballot:  Democrats – 43.6 percent// Repubs. 41.4 percent

STATEHOUSE SHOWDOWNS: PRIMARY DAY IN MINN., WISC. AND CONN.
No battles of national significance in today's primary contests in Minnesota, Wisconsin and Connecticut, but the state and local struggles may have a lot to say about the Democratic effort to reclaim lost ground in state houses and governors' mansions.

TEST FOR MINNESOTA GOP
Pioneer Press: "In addition to deciding which candidate will challenge Democratic Gov. Mark Dayton on Nov. 4, Minnesota Republican voters will pass judgment in Tuesday's primary election on the value of the party's endorsement. If GOP-endorsed Jeff Johnson wins, the party's stock will rise. But if he loses, the value of the party's backing will continue to erode… The party has gone through a rough patch in recent years. Its endorsed candidates have lost in two consecutive statewide elections, even in 2010, which was a good year for Republicans…Johnson is in a hotly contested race with three strong GOP challengers: businessman Scott Honour, former House Minority Leader Marty Seifert and former House Speaker Kurt Zellers. The Republican contest for governor is the marquee event in Tuesday's primary election. In the party's three-way U.S. Senate race, GOP-endorsed businessman Mike McFadden is favored to win."

Emmer aims to succeed Bachmann - Minneapolis Star Tribune: "In the Sixth District, former state Rep. Tom Emmer is trying for a comeback after his 2010 defeat … in the governor's race. The Delano Republican is positioned as the likeliest Republican heir to the retiring [Rep. Michele Bachmann, R-Minn.] but faces a spirited challenge from Rhonda Sivarajah, an Anoka County commissioner. Whoever emerges will face [Democratic-Farm Labor Party] Joe Perske, the mayor of Sartell."

[Polls close in Minnesota at 9 pm ET For results: The Minnesota Secretary of State.]

FREE FOR ALL IN RACE TO REPLACE RETIRING REP. PETRI
Roll Call: "Four candidates are vying for the GOP nomination in Wisconsin's only open House district, with no clear front-runner in the Tuesday primary. In the race to succeed retiring GOP Rep. Tom Petri, three top Republican candidates have tried to brand themselves as the most conservative contender in the 6th District: state Sen. Joe Leibham, state Sen. Glenn Grothman and state Rep. Duey Stroebel."

Walker, Burke look ahead - With no-contest primaries today, Gov. Scott Walker, R-Wisc., and his presumptive Democratic opponent, former state Secretary of Commerce Mary Burke, are keeping up their general elections slugfest. Milwaukee Journal Sentinel: "Gov. Scott Walker's campaign is ready with another campaign ad to debut statewide on Wednesday, the day after Tuesday's primary. With Walker's leading Democratic opponent, Mary Burke, poised to win an easy primary race, the Republican governor will seek to block her from gaining any moment with an ad of his own. A copy of the ad shown to a Milwaukee Journal Sentinel reporter showed unidentified workers thanking the governor and saying that Walker's policies and spending on worker training helped them find a job."

[Polls in Wisconsin close at 9 pm ET. For results: Wisconsin Government Accountability Board.]

FOLEY LOOKING FOR REMATCH IN CONNECTICUT
WTIC: "The [Republican gubernatorial primary] candidates left standing include Tom Foley and John McKinney. Four years ago Foley – who was once a U.S. Ambassador to Ireland and is a well-respected businessman–was the Republican nominee for governor, but he lost to Gov. Dan Malloy by fewer than 6,500 votes. It was the closest race in more than 50 years, and he's hoping for a repeat race this year, but with a different result."

[Polls close in Connecticut at 8 pm ET. For Results: Connecticut Secretary of State.]

-- 84 days until Nov. 4 --

GARDNER GOES AFTER UDALL ON OBAMACARE CANCELLATIONS
In his latest ad, Colorado Republican Senate nominee Rep. Cory Gardner hits Sen. Mark Udall, D-Colo., over lost coverage due to ObamaCare. In the ad, Gardner shares his own story. "I got a letter saying that my family's plan was canceled. Three hundred and thirty five thousand Coloradans had their plans canceled, too." Gardner concludes the ad by urging voters to "shake up the Senate."

BRALEY: DEAL WITH IMAGE OF ELITISM BY TALKING  TO VOTERS 'IN TERMS THEY CAN UNDERSTAND'
Washington Free Beacon: "Rep. Bruce Braley (D., Iowa) has once again been caught making elitist comments about Iowans, according to audio released by Republicans on Monday. The audio comes from a 2011 radio interview with Braley on Ring of Fire, a liberal radio program based in Florida. The Democratic Senate candidate says he addresses the 'impression that there is an elitism among progressive policies' by talking with voters in 'terms they can understand'… The Iowa GOP blasted Braley in a statement: 'Bruce Braley thinks he has to talk down to us Iowans so we can understand him. We understand him perfectly. He is a liberal elitist who thinks Iowans are helpless unless Washington tells us what to do…'''

BROWN BLASTS SHAHEEN ON IMMIGRATION IN NEW AD
Daily Caller: "[Republican] Scott Brown has released a new TV ad hitting New Hampshire Democratic Sen. Jeanne Shaheen for backing amnesty and opposing a border fence… 'Want to know why there is lawlessness on our border? Ask Sen. Shaheen. She voted against border security twice, and for amnesty,' Brown says in the ad. 'It is time for us to secure the border and enforce the law,' Brown says."

LAND PLAYS BACK PETERS' CONFLICTING COMMENTS ON IMMIGRATION
Washington Examiner: "A new campaign ad released by Republican candidate for Michigan Senate Terri Lynn Land hits Rep. Gary Peters, D-Mich., on remarks he made about immigration enforcement. The new ad highlights remarks Peters made to two different groups in Michigan regarding immigration enforcement. To one group, Peters is shown saying he supports a stronger approach to immigration enforcement. However, in another, he is shown saying the opposite."

ROMNEY TO CAMPAIGN FOR CAPITO
AP: "Former Republican presidential nominee Mitt Romney will campaign for West Virginia's U.S. Senate and House hopefuls next week…The former Massachusetts governor will attend an Aug. 19 Charleston fundraiser and Beckley rally for Shelley Moore Capito, Alex Mooney and Evan Jenkins. The three races are key as Republicans look to tip traditionally Democratic West Virginia further right…In the Capito news release, Romney called the three Republicans 'pro-coal advocates' who oppose President Barack Obama. In 2012, Romney beat Obama in all of West Virginia's 55 counties…"
Team Tennant rakes Romney over coal - The Hill: "[W.Va. Democratic Senate nominee Natalie Tennant's] team dug up a Democratic talking point from the 2012 presidential campaign, reminding voters that in 2003, Romney said a coal plant in Massachusetts 'kills people.'"

PICK SIX: GREAT LAKES UPSET?
Republicans can capture the Senate with a net gain of six seats this cycle. Which six Democrat-held Senate seats are the most vulnerable in November? Here are the top picks of Fox News First readers: Arkansas (13.6%), Montana (11.9%), Louisiana (11.8%), West Virginia (11.2%), South Dakota (10.5%) and North Carolina (9.9%). Reader Lois Wierenga wants to know "Why don't you include Michigan in a likely upset in the US Senate races? [Sen. Carl Levin] (D) is retiring and Terri Lynn Land (R) should be an easy victory over [Rep. Gary Peters] (D)." Glad you asked! Just out of the top six are Alaska (8.7%), Iowa (4.8%) and then Michigan and Colorado, which are tied at 4.2 percent. Do you think Michigan deserves a hand?
Share your top six picks. Email them – just your top six, please – to FOXNEWSFIRST@FOXNEWS.COM or tweet @cstirewalt.

TOO OLD FOR OFFICE
WaPo: "[A] Louisiana law barring people older than 70 from running for constable or justice of the peace is forcing almost 200 people to retire this November. The law, passed in 2008, included a grandfather clause allowing those elected before 2006 to remain in office… However, it was recently amended…The amendment means about 160 justice and constables who were previously immune from the age restriction can no longer seek reelection, according to Moore. About 30 others who were elected after 2006 also will not be able to seek reelection because of their age."

MMMM… BIRD TOXINS
In a bid to disperse the huge flocks of birds that have taken over a park in the Northern New Jersey town of Nutley, crews will be fumigating the area with... artificial grape flavoring. From the official announcement, via NorthJersey.com: "The method is a pain stimulus in the trigeminal nerves which are found in the throats and mucus membranes of the beak and eyes. Almost all animals have these nerves, yet only birds have a negative response to methyl anthranilate. Birds 'feel' it as pain, while mammals, including humans, perceive it as a grape scent." Don't worry fake-grape fans, the FDA still says the chemical is "generally regarded as safe."

AND NOW, A WORD FROM CHARLES…
"The problem is that bullets are bouncing off the armored vehicles that ISIS has that it captured from us. The reason we are not doing it the right way through the Pentagon with lots of weapons is because we think it would be impolite or against some kind of law or legalism because it's not an independent state. Who cares about the legalism? We're in the middle of a shooting war and the worst people on earth are winning it right now." –Charles Krauthammer on "Special Report with Bret Baier." Watch here.

Chris Stirewalt is digital politics editor for Fox News. Want FOX News First in your inbox every day? Sign up here.