Democrats Stress Social Issues in Final Stretch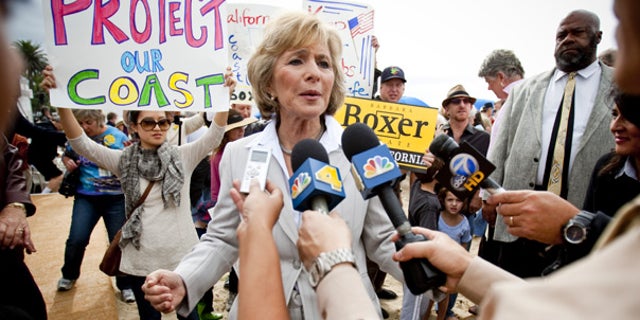 Polls show men leaning heavily Republican this year. That has Democrats and their backers trying in the campaign's last days to spur left-leaning and independent women to vote, by emphasizing abortion and other social issues.
The campaigns remain focused on the economy, the dominant issue for both men and women, and it's unclear if a push toward social issues can make up the advantage Republicans have there. Across the board, Democrats are losing support from many groups that strongly backed the party in 2008 and 2006.
Still, Democratic campaigns are bombarding female voters with messages about social issues on the stump and in debates, television ads, targeted phone calls and direct mail. In California's Senate race, Sen. Barbara Boxer says Republican Carly Fiorina's opposition to abortion would turn women into criminals, a contention the Fiorina campaign calls "outlandish." In Colorado, Democratic Sen. Michael Bennet accuses his GOP opponent, Ken Buck, of wanting to ban common forms of birth control. Mr. Buck says he has changed his position.
Sen. Boxer is leading among women by 17 percentage points, up from a three-point lead in May, according to a recent Los Angeles Times survey. Internal Democratic polling shows Bennet rising among women as well since August.
A Democratic-leaning group, the Planned Parenthood Action Fund is sending mail to more than 1.4 million independent women voters charging that Republicans oppose contraceptive coverage, women's health funding and abortion rights, among other things.
On Wednesday, President Barack Obama announced new initiatives aimed at aiding victims of domestic violence. Two days earlier, First Lady Michelle Obama headlined a lunch for women supporting Democratic Sen. Patty Murray in Washington state. Obama told the audience that Ms. Murray "came to this work because she wanted to solve problems. That is what we do as moms."
"It's hard to switch the topic when voters are so overwhelmingly concerned about the economy, but a lot of these races are going to be decided by a few (percentage) points or less," said Tom Jenson, a Democratic pollster. "Getting female voters fired up about these issues where they do agree with Democrats is helping."
Pollsters say abortion is a particularly effective issue. Unlike the economy, where positions are sometimes hard to distinguish, abortion can present a clear delineation between candidates. And, pollsters say, a candidate's abortion position can serve as a signal as to whether he or she shares a voter's values more generally.
Continue reading at The Wall Street Journal