Democrats hold onto Missouri Senate seat after McCaskill beats Akin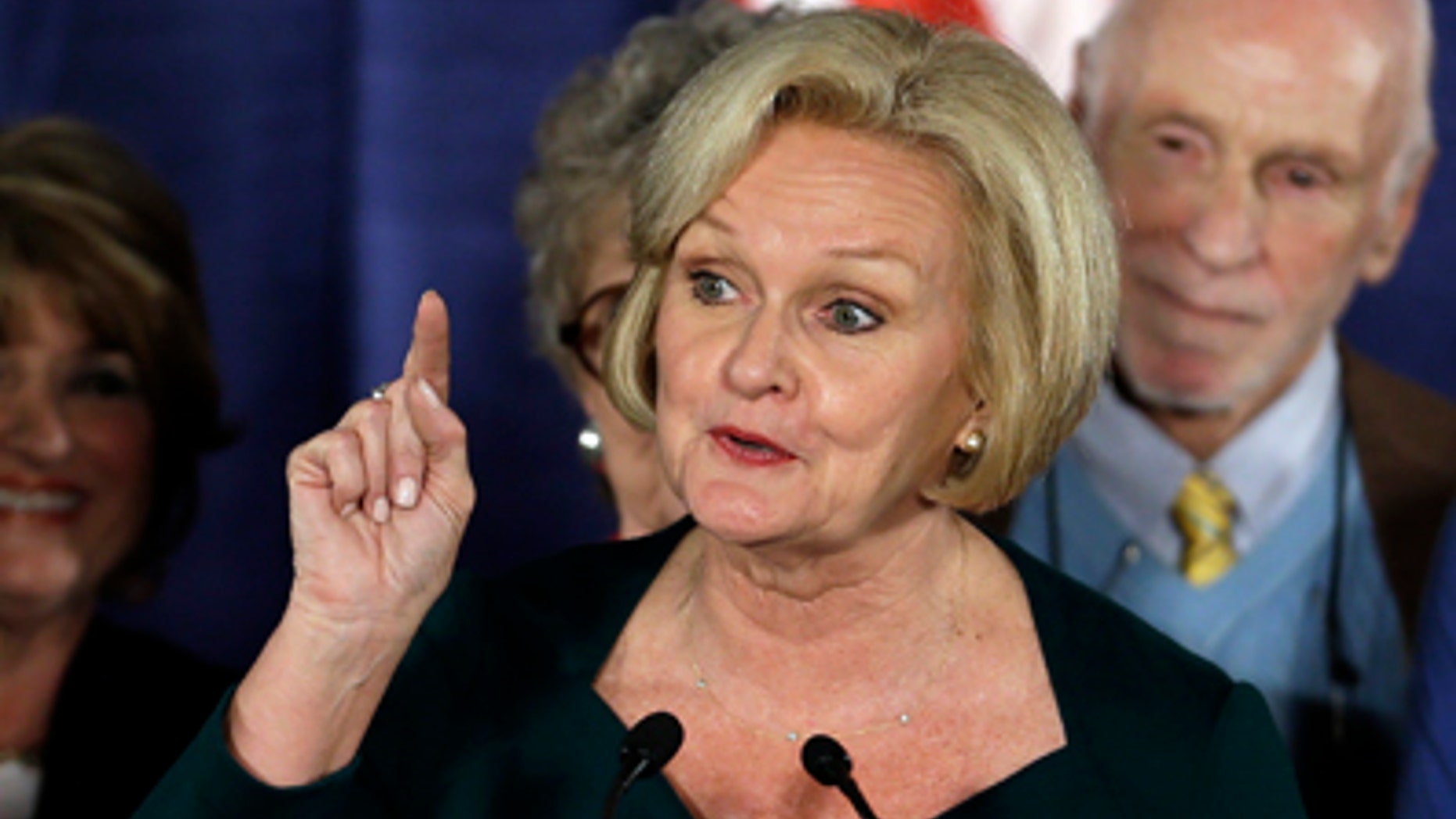 Democratic Missouri Sen. Claire McCaskill, once considered a vulnerable incumbent, won re-election Tuesday over Republican opponent Rep. Todd Akin, whose remarks about "legitimate rape" sparked an intense controversy in the months leading up to the election.
The win is expected to help Democrats hold on to their majority in the Senate.
McCaskill, who proclaimed herself the underdog as the 2012 campaign began, capitalized on Akin's comments about pregnancy and rape by portraying him as a right-wing extremist. She cast herself as a moderate Democrat willing to work with Republicans.
Her victory preserved an important Missouri Senate seat for Democrats -- an outcome that had once seemed unlikely because of McCaskill's close ties to President Obama, whom Fox News also is projecting will win re-election. Obama narrowly lost Missouri in 2008 and was projected to lose the state Tuesday.
McCaskill is the first Democratic senator to win re-election in Missouri since Thomas Eagleton in 1980.
"With a stubborn determination, tenacity and a refusal to give up, we showed the country what Missouri is made of," McCaskill told supporters Tuesday night following her victory. "This was an extraordinary campaign for so many reasons."
Akin, a six-term congressman from suburban St. Louis, became the immediate favorite over McCaskill after prevailing in an Aug. 7 Republican primary. But Akin managed to reverse those roles when he was asked in a TV interview that aired Aug. 19 whether abortion should be legal for women who have been raped.
He responded: "From what I understand from doctors, that's really rare. If it's a legitimate rape, the female body has ways to try to shut that whole thing down."
Although Akin apologized, his comments went viral on the Internet. He was widely denounced and ridiculed, and Romney joined other top national Republicans in urging Akin to quit the race. Akin instead forged ahead, soliciting small online donations with an anti-establishment appeal after losing millions of dollars of planned advertising support from the National Republican Senatorial Committee and the deep-pocketed Crossroads group affiliated with GOP strategist Karl Rove.
Akin eventually regained support from some Republicans -- including former presidential candidates Newt Gingrich, Rick Santorum and Mike Huckabee -- and got financial backing from several conservative interest groups, including a $1 million ad buy from the Now or Never Political Action Committee.
But McCaskill generally enjoyed a financial advantage throughout the campaign and gained a potent example to bolster her theme that Akin's views were too extreme. Among other things, McCaskill highlighted Akin's opposition to the federal government's role in issuing student loans and setting a minimum wage.
The Associated Press contributed to this report.