Democrats hold early advantage in Electoral College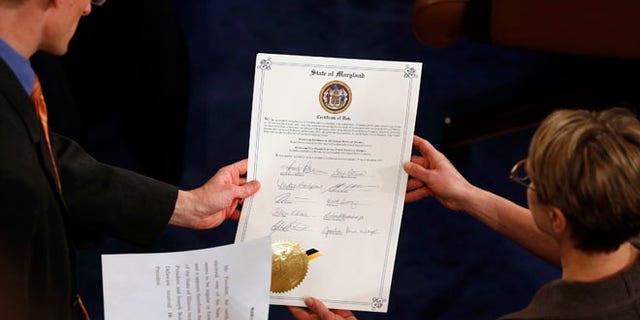 NEWYou can now listen to Fox News articles!
Democrats gained an early edge in the 2016 president race when Hillary Clinton emerged as their potential candidate and promptly dominated the popular vote. And they now appear to have an early advantage in the Electoral College -- the arcane-but-official way in which U.S. presidents are elected, according to a new analysis by the nonpartisan Rothenberg & Gonzales Political Report.
The college essentially works like this: When a presidential nominee "wins" a state, he or she gets all of the state's electoral votes, which is equal to its total number of senators and House members.
So for example, if Clinton or any other nominee from her party wins deep-blue California, as every Democratic nominee has since 1992, she would get 55 electoral votes -- equal to 53 House members and two senators.
The magic number is 270 votes.
An analysis by editor and publisher Nathan Gonzales shows that a tally of states that will almost certainly or likely vote Democrat in 2016 will give the party nominee 249 votes across 17 states and the District of Columbia.
And the Republican nominee would get 191 votes across 23 states under the same analysis, which means the battle for the remaining electoral votes will be in the remaining 10 states.
"The next commander in chief is likely to be decided by voters in a familiar group of 10," Gonzales writes.
Gonzales makes clear that a big variable in his analysis is whether the big gains that President Obama made for Democrats in 2008 and 2012, including strong support from Hispanic and younger voters, were just the result of his popularity or will carry into 2016 when he's no longer atop the ballot.
"The biggest unanswered question is how much of the Democrats' recent success had to do with Barack Obama," he told FoxNews.com on Thursday.
Gonzales based his analysis on the past four presidential elections.
Other unforeseeable factors between now and November 2016 that could largely influence the race, he says, are the eventual nominees and the mood of the country.
Clinton is amid a controversy about using a personal Internet server to send official emails when she was secretary of state from 2009 to 2013 but still has a huge lead in early polling.
An averaging of polls by the nonpartisan website RealClearPolitics.com has her leading all other potential Democratic candidates by 44.9 percent.
Gonzales also points out that Obama won Ohio, Florida and Wisconsin in 2008 and 2012. But those battleground states show no real signs of now being Democratic strongholds, considering they in part have Republican governors.
"The slate of 10 is set," Gonzales said Thursday. "But there's still plenty of room for movement within them."
The Washington Post points out that Gonzales' analysis is very early in the (still unofficial) election cycle and that Democrats over the past decade have won a lot of electoral votes -- including President Obama getting 365 in 2008 and 332 in 2012.
However, the newspaper also notes Republicans had even greater dominance in the 1980s, highlighted by President Reagan getting 525 votes in 1980.