Democratic Sen. Bob Menendez reclaims key committee post, after corruption trial
Embattled Sen. Bob Menendez will return as the top Democrat on the powerful Senate Foreign Relations Committee, after stepping down from the post in 2015 amid corruption charges.
"I am honored to resume my position as Ranking Member of the Senate Foreign Relations Committee," Menendez said in a written statement Tuesday. "Now more than ever, it is critical that the United States remains fully engaged across the globe and that we project the principles of our democratic ideals as we confront the emerging threats and demands we face under the Trump Administration."
Fox News reported earlier Tuesday that Menendez's official return as the committee's "ranking member" was expected to be announced this week. Shortly afterward, his office issued a statement saying Senate Minority Leader Chuck Schumer had reappointed the two-term New Jersey senator to the role.
The move spurred a backlash from Republicans even before it was announced.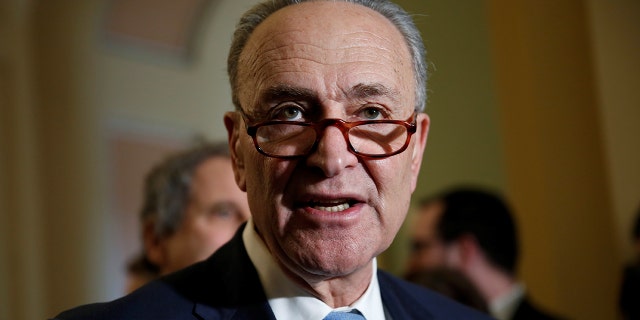 "By picking the least popular member of the U.S. Senate, who is still under a serious Ethics Committee investigation, Chuck Schumer is showing how out-of-touch he is," Republican National Committee spokesman Michael Ahrens told Fox News. "Schumer's own far-left base opposes the move, and Menendez's own constituents don't even want him in the Senate anymore."
Aside from an ongoing Senate Ethics Committee probe, the legal cloud over Menendez appears to be lifting. But he still faces political headwinds in his bid this year for a third Senate term and even his return to the committee post.
Menendez's net approval rating among registered voters has fallen 20 points since the start of 2017 -- the biggest decline of any senator up for 2018 reelection, according to a recent Morning Consult poll based on a survey from October through December 2017.
"New Jersey voters will continue to be reminded of Menendez's dishonest schemes as the election approaches in November," National Republican Senatorial Committee spokesman Bob Salera recently said.
In reclaiming his post on the foreign relations committee, Menendez would push aside Maryland Democratic Sen. Ben Cardin, who occupied the ranking-member post in his absence. The liberal wing of the Democratic Party, though, has expressed concern about Menendez's return, considering he's regarded as more moderate than Cardin.
Menendez, the son of Cuban immigrants, did not support former President Barack Obama's efforts to improve diplomatic relations with the Cuban government or the Iran nuclear deal, brokered by the Obama administration.
But in his statement Tuesday, Menendez took the customary shots at the Trump administration.
"Since President Trump took office, I have consistently expressed my deep concerns over several pressing foreign policy issues including his refusal to counter Russia's aggressions and coordinated interference in democratic systems and elections around the world, a seemingly blatant disregard for advocating for basic human rights and upholding freedoms for all people around the globe, and the total absence of a comprehensive strategy to counter Iran's ongoing destabilizing activities," he said.
Federal prosecutors decided two weeks ago not to retry Menendez on corruption charges, after their case ended last fall in a hung jury.
Menendez, 64, was charged with trading his political influence for gifts and campaign contributions from Florida eye doctor Salomon Melgen. He denied the allegations all along.
The prosecutors' decision ended Menendez and Melgen's 11-week trial and their roughly five-year investigation.
"From the very beginning, I never wavered in my innocence and my belief that justice would prevail," Menendez said after prosecutors dropped the case. "I am grateful that the Department of Justice has taken the time to re-evaluate its case and come to the appropriate conclusion."
However, the senator also issued a warning last year to those who were eager to replace him in the Senate.
"To those who were digging my political grave so they could jump into my seat, I know who you are and I won't forget you," he said after the mistrial.
Menendez is expected to retain the ranking member staff as he returns to the committee role.
Though the case has weakened Menendez's poll numbers, he still appears to have the full support of top New Jersey Democrats, including Gov. Phil Murphy. Further, the state hasn't elected a Republican senator since the 1970s. Menendez in 2012 won a second term by nearly 20 points.
Prosecutors intended to pursue a retrial for Menendez, but they abandoned the case after the judge threw out the bribery charges related to campaign donations.
Melgen was convicted separately in Florida last spring in a Medicare fraud case that prosecutors said amounted to more than $100 million.
They were first indicted in 2015, accused of operating a scheme in which Menendez used his clout in exchange for trips on Melgen's private jet to his Dominican resort, a Paris vacation and more.
Prosecutors said Menendez pressured government officials on Melgen's behalf over a Medicare billing dispute and a contract to provide port screening equipment and also helped obtain U.S. visas for the doctor's girlfriends.
The senator's attorneys argued Melgen's gifts were tokens of friendship, not bribes.
The Associated Press contributed to this report.