Democratic Holdout Controls Fate of Senate Health Care Bill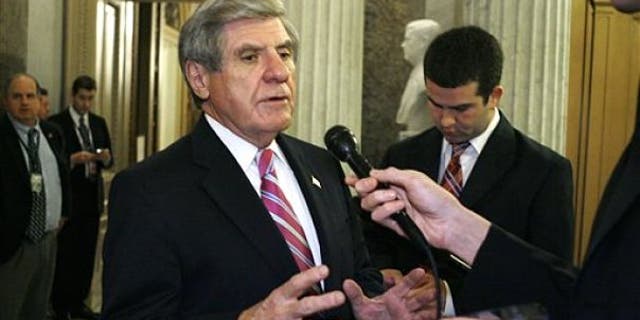 As Democrats race against the clock to pass a sweeping health care bill before Christmas, Sen. Ben Nelson, the only known Democratic holdout, has positioned himself to play Santa or the Grinch.
The Nebraska Democrat is pushing to include air-tight restrictions on abortion funding in the bill, but that's not all he wants.
Because of the $465 billion in Medicare cuts included in the Senate bill, Nelson wants help for rural hospitals and nursing homes, who he says will be hit hard. Nelson is expected to get his wish on that front, a senior Democratic aide told Fox News.
But it's not yet clear what else Democratic leaders will have to offer Nelson to win his support.
Whatever it is, Senate Majority Leader Harry Reid needs to close the deal fast if he expects to keep the legislation on track for passage by Christmas. Reid is expected Saturday to release a package of changes to the bill that could run to hundreds of pages and is likely to be read aloud on the Senate floor at the request of Republicans.
Efforts to placate Nelson are holding up the release of a highly anticipated Congressional Budget Score that will determine the cost of all the changes made to the bill since the debate began.
Nelson met with Reid for an hour Friday.
"Hopefully, we're making progress," Nelson said, adding, "There's always a lot of room you have to have between the bid and the ask, and we're seeing if we can close the gap."
Nelson already rejected a compromise on the abortion issue but said Thursday he would keep talking with Reid, who needs 60 votes to push through Republican opposition and avoid a potential filibuster.
The others involved in the compromise talks are pro-abortion rights Sens. Barbara Boxer, D-Calif, and Chuck Schumer, D-N.Y., and pro-life Sen. Bob Casey, D-Pa., according to a Senate Democratic aide.
White House officials and several senior Democratic sources told Fox News that they remain confident that the impasse with Nelson can be worked out.
"I think that there's good discussion going on between pro-choice members of the Senate, Sen. Nelson and others," White House senior adviser David Axelrod told Fox News. "I think that we will work our way through that issue."
Nelson has threatened to vote against the bill if it doesn't explicitly ban abortion coverage for subsidized insurance plans, even if private premiums are separated -- a distinction abortion opponents have called an accounting gimmick.
Abortion rights supporters say women who currently have insurance coverage for abortion are at risk of losing it if those restrictions are included.
Reaching a compromise has proved difficult because no one can figure how out to fence off federal money when consumers enter the state-based health care exchanges.
The current law bans federal taxpayer money from being used to end pregnancies except in cases of rape, incest or endangerment to the life of the mother, but it's virtually impossible to enforce, one Democratic aide with knowledge of the negotiations told Fox News.
Under the pending legislation, consumers who purchase subsidized plans would enter a new network, and officials aren't sure how to separate the federal funds.
The House included an amendment in the version it passed last month that would ban insurance plans on the exchanges that cover abortion, forcing women to buy additional coverage plans -- that do not yet exist -- with their own money. But senators who support abortion rights have said they won't support that language.
One source told Fox News that negotiators who worked on a bipartisan agreement when the health care bill was shaped by the Senate Finance Committee, were stymied by abortion, among other issues.
Nelson is under intense pressure from both sides in his home state. Nebraska Gov. Dave Heineman said this week that the health care bill is "bad news" for Nebraska.
"This bill increases taxes, cuts Medicare and is an unfunded expansion of Medicaid," he said.
A conservative group has launched radio ads pressing Nelson to vote against the bill, citing a poll it conducted that showed an overwhelming majority of Nebraskans oppose the bill.
At the same time, a group of liberal-leaning religious leaders from Nelson's home state Friday released a letter urging him to accept a compromise Reid has been working on -- and promising to defend him from political repercussions. The compromise seeks to strengthen a "firewall" in the bill to keep government funds separate from any money used to pay for abortion. It also would offer incentives to encourage adoption.
"Given the complicated set of concerns surrounding abortion funding and coverage in health care reform, the compromise ... is the best way forward," said the letter, signed by two dozen religious leaders of several Christian denominations. "This (legislation) will extend health care to all and strengthen our ability to gather religious support for those members who take tough votes in favor of reform, even in the face of opposition from both sides of the debate."
Fox News' Trish Turner and the Associated Press contributed to this report.