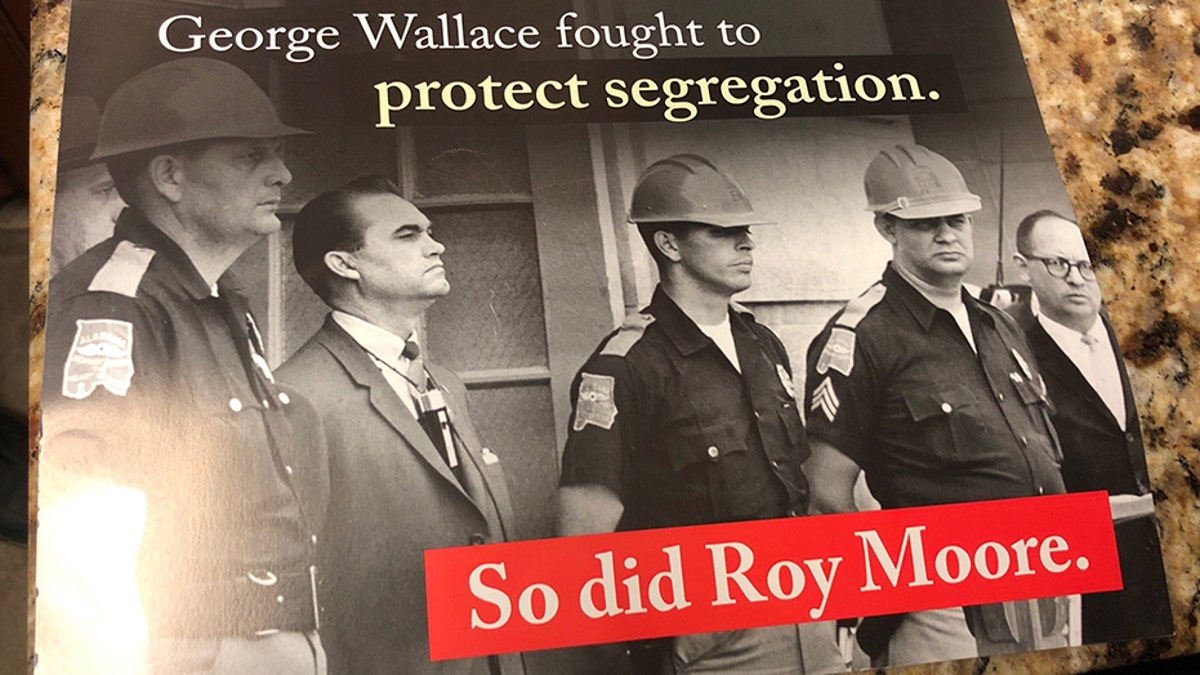 A mailer sent by the campaign of Alabama Senate Democratic nominee Doug Jones compares Republican opponent Roy Moore to the former segregationist governor George Wallace just days after the Jones campaign faced a social media backlash over a different racially-charged flyer.
Fox News has obtained a copy of the latest mailer, sent to black voters in the state. It shows an infamous 1963 photo of Wallace standing at the schoolhouse door at the University of Alabama to block black students from enrolling.
"George Wallace fought to protect segregation," the flyer reads. "So did Roy Moore."
DOUG JONES FACES BACKLASH OVER RACIALLY-CHARGED CAMPAIGN FLYER IN ALABAMA
"Lying Doug Jones is at it again. This is just another attempt to manipulate African-American voters with lies while covering for his own horrible track record of defending an extremist with KKK ties," Moore spokeswoman Hannah Ford told Fox News. "The mail piece speaks for itself," Jones' spokesman Sebastian Kitchen said.
The attack from the Jones campaign is rooted in how Moore in 2004 opposed efforts to remove segregationist language from Alabama's constitution.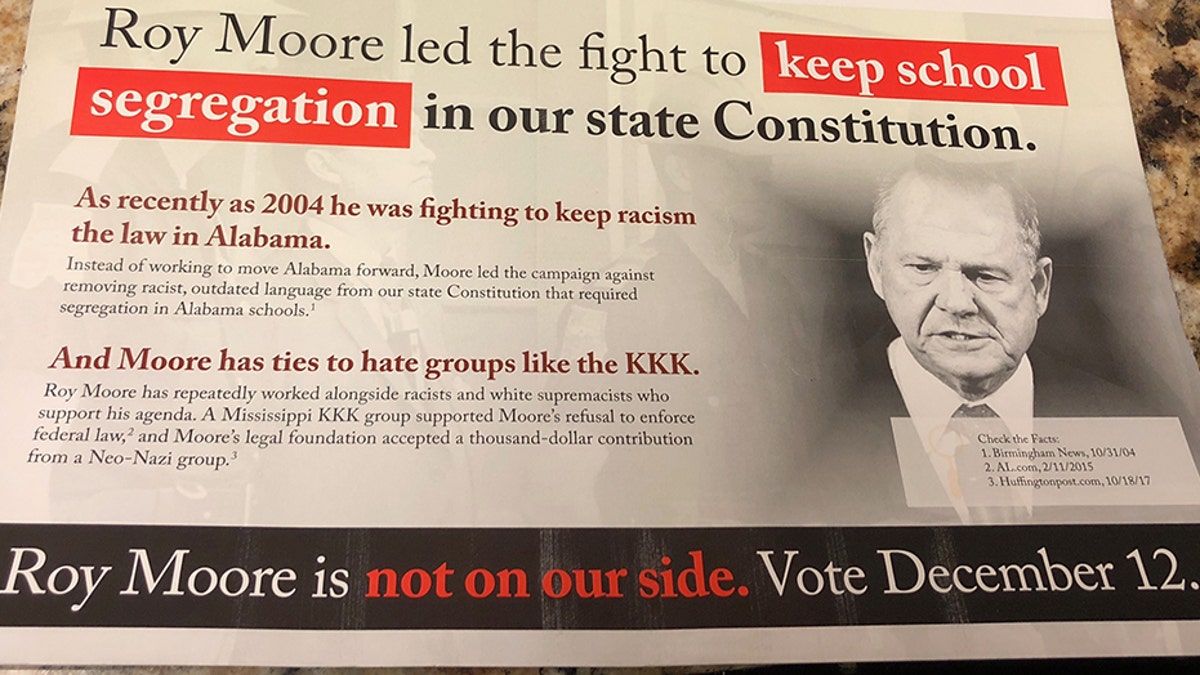 Segregation had long been outlawed by then, but the business community argued at the time it would be an important symbolic move for Alabama to take. The measure failed.
"As recently as 2004 he was fighting to keep racism the law in Alabama," the mailer states. "Instead of working to move Alabama forward, Moore led the campaign against removing racist, outdated language from our state constitution that required segregation in Alabama schools."
According to AL.com, Moore said he opposed the effort at the time because he said it would lead to higher taxes.
"In 2004, Moore opposed proposed Amendment 2 to the Alabama Constitution, which would have stricken language mandating that schools be segregated and makes mention of poll taxes," the outlet recently explained. "He argued that the real motivation behind the amendment, which narrowly failed, was to increase funding for public schools, and therefore increase taxes, according to an October 2004 Birmingham News story. Moore also pointed out that the U.S. Supreme Court already declared segregation unconstitutional, making the amendment moot."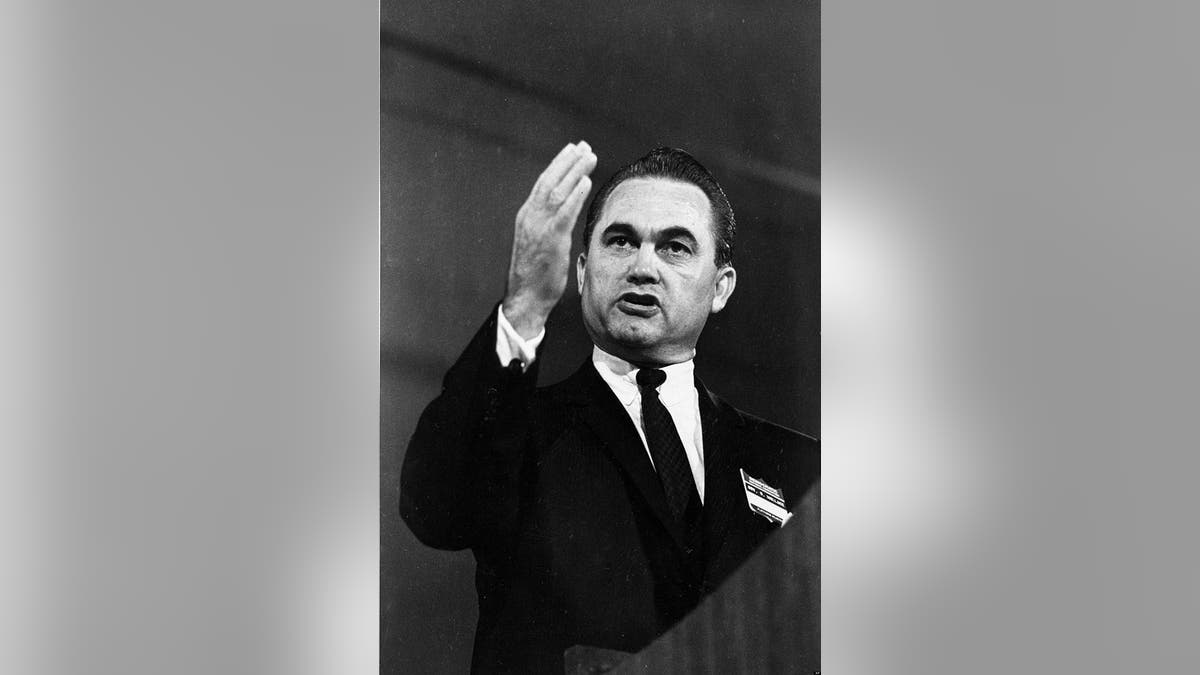 The ad also claims Moore "has ties to hate groups like the KKK" and has "repeatedly worked alongside racists and white supremacists who support his agenda." That claim is based on past support for Moore from several groups, though not on any direct activity from Moore himself.
"A Mississippi KKK group supported Moore's refusal to enforce federal law, and Moore's legal foundation accepted a thousand dollar contribution from a Neo-Nazi group," the ad says.
A disclaimer on the ad said the "Doug Jones for Senate Committee" paid for it.
The flyer came days after the Jones campaign saw a social media backlash to another mailer that showed a young black man with a skeptical look on his face and the message: "Think if a black man went after high school girls anyone would try to make him a senator?"
In a radio interview Friday, Jones was asked about the criticism of the ad and said: "You know, maybe we could've used a little bit different language."
That flyer was meant as a reference to the multiple women going on record to say Moore pursued romantic relationships with them when he was in his 30s, and when they were teenagers as young as 14. He has denied the accusations.
Jones' campaign has been actively working to motivate the state's black voters ahead of Tuesday election. On Sunday, his campaign brought in a number of high-profile Democratic black lawmakers to Alabama to campaign for him, including New Jersey Sen. Cory Booker, Alabama Rep. Terri Sewell, Georgia Rep. Sanford Bishop and Louisiana Rep. Cedric Richmond.