Democrat hits Pelosi over 'make America white again' comment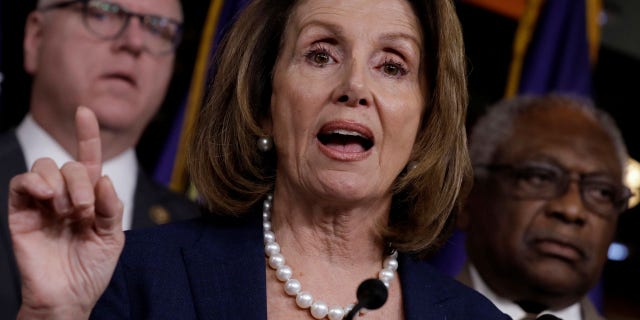 House Minority Leader Nancy Pelosi is under friendly fire from a fellow Democrat for her response to President Trump's immigration plan that she called a blue print to "make America white again."
Sen. Joe Manchin, D-W. Va., who was on CNN's 'State of the Union,' said we "don't need that type of rhetoric on either side, from Nancy, (Speaker) Paul Ryan or anybody else."
Trump's proposal would offer a path to citizenship for 1.8 million so-called "Dreamers." He would insist on $25 billion in funding for a border wall and security. The proposal also called for a crackdown on chain migration and the diversity visa lottery program.
Pelosi wrote in a statement on Friday that the 50 percent cut to legal immigration and the "recent announcements to end Temporary Protected Status for Central Americans and Haitians are both part of the same cruel agenda. They are part of the Trump administration's unmistakable campaign to make America white again."
She tweeted the comment.
Reuters reported that Manchin is a leader of a bipartisan Senate group that is working on an immigration solution.
The Senate's top Democrat, Chuck Schumer of New York, dismissed Trump's plan Friday as a "wish list" for hard-liners. He acknowledged the bipartisan common ground on protections for the immigrants now shielded by the Deferred Action for Childhood Arrivals program, or DACA.
But he accused Trump of using them as "a tool to tear apart our legal immigration system and adopt the wish list that anti-immigration hardliners have advocated for years."
The Associated Press contributed to this report