Democrat Cynthia Nixon's campaign spells Ithaca, NY, as 'Ithica' in email invites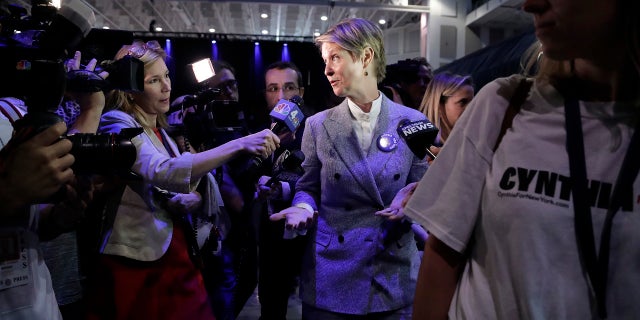 Email invites for a Sunday meet-and-greet with political hopeful Cynthia Nixon in Ithaca, New York, incorrectly spelled name of the city as "Ithica," the New York Post reported.
The news outlet said "Ithica" appeared on the Friday emails in four separate instances. Nixon is running to be governor of the state.
The messages were "sent in error," Lauren Hitt, a spokeswoman for Nixon's campaign, told the Post.
"Something like this obviously would have been caught through our normal review process," she explained. "The proper steps have been taken to ensure this doesn't happen again."
The AP pointed out that Lis Smith, a campaign aide for incumbent Gov. Andrew Cuomo, took to Twitter. She referenced Nixon's role as lawyer Miranda Hobbes on "Sex and the City" in a Friday tweet.
BERNIE SANDERS TAKES JOB-KILLING STANDS AT DISNEY WORKERS' RALLY, CRITICS SAY
"I know the character @cynthianixon played on TV never left the island of Manhattan, but you'd think someone trying to play the role of NY gubernatorial candidate could hire better writers than this #Ithica," she said.
Cuomo and Nixon are slated to go up against one another in a Democratic primary, the Democrat & Chronicle reports.
"We all make typos," Ithaca Mayor Svante Myrick, a Cuomo supporter, told the paper.
Myrick said he believes the typo "exposes the two things that I most worry about with her candidacy: their campaign's lack of knowledge with issues outside of New York City and their inexperience."