Dem rep waves pencil to show solidarity with Hebdo victims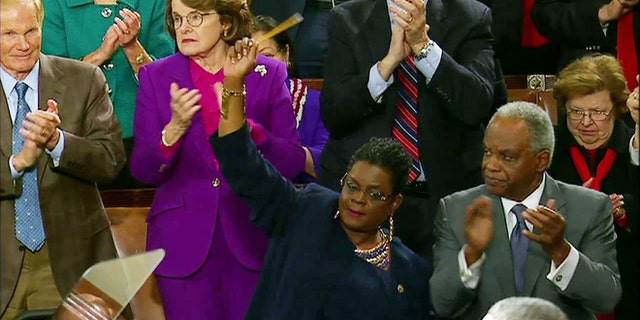 NEWYou can now listen to Fox News articles!
A Democratic congresswoman showed solidarity with the victims of the Charlie Hebdo attack in Paris earlier this month after President Obama referenced the deadly terror attacks during his State of the Union address on Tuesday night.
Rep. Gwen Moore, D-Wis., held up a pencil when Obama referenced the attack in his speech. The pencil has emerged as a symbol of free speech in the face of Islamist terror that seeks to quell criticism or mockery of the Prophet Muhammad, a frequent target of the satirical magazine.
"Rather than divide and intimidate us, these brazen and barbaric attacks have united the international community and prompted a global response in defense of the freedom of expression," Moore's office said in a statement. "The congresswoman believes that this is unique opportunity to join our global partners in showing our collective support and solidarity."
Moore's office said that other members of Congress participated as well.
In Tuesday's speech, the president sought out more common ground with Republicans on foreign policy, pledging to work with Congress on a new authorization for military action against the Islamic State group in Iraq and Syria, as well as legislation to guard against cyberattacks.
The Associated Press contributed to this report.